Twitter joke to 'destroy America' reportedly gets U.K. tourists barred from US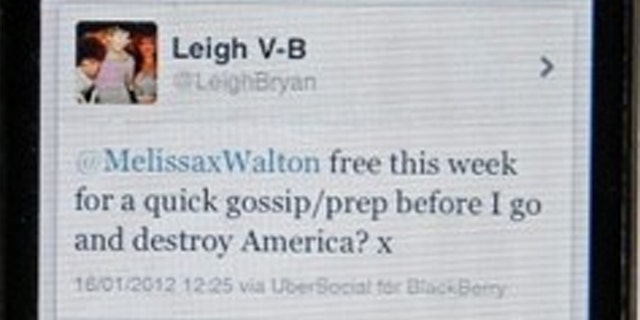 LOS ANGELES – Two British travelers were barred from entering the U.S. after posts on Twitter indicated they had plans to 'destroy America' and 'dig up Marilyn Monroe,' The Sun reports.
Leigh Van Bryan, 26, and Emily Bunting 24, were detained upon arrival to Los Angeles after Homeland Security discovered the tweets.
The two were then reportedly questioned for five hours before being put on a van with illegal immigrants and then held overnight.
Despite Bryan telling officials the term 'destroy' was British slang for 'party,' and the reference to dig up Marilyn Monroe was a joke from the show Family Guy, the two were reportedly held on suspicion of planning to 'commit crimes."
They spent 12 hours in separate holding cells before being put on a flight home, the Sun reports.
"We just wanted to have a good time on holiday. That was all Leigh meant in his tweets," Bunting told the Sun.
U.S. Customs and Border Protection released a statement about the "terrorist tweet," confirming that two people had been taken into "secondary interviews" and said that during those interviews, information was uncovered that "revealed both individuals were inadmissible to the United States."