TUI Airways flight diverts to Canada to eject 'disruptive passenger'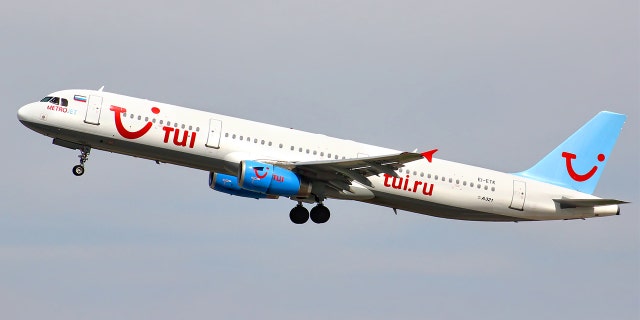 Getting tipsy at 36,000 feet is rarely a good idea, as one British man recently learned the hard way.
Last week, a TUI Airways flight en route from Cancun, Mexico to Manchester, England, made an emergency landing in Newfoundland, Canada, to eject a rowdy 24-year-old passenger, CBC News reports.
AMERICAN AIRLINES SUSPENDS USE OF CATERING SERVICE AFTER LISTERIA IS FOUND AT FACILITY
The man allegedly was already behaving raucously on the bus transfer prior to the Oct. 25 flight, an unidentified witness told the Manchester Evening News. After boarding, he was seemingly intoxicated and heckled other passengers after being denied more alcohol.
"On the flight the disruptive passenger kept walking up and down the aisles, trying to aggravate passengers," the witness said. "The flight crew did refuse to serve him alcohol. He kept saying, 'You have given it to everyone else'."
DELTA PASSENGERS WHO HAD SEX ON FLIGHT WILL PROBABLY NOT BE CHARGED, SAYS FORMER FEDERAL PROSECUTOR
Once the flight landed at Gander International Airport, the man was escorted off the aircraft by the Royal Canadian Mounted Police. The man's partner, who tried to calm him down during the flight, was allowed to continue on the journey to Manchester, the Evening News added.
TUI Airways confirmed that the flight had been forced to make an emergency landing during the Oct. 25 incident and apologized for the matter.
FOLLOW US ON FACEBOOK FOR MORE FOX LIFESTYLE NEWS
"We're aware of the situation that occurred on board flight TOM173 from Cancun to Manchester, which diverted to Canada due to a disruptive passenger," a spokesman told the Evening News. "Once the passenger was offloaded and after a short delay we can confirm that the aircraft departed safely and continued its journey to Manchester."
"We would like to again apologize to any passengers inconvenienced by this and would like to reassure customers that we take a zero-tolerance approach to any behavior of this kind," they added.
The man was reportedly being held in a facility in Gander, Newfoundland, and scheduled to appear in court on Thursday to answer for violating the Aeronautics Act, CBC said.