TSA, American Airlines unveil plan to use automated check points at major airports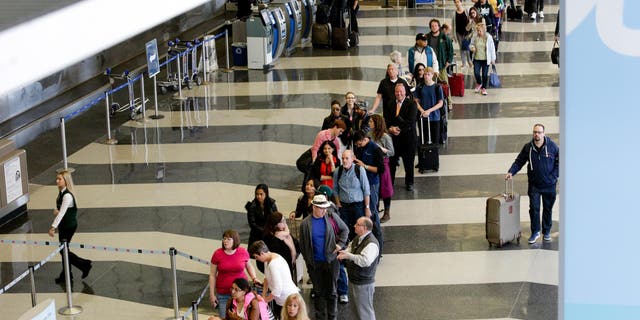 NEWYou can now listen to Fox News articles!
Tired of playing the airport security line waiting game?
The Transportation Security Administration (TSA) and American Airlines say they have the solution to increasingly long wait times at U.S. airports—automation.
On Tuesday, TSA announced its new partnership with the legacy carrier to speed up the screening process through several initiatives with new technology, including more CT scanners and automated screening lanes.
The automated security lanes, which are currently being tested at Hartsfield–Jackson International Airport in Atlanta, could reduce the time travelers spend waiting by as much as 30 percent, says the agency.
TSA spokesman Michael McCarthy told the Chicago Tribune that the technology used to screen carry-on luggage has remained relatively stagnant over the past 15 years, save for software upgrades. The automation process should "shave a few seconds from every step"—seconds that add up when screening thousands of passengers.
The automated lanes, known as "Smart Lanes" at Hartsfield–Jackson, take up more space than traditional security lines but move luggage through faster. Lanes have three to five stations where fliers put their items in a plastic bin—bins for smart lanes are 25 percent larger than the average airport security bin to make room for rolling luggage.
Passengers then push their bin onto a conveyor belt, moving items into the X-ray machine before walking through a security check point as usual-- no waiting for the person in front of you to finish—just go as soon as your bag is through.
The luggage X-ray machine automatically diverts bags requiring extra inspection to a separate area so other bags can continue through to the regular collection space. Each bin is equipped with RFID radio frequency identification chip, allowing TSA agents to track each item easily, says the agency.
McCarthy says the automated lanes in Atlanta being tested by Delta Air Lines are estimated to cut total screening time by 30 percent by the end of year. It's a change American says it's excited to get behind.
"If we see those kinds of numbers at airports where we install it, we absolutely could look at expanding it further," American Airlines spokeswoman Leslie Scott told the Tribune.
In addition to building more automated lanes, American will start employing CT technology—currently only used at airports to screen checked luggage—for carry-on bag inspection. TSA says 3D CT technology could make it possible to allow passengers to leave liquids, gels and aerosols, as well as laptops, in their carry-ons, resulting in less bin usage and quicker through times.
The CT program is being piloted at Phoenix Sky Harbor International airport and could be deployed nationwide if successful.
In April, American Airlines spokesman Ross Feinstein lashed out at TSA after several passengers reported missing flights due to exorbitantly long security lines.
Said Feinstein, "The lines at TSA checkpoints nationwide have become unacceptable. The result: our customers are waiting in TSA lines greater than one hour."