Traveling to Brussels? US airlines issue travel vouchers after attacks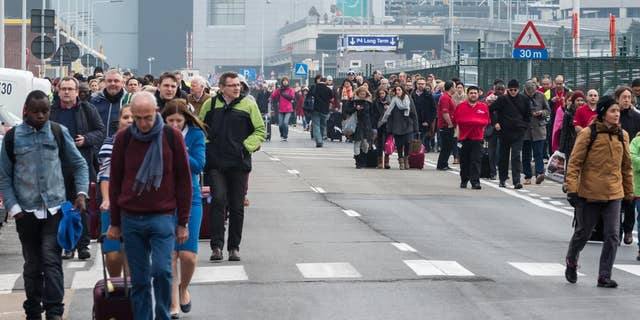 After yesterday's terror attacks in Belgium, major U.S.-based airlines announced plans to waive rebooking fees for travelers flying to, from or through Brussels and several cities in Europe.
American, Delta, United cancelled or diverted many flights to and from Brussels' Zavemtem Airport following dual attacks that killed more than 30 people at the airport and metro train stations on Tuesday.
Carriers have now released updated information for passengers flying around the Brussels area in the coming weeks. Many are allowing customers to reschedule upcoming trips free of charge.
American Airlines
Customers booked for travel March 22 and March 23 on an American Airlines flight to Brussels may request a refund, select an alternate airport or reschedule travel through April 5.
Passengers must be flying on eligible American Airlines, British Airways, or Iberia partner flights. Rescheduled flights can be set through April 6.
Passengers who choose not to change their ticket can receive a refund.
Delta Air Lines
Travelers booked on flights to or through Brussels, Amsterdam, or Paris between March 22 and March 31 are entitled to a one-time flight change without incurring a fee.
Affected passengers must reschedule their flights by Sunday, March 27 and use the ticket by the end of the month, Delta says.
"When rescheduled travel occurs beyond March 31, 2016, the change fee will be waived. However, a difference in fare may apply," says the airline. "Final travel must be completed by end of ticket validity, one year from date of original issue. If travel is not able to be rescheduled within these guidelines, customers may cancel their reservation and apply any unused value of the ticket toward the purchase of a new ticket for a period of one year from the original ticket issuance."
Passengers on flights that have already been canceled will receive a full refund.
United Airlines
United customers currently booked on flights to, from, or through Brussels can reschedule their March 22 through March 31 trips without a fee. A difference in fare may apply.
"The change fee and any difference in fare will be waived for new flights departing between March 22, 2016, and April 12, 2016, as long as travel is rescheduled in the same cabin (any fare class) and between the same cities as originally ticketed, or to or from Amsterdam, Dusseldorf, Frankfurt, London, Luxembourg or Paris," says the airline. "Rescheduled travel must be completed within one year from the date when the ticket was issued."