Tourists to Bali are fed dog meat unwittingly, Australian investigation discovers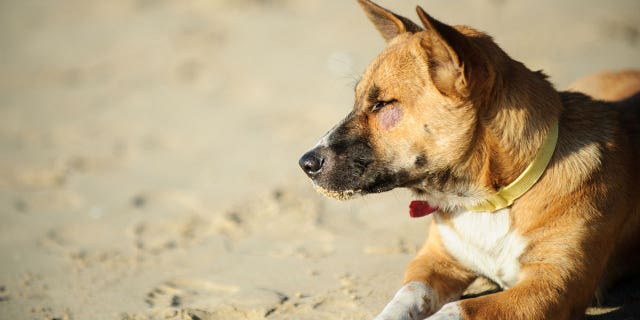 Planning a trip to Bali? You may want to refrain from trying the "chicken" satay.
The Australian Broadcasting Company (ABC) recently reported that tourists to the Indonesian island are being tricked into eating dog meat by vendors who hawk snacks on Bali's popular beaches.
According to an investigation led by animal-rights organization Animals Australia, and which later aired on ABC's "7:30" news series, vendors are selling sticks of dog-meat satay to foreign tourists, but they're not making that knowledge readily available to the tourists themselves.
TAIWAN BANS EATING, SELLING DOG AND CAT MEAT
In one instance, an investigator got a vendor to admit he was selling dog meat, but then witnessed that same vendor deny he was serving dog when asked outright by tourists on Seminyak Beach.
"No, no dog," he told the beachgoers, before letting purchase what they believed to be chicken satay.
It's not just beach vendors who are misleading Bali's tourists, either: ABC's investigation also confirmed that many specialty restaurants in Bali are serving dog meat satay. The restaurants usually indicate this by displaying the letters "RW" on the storefront — which reportedly indicates that dog meat is being served at the establishment — but most foreign tourists remain unaware of what RW means, and eat the meat anyway.
"Dog meat is essentially filtering into the tourist food chain," said Lyn White, the campaign director for Animals Australia.
THE ODD REASON HOT DOGS MIGHT BE CALLED 'HOT DOGS'
The practice of eating dog isn't currently illegal in Bali, but the methods by which it's sold and obtained — and the brutal ways in which the animals are collected and killed — are very much illegal, according to White.
Animal Australia's undercover investigator, "Luke," reportedly spent months in Bali infiltrating the dog-meat trade, eventually joining "gangs" who specialized in stealing and killing the dogs. Over the course of his investigation, "Luke" witnessed dogs being bludgeoned to death, shot on the street, and even killed with cyanide-laced fish— the latter of which is especially troubling to a toxicologist who spoke with ABC.
"The actual risk depends upon how much poison is in the dog meat," explained Andrew Dawson, the director of New South Wales Poisons Information Centre.
FOLLOW US ON FACEBOOK FOR MORE FOX LIFESTYLE NEWS
According to Dawson, small concentrations of cyanide-laced dog meat may cause nausea, diarrhea and muscle aches, but larger quantities or repeated ingestion may cause nerve-damage, and even death, especially if patrons were to ingest bits of cyanide-laced dog stomachs or hearts.
In response to findings concerning the Balinese dog-meat industry, Animals Australia is asking Australians to put pressure on the Balinese government to end the trade. The Bali Animal Welfare Association (BAWA) is also dedicated to rescuing local dogs from dog dealers and hunting groups.
BAWA estimates that 70,000 dogs are killed for meat in Bali every year.