Tourist in Saint Martin killed by forceful blast from nearby jet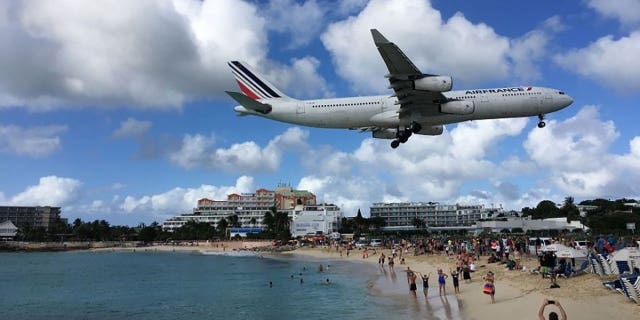 A 57-year-old woman vacationing in the Caribbean island of Saint Martin was killed after a blast from a nearby jet knocked her to the ground.
The incident occurred on Wednesday at Maho Beach — a popular tourist destination in Sint Maarten (the Dutch side of Saint Martin) — which is famous for its proximity to the Princess Juliana International Airport. Officials say the woman had been holding onto a fence that separates the beach from the airport when winds generated by the jet's engines blasted her back.
She died a short time later at a local hospital, reports the BBC.
WHY TOURISTS ARE FLOCKING TO PARADISE TO GET BLOWN AWAY BY PLANES
Maho Beach has long been a popular spot for tourists and thrill-seekers, largely due to the low-flying planes that fly overhead on their way into Princess Juliana International Airport.
"This is a must-do for any aviation enthusiasts, travel enthusiasts, and just anybody who wants to take a few minutes out of their day to see aviation," travel blogger Jamie Larounis told Fox News earlier this year. "They stop the traffic, and people are getting blown into the water, getting sand blown into their faces as these huge jets take off."
Brave tourists have also taken to holding onto the fence that separates the runway from the roadway next to the beach, despite a warning sign advising against getting too close.
Rolando Brison, the director of tourism for the island, has since extended his condolences to the family of the victim.
"I met with the family of the deceased this evening and while they recognized that what they did was wrong, through the clearly visible danger signs, they regret that risk they took turned out in the worst possible way," Brison told The New Zealand Herald.
"At this time I only wish to express my deepest sympathy to the family and loved ones while we continue to investigate what transpired just hours ago."
FOLLOW US ON FACEBOOK FOR MORE FOX LIFESTYLE NEWS
This isn't the first time a tourist has been injured after ignoring warnings of "bodily harm and/or death" at Maho Beach. In 2012, a woman was injured when the winds from a taxiing plane sent her headlong into a concrete divider.
Brison told the Herald that he'll be reviewing securty footage and investigating Wednesday's incident.