Top 5 Baja California restaurants you need to visit in 2017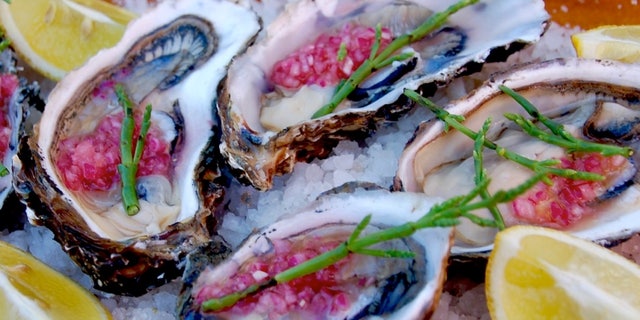 Just a hop, skip, and a jump across the U.S.-Mexico border via San Diego, lies a foodie fantasyland – a flourishing culinary landscape in Baja, with award-winning restaurants and innovative chefs.
Baja, California may not be at the top of most must-see lists when it comes to travel in Mexico. Tourists likely will head to resort towns like Cancun or Cabo-- but if you're on or near the West Coast, you owe it to yourself (and your stomach) to visit Baja to check out some of the best food south of the border.
NEW 'MOST INTERESTING MAN' IS A KNIFE THROWING, SAMURAI SWORD-WIELDING PARTIER
W. Scott Koenig is a San Diego-based journalist who specializes in reporting on Mexican food, culture, and travel. He has traveled extensively throughout Mexico and Baja California for over two decades. In 2012, he founded his blog, AGringoInMexico.com, a comprehensize travel guide covering his own experiences and recommendations.
Koenig is a "FoodieHub Food Expert" for Tijuana, Valle de Guadalupe, and Rosarito Beach. FoodieHub is both a website and an app curated by over 250 fexperts, worldwide.
FoxNews.com caught up with Koenig, ahead of the New Year for his top five, not-to-be-missed restaurants in the region-- and what drool-worthy dishes you need to order.
1. Seafood cocktail, La Guerrerense, Ensenada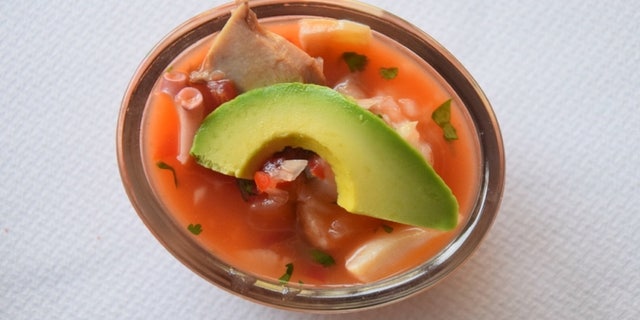 Anthony Bourdain's "favorite street cart on the planet," La Guerrerense, according to the New York Times, is offers a brick-and-mortar location in Ensenada, offically called Sabina after owner Sabina Bandera. Bandera's seafood cocktail features morsels of chocolate clam, octopus, shrimp, and sea snail served in a light cocktail sauce. Slightly sweet and deliciously spicy, the delicate sauce allows the flavors and textures of the seafood to take center stage.
2. Chicharron in salsa verde at The Rib Shop, Tijuana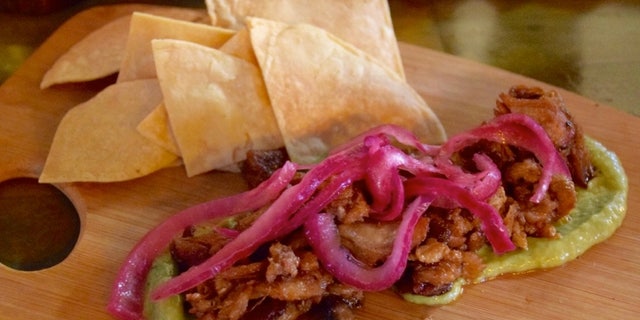 Chef Fernando Acosta is devoted to serving pork "snout-to-tail" at his casual eatery The Rib Shop, in Tijuana. The restaurant's perfectly cooked and meaty chicharron (fried pork skin) is presented atop a layer of creamy, piquant salsa verde, topped with pickled red onion, and served with corn tortilla chips. In 2016, he opened a second location at Border Psycho Brewery in Plaza Fiesta.


3. Beet ravioli, Alma Verde, Tijuana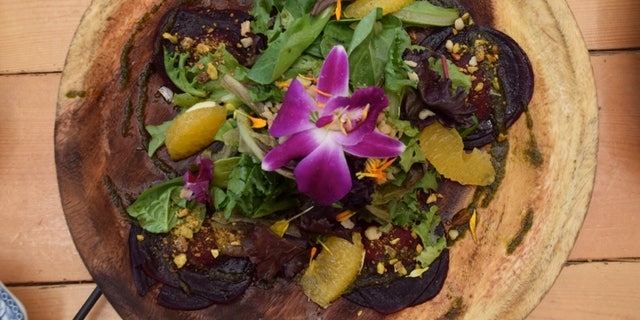 Alma Verde is Tijuana's hippest new place to do brunch. The menu includes several vegetarian and vegan options, and the restaurant even has its own line of healthy juices. The beetroot raviolis are stuffed with a rich, creamy filling of cashew butter – substituted for the typical goat cheese – then topped with tangerine, garden greens, and chopped cashews.
4. Sope of curried chicken livers, Sanvil, Valle de Guadalupe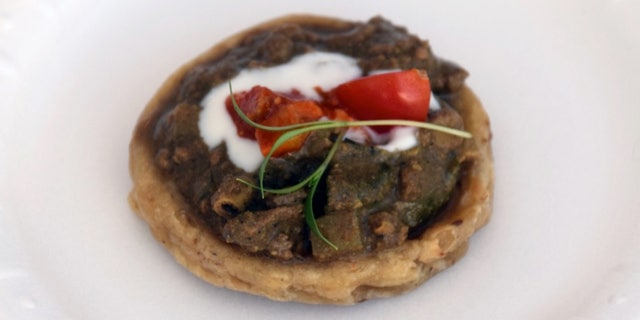 Chef Surinder Veer Singh Ortega caused a stir in Baja's local food community this year, opening new restaurant Sanvil based on the concept of fusing Indian and Baja California cuisine. There's lots of "Baja-Med," mixing Mexican with Medittarean food, and there's "Baja-Euro" fusions, but Singh is a pioneer in the "Baja-Indian" fusion in the region. A chicken liver curry sope (thick corn cake) with purslane leaves and diced potatoes, topped with a spicy ripe mango pickle, yogurt, cherry tomato, and micro greens is exemplary of the chef's new cuisine.
5. Oyster Provençale, Andares, Tijuana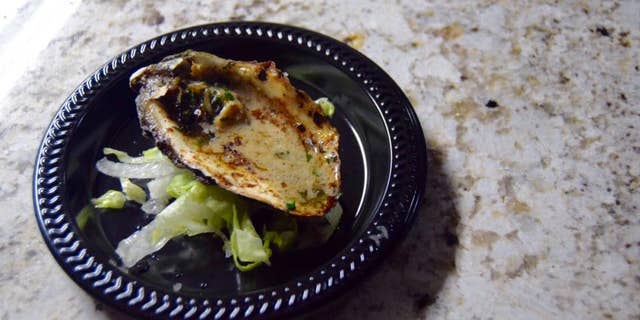 Andares De La Baja Cocina by chef Luis Enrique Gil Moreno is a stylish new eatery in the up and coming la Cacho neighborhood in Tijuana. Andares stands out among Tijuana's more traditional architecture with sleek modern fixtures and industrial materials. This new hotspot offers indoor and outdoor patio dining and a Baja California cuisine-informed menu-- meaning lots of fresh seafood and locally-grown produce. Their oysters Provençale feature a gigamoto oyster seasoned in herbs, combined with butter, baked, then grilled for a bit of added smoke.