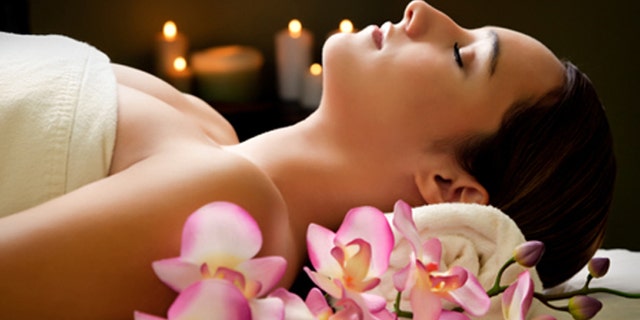 Visit these great international spa locations that offer amazing values for the money. By value, we mean good prices and luxurious perks, not necessarily cheap. As a first-time visitor to Fuchsia Spa in Mesa, Arizona, you can enjoy a 60-minute custom massage or facial for just $49. At Febri's Spa in Bali, guests can indulge in packages that start at $30. Or experience a 90-minute rejuvenation massage for just 25 euros at Thapovan Heritage Home in India. Whatever kind of spa vacation you crave, the following ten spa escapes are right on the money.
USA
Exsalonce Day Spa
2150 W. Roscoe St.
Chicago, IL 60618
773-327-4848
Next time you're in the Windy City, treat yourself to a deep tissue massage, couscous or sesame scrub (just $60) or Exsalonce seaweed body wrap at this friendly day spa. You can even get a cupping session for $30. The environment is low-key, and spa packages are available for men and women, including the nicely priced Girl's Night Out ($115). Visit more of the best spas in Illinois
Fuchsia Spa
1854 S. Val Vista, Ste. 108
Mesa, AZ 85204
480-813-7465
Fuchsia bills itself as the complete opposite of overpriced, traditional, "stuffy" spas." Here you can feel like a goddess and spend like a miser, since all treatments are very affordable. In pink and chocolate-colored treatment rooms, visitors can enjoy facials, mango ginger body scrubs and massages from the cheeky staff. Also on offer are microdermabrasion, chemical peels and hair removal. First-time visitors can try a custom facial or massage for just $49. While being a value spa, Fuchsia features top-of-the-line skin care products such as Eminence Organics and Sonya Dakar. Visit more of the best spas in Arizona
Ten Thousand Waves
3451 Hyde Park Rd.
Santa Fe, NM
505-992-5025
Situated on a pinion-covered hillside at the foot of the majestic Sangre de Cristo Mountains in Santa Fe, New Mexico, the terrific Ten Thousand Waves is designed like a Japanese onsen and oozes Japanese-inspired serenity. Choose the herbal-wrap treatment or signature Yasuragi head-and-neck massage, or soak in one of the health spa's famous communal hot tubs. Individual treatments aren't on the cheap side, but their many spa packages offer great deals. For just $239, the 3.5-hour "Far East" special includes a Thai or deep stone massage, the Yasuragi treatment and the Ashi Anma Foot Massage. Priced at $219 for three hours, "The Natural" features a 55-minute therapeutic massage, salt glow treatment, Yasuragi head-and-neck massage and private bath. Visit more of the best spas in New Mexico
BALI, INDONESIA
Febri's Spa
Jl. Kartika Plaza
South Kuta Beach
Bali
761-023-754-575
One of the best value spas in Bali, Febri's Spa offers packages that range from $30 to $75 and cover everything from basic treatments to the fancier stuff such as lomi lomi massage. After taking advantage of the free Jacuzzi and steam room, guests can pamper themselves in modern air-conditioned studios (cascading waterfall included) or head to private outdoor cottages for more sophisticated treatments utilizing natural ingredients such as chocolate. Many cottages come with their own private garden, shower and bath, with family-friendly four-person villas available for weekend getaways or female bonding sessions. There are even "Little Prince" and "Little Princess" specials for the little ones so your kid can get a facial, too.
BELIZE
Lodge at Chaa Creek
Rainforest Reserve
San Ignacio, Cayo District, Belize
501-820-4010

The Lodge at Chaa Creek prides itself on being a true eco lodge, 100 per cent devoted to green, sustainable tourism. Set on 365 acres in a private nature reserve in this Central American country, the riverfront resort offers a vast menu of adventure travel packages at great rates. After a day of spotting exotic animals, hiking along a medicinal plant trail, canoeing at sunset on the Macal River, horseback riding or rainforest ziplining, guests like to chill at the jungle bar or relax with luxurious spa treatments. While the cost of a therapeutic massage is not cheap at $85 (or $70 for a custom facial), the environment is priceless: al fresco pampering with views of the rainforest, a musical backdrop of tropical birds and a spa that is decorated with fresh flowers every day.
ECUADOR
Arasha Resort & Spa
Km 121 Mindo Area
Pedro Vicente Maldonado
Ecuador
+593 2-225-3937
Located in one of the richest biodiversity hotspots in the world with thousands of species of plants and animals, Arasha Resort & Spa in Ecuador is not your typical spa adventure. The Arasha experience offers a sense of tranquility in a calming environment, with treatments like facials, massages and body wraps. Whether you choose the relaxing back massage with aromatherapy or the aromatic detoxifying warm body wrap, you'll leave the spa feeling relaxed and ready to take advantage of the other activities that Arasha has to offer, like exotic bird watching or a nocturnal torch tour of the rainforest. With facials starting at $39 and massages starting at $45, Arasha allows you to catch up on some R&R at a reasonable price.
INDIA
Thapovan Heritage Home
Nellikunnu
Thiruvananthapuram
Kerala 695521, India
91-471-248-0453

A trip to South India isn't complete without a visit to an Ayurvedic retreat. The 32-room Thapovan Heritage Home in Kerala, which translates as "the place where rishis [sages] meditate," offers top-notch Ayurvedic treatments like Shirodhara. The retreat is built according to ancient Vaastru Shastra architectural principles, merging the aristocratic local Kerala tradition and modern amenities. In this natural, airy setting, with views of the Arabian Sea, guests enjoy treatments for a host of physical and mental ailments, ranging from nervous disorders to arthritis, such as massages, steam baths, and much more. The cuisine is Ayurvedic, vegetarian and organic. Prices are equally awesome; the Thapovan rejuvenation massage is just 25 euros.
ITALY
Hotel President Terme - Abano Terme
Via Montirone, 31
35031 Abano Terme, Italy
39-049-866-8288
At this luxury hotel in the heart of Italy's famous Abano Terme, spa-goers enjoy treatments that range from simply lounging in the ancient thermal waters to fango mud therapy, cures for rheumatism and fibromyalgia, diet and detox programs and anti-aging services. The hotel has its own wellness center and offers incredibly priced package deals. Abano Terme itself, in the province of Padua, is famed for its famous hot springs and mud baths that were enjoyed by the ancient Romans. While the quiet little town has its charms, most of holiday-goers' time is spent spa-ing at the various resorts.
LAOS
The Mekong Spa
3 PO Box 50
Luang Prabang, Laos
+856-71-212194
Set on a hill surrounded by majestic mountains, verdant forests and tranquil rivers, The Mekong Spa at La Résidence Phou Vao brings urban comforts to the rural landscape of Luang Prabang, Laos. Bask in the bucolic charm of this World Heritage town — once the royal capital of Laos — which echoes traditional culture with a modern European flair. Mekong Spa specializes in traditional Laotian treatments based on herbal remedies used for healing, like bath and body, facial and massage therapies. With treatments starting at $35, therapies like the Sukapab foot massage ($35) and the Jetlag massage ($40) will have you feeling relaxed and rejuvenated without burning a hole into your wallet.
THAILAND
Banpu Resort and Spa
199 Moo1
Tambol Nongkhansong,
Muang District, Trat 23000,
Thailand
66-0-3951-2400
66-0-3954-2355-6
Bungalow-style log cabins float on the water like lotus flowers at this tropical retreat in Eastern Thailand. For as little as 1,400 baht (approximately $53), guests can stay in one of these bungalows by the sea, relax in a lakeside wooden cottage, or enjoy a luxurious guest room overlooking the garden. At Banpu Health Spa (which is certified by the Thai Ministry of Public Health), treatments run the gamut from traditional Thai massage to herbal steam baths, aromatherapy, reflexology and hydrotherapy. Suan Pu, the resort's on-site seafood restaurant, serves fresh fish dishes at bargain prices. Guided island tours and modern conveniences like Wi-Fi are available as well.
MORE ON GAYOT.com
Top 10 Value Hotels in the U.S.
Top 10 Value Hotels in the World