Top 10 family resorts worldwide
"We're going on vacation!" elicits squeals of joy. "We're going on vacation with the kids!" Not so much. But choosing the right place to visit with the little ones can make the difference between enjoying your time away as a family or needing another vacation when you return home. Our selections of the top 10 family resorts around the world offer something for all ages, including teenagers, whether you're spending time hanging out together or pursuing different interests apart. Learn where the kids can go cavorting on life-size pirate ships, tightrope walking, baking with Cookie Monster and more at the top 10 family resorts worldwide.
1. Beaches Negril Resort & Spa
Negril, Jamaica
With its casual, laidback vibe, Jamaica feels tailor-made for kid-centric holidays. Add a resort with its own 18,000-square-foot Pirates Island water park, and the destination is ideal. Set on Seven Mile Beach, Beaches Negril Resort & Spa offers a true all-inclusive vacation — along with tennis, windsurfing and reef snorkeling, freebies even include scuba diving. Kids will love the variety of small ways the resort caters exclusively to young tastes, beginning with self-serve ice cream. Sesame Street characters are featured throughout the property, from parades to stage shows, and children can enjoy such "sunny day" activities as baking with Cookie Monster and bird-watching with Big Bird. Among the extras for teens is Club Liquid, a no-adults-allowed under-21 nightclub. For mom and dad, treats range from certified nannies to golf and a full-service spa.
2. Club Med Ixtapa Pacific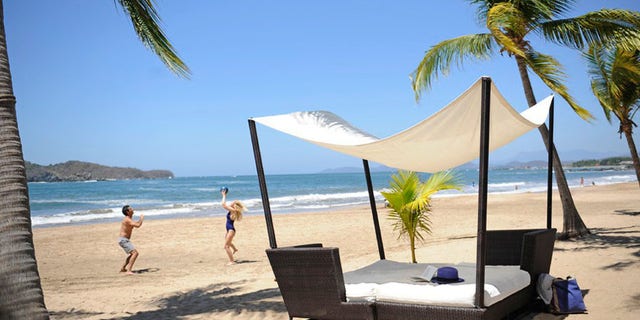 Ixtapa, Mexico
We confess: This Mexican resort had us the minute we heard about its flying trapeze and circus lessons ... tightrope walking, anyone? While the Club Med franchise was once associated with the single life, these days its focus is families. Among the all-inclusive offerings are four kids' clubs accommodating ages four months to seventeen years. There's a baby corner in the main restaurant for folks with infants, and Sirena is a special dining venue for ages two to eleven, serving fun, balanced meals. As for those children who want to get hands on in the kitchen, the resort has a Petit Chef program. Additional options for little ones are beginner classes in wall-climbing, archery, sailing and more, while mom and dad can enjoy spa treatments, tennis and cocktails in a variety of lounges. Tucked between the Sierra Madre Mountains and the Pacific Ocean, the resort includes family suites in its choice of hacienda-style guest rooms.
3. InterContinental Bali Resort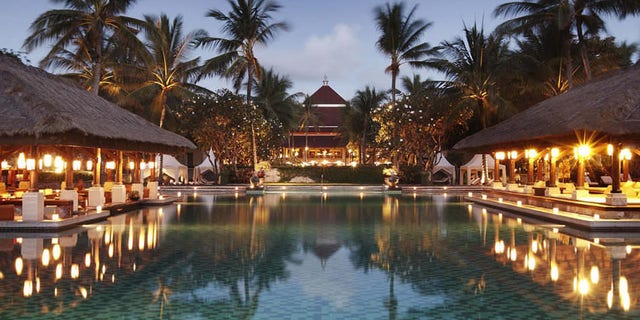 Bali, Indonesia
One of the world's most idyllic island destinations, Bali is perfect for a family vacation. Among its many resorts, the InterContinental Bali stands out for its beachfront location on Jimbaran Bay and an environmental themed Planet Trekkers children's center. This dedicated kids' program, which is complimentary for Club InterContinental guests, includes sections for children ages four to seven and eight to twelve. Run by all-female club hosts and lifeguards trained in child care and first aid, the center includes a clubhouse, outdoor pool and activities such as kite making, Balinese language lessons, beach walks, yoga and shadow puppet crafts. Professional nannies for children under four and extended evening hours at the center (a healthy dinner included) mean parents can enjoy spa treatments or a quiet night out at one of the enticing on-site restaurants — and with peace of mind, since parent pagers are provided. As for family meals together, our top pick is Taman Gita, with its seafood buffet and traditional Balinese Kecak dancing every Wednesday night.
4. The Resort at Paws Up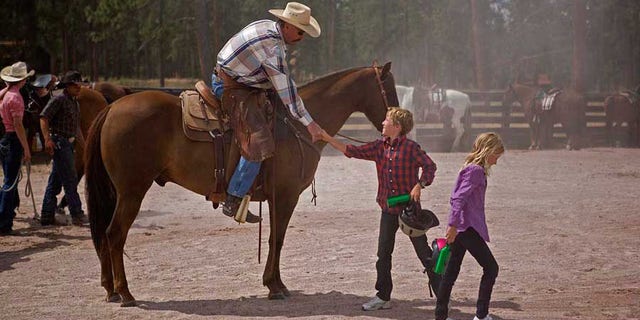 Greenborough, Montana
In this day and age when a Nintendo Wii is often a hotel's key kids' offering, The Resort at Paws Up is a standout. Located on 37,000 acres of Montana wilderness known for its world-class fly-fishing, this luxurious mountain retreat offers bond-building opportunities such as horseback riding, river rafting and rappelling. Activities for kids are organized by age, which means Mom and Dad can take their one-year-old on a carriage ride or send their seventeen-year-old off for a day of supervised paintball, hot air ballooning, geocaching or wrangling. The Kids Corps of Discovery is a special half-day or day-long program for children from five to twelve and includes trips to a ghost town and ranch experiences such as rope tying and lasso techniques. When it comes to accommodations, the rustic-chic lodges and luxe tents are to-die-for, but we recommend the private homes that come with individual tents, which the little ones are sure to love.
5. Grand Wailea, A Waldorf Astoria Resort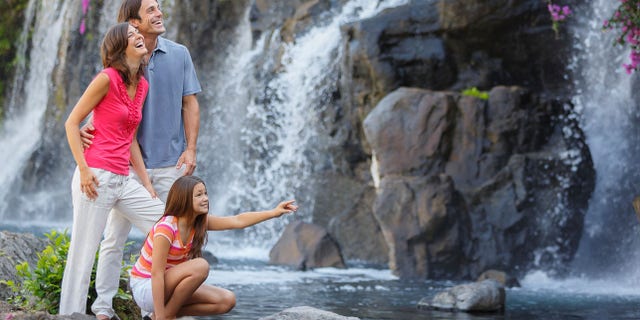 Maui, Hawaii
Polynesian in style, this elegant island resort offers all of the expected luxury hotel amenities, as well as everything needed for an unforgettable family vacation. Parents and kids can splash the days away in the Wailea Canyon Activity Pool, a six-level water wonderland of nine interconnected freeform pools with a Tarzan rope swing, six waterfalls, caves, a sand beach and even special pools for infants and adults only. When Mom and Dad want to slip away for a spa treatment or round of golf on the championship course, they can feel confident leaving their offspring at the 20,000-square-foot The Rock, home to three kids' clubs: Camp Grande, Ohana Hale and The Spot. These comprehensive, supervised clubs feature activities from dawn 'til after dusk, including hula classes, lei making, nature walks and pirate treasure hunts.
6. Treasure Island Holiday Park
Gold Coast, Australia
Location, location, location. A good family resort is an island unto itself. A great family resort is self-contained while at the same time ideally situated for memorable vacation adventures. In the latter category, Treasure Island Holiday Park is located on Queensland's Gold Coast, surrounded by theme parks and just fifteen minutes from Surfers Paradise. Discounted theme park tickets are available right at the resort, and if you don't feel like venturing out, the property has three pools, including the main pool with a water slide. The Kids Club Room overlooks the giant jumping pillow, while the Kidz Korner Activity Program invites children to participate in treasure hunts, indoor game days and arts and crafts such as chocolate making and sand art. Perfect for budget-minded families, Treasure Island offers RV parking along with charming bungalows complete with cooking facilities.
7. The Westin Resort & Spa, Whistler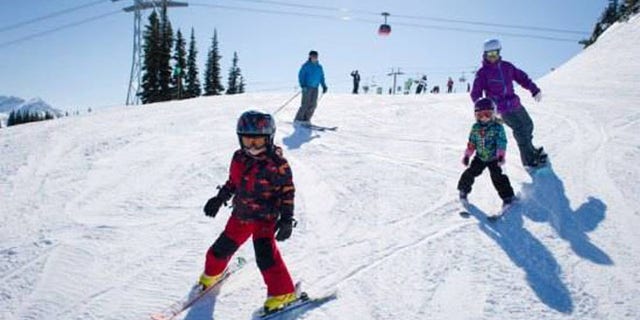 British Columbia, Canada
Although best known as a ski destination, Whistler is a great place to take the family for a warm weather getaway. Kids will love paddling a canoe downriver to an authentic ghost town or joining a professional researcher in a four-wheel drive vehicle to view black bears. Naturally, Avello Spa and nearby Jack Nicklaus- and Arnold Palmer-designed courses will appeal to parents, but there are plenty of activities that are sure to thrill all ages, including fishing, hiking and horseback riding. The hotel also offers Whistler Kids at the Westin (eighteen months to five years), Teddy Bear Daycare (30 months to five years), Summer Adventure Camp (five to ten years) and the SPG Kids Pass, an all-inclusive dining program with children in mind. For those who decide to buck the summer vacation tradition and head here once the snow falls, there are miles of ski trails for all levels.
8. Hotel Savoy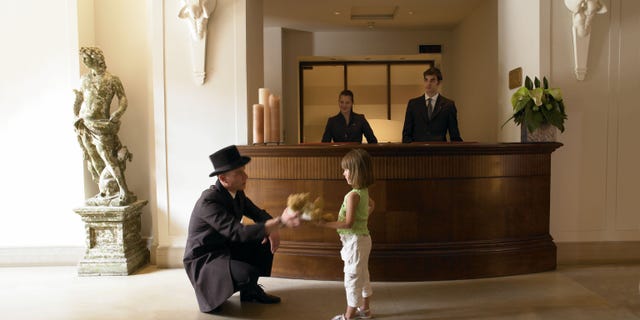 Florence, Italy
Immersing a child in culture — it can never start too early. But how? And where? We suggest beginning at the Hotel Savoy in Florence. The city looks as if it has been lifted from the pages of a children's storybook, and as for the centrally located hotel, well, why not choose one that a parent can enjoy as much as a child can? At the elegant, contemporary Hotel Savoy, kids receive a special welcome gift — a teddy bear awaits those three and under, while ages four to seven will enjoy biscuits with milk, and children from eight to fourteen receive a chocolate treat and an illustrated guide to Florence. Bathrooms are stocked with a special line of junior toiletries (including bubble bath), and rooms even come with child-size hangers, slippers and robes. Connecting guest rooms on all floors mean privacy for parents, and customized dishes allows Mom and Dad to feed even the pickiest eater without having to sacrifice the Tuscan flavors and piazza setting at on-site L'Incontro.
9. The Ritz-Carlton, Grand Cayman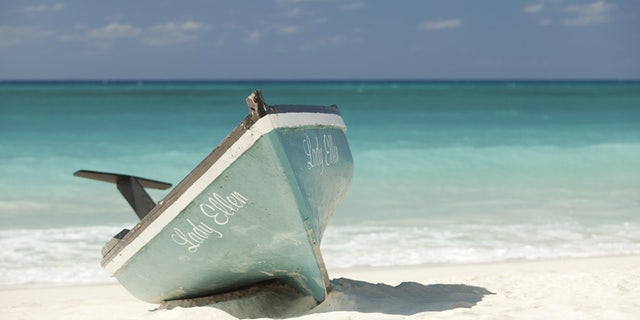 Grand Cayman, Cayman Islands
Sprawling across three islands from the Caribbean Sea to the North Sound, this 144-acre resort provides fun activities for all in the family. Parents will appreciate the Greg Norman-designed nine-hole golf course, a tennis center, the wealth of fine dining (including Blue by Eric Ripert), a La Prairie Spa outpost and the magnificent white sands of Seven Mile Beach. But the biggest draw for folks traveling with wee ones is Jean-Michel Cousteau's Ambassadors of the Environment. Special ambassador kiddie programs include Sea Floor Submarine Adventure, The Case of the Missing Stingray and Shipwreck Exploration Snorkel. Forget about same ol', same ol' activities like finger-painting and scavenger hunts. Here kids can discover endangered Cayman blue iguanas in the Queen Elizabeth II Botanic Park or embark on an underwater photography excursion. In addition, children use the islands as a living classroom to explore nature and learn how to live a more environmentally responsible life.
10. Sheraton Algarve Hotel at Pine Cliffs Resort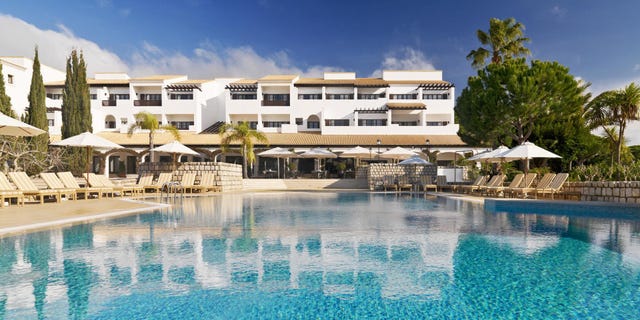 Albufeira, Portugal
A holiday oasis within an oasis, the Sheraton Algarve Hotel is part of the Pine Cliffs Resort — featuring more than ten international and Portuguese restaurants and bars (including family-friendly buffets), a full-service spa, a tennis academy, five swimming pools, a stunning nine-hole golf course and golf academy and one of the best-equipped kids' clubs in Europe. The club is divided into two sections. For ages six months to eight years, Porto Pirata is heaven on earth, with two life-size wooden pirate ships serving as the focal point for the 7,000-square-meter on-site children's village overlooking the Atlantic Ocean. Older kids (six to twelve) can participate in the Junior Club, where activities range from crossbow shooting and soccer to table tennis and mini-golf. For saving money, the SPG Kid Pass is an all-inclusive dining option for kids twelve and under.
More from Gayot
Photos and More Information on the Top 10 Family Resorts Worldwide
More Top Family Resorts Worldwide
Top 10 Family Resorts in the U.S.
Top 10 Value Hotels in the U.S.