Top 10 fabulous villa vacations
We searched the planet to find 20 of the best by-the-sea retreats you can rent for less than $7,000 a week (eight days, seven nights).
1. Casa Luna, Costa Rica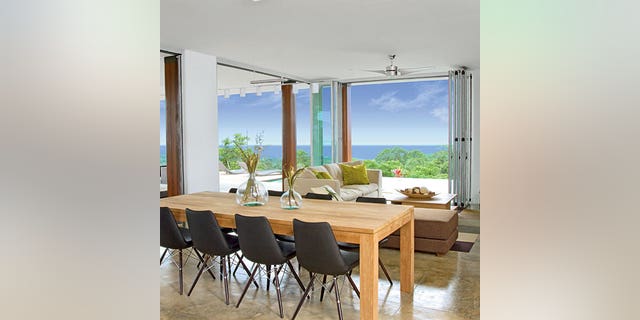 At the crossroads of the Pacific Ocean and the rain forest on Costa Rica's serene Nicoya Peninsula sits Casa Luna, a contemporary white-stone villa. Bifold glass doors and windows facilitate views of mountains and ocean from every room. A private deck and Jacuzzi are a bonus off the master bedroom, but the sleek infinity pool is perfect for experiencing Costa Rica's eco-tourism attractions up close—howler monkeys, scarlet macaws, and agoutis roam the forest canopy, and may even make a cameo on your private patio. Bonus: There are three beaches just down the hill from the villa.
Rates start at $3,500 per week; 877/573-8872 or jetsetter.com.
2. Casa Romantica, Costa Rica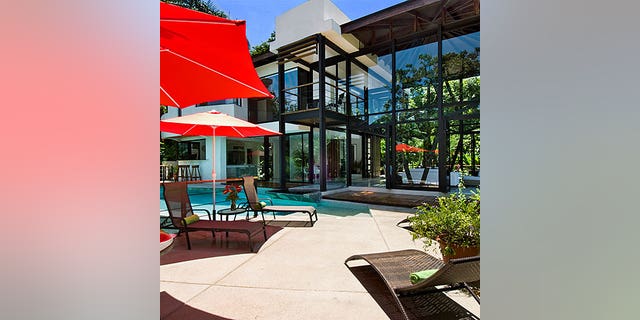 On 1½ acres of coastal rain forest in Manuel Antonio, dramatic 20-foot glass walls and vaulted teak ceilings are enveloped in 360 degrees of native tropical foliage and wildlife. Inside, a cascading waterfall at the entrance streams along rock-hewn grooves through the house, ultimately spilling outside into the infinity pool. Indoor gardens and white furnishings add to the home's Zen-like feel. At night, 200 inset lights illuminate the villa's four glass-encased bedrooms, decorated with white headboards. The fifth bedroom and bath are located in a separate guesthouse.
Rates start at $5,313 per week; 800/289-0900 or villasofdistinction.com.
3. Star Garden, St. Thomas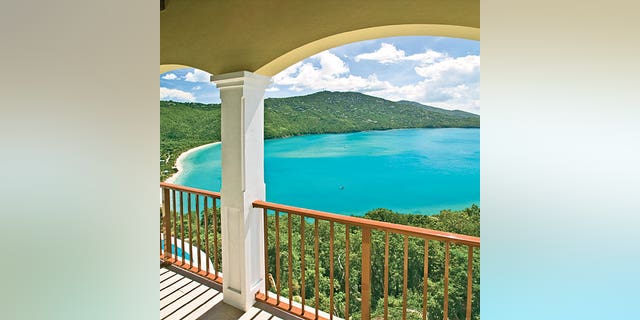 Flying high atop Sydney's Fancy—the zenith of the Peterborg Peninsula on the north coast of St. Thomas—this villa gets its name from its famed garden. The Adirondack-strewn lawn is blessed with night views so spectacular that star gazing could trump sunbathing as your favorite pastime. Come daylight, the villa wows with a design that evokes a floating-in-the-sky feeling thanks to infinity edges on multiple sides of the property—the most spectacular is the whitewashed, Santorini-style swimming pool. The view is vast, with the British and U.S. Virgin Islands on the horizon.
Rates start at $6,300 per week; 800/289-0900 or villasofdistinction.com.
4. Stonehaven Villas, Tobago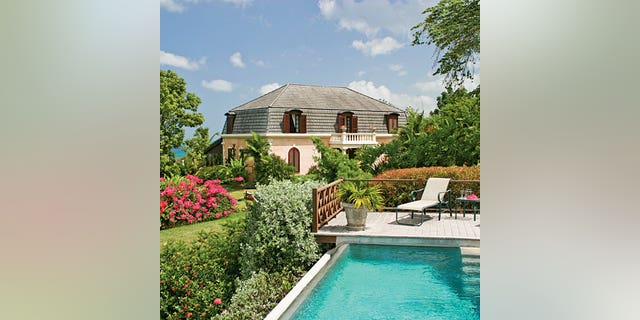 Designed by architect Arne Hasselqvist of Mustique fame, the 14 villas at Stonehaven are an interpretation of Tobago's 18th-century good life. In signature theatrical fashion, Hasselqvist re-created spacious, two-story French plantations on panoramic hilltops overlooking the Caribbean Sea (with not-so-18th-century 70-foot verandas and infinity pools). The interior elevates the motif with period-appropriate mahogany wood furnishings. Request the villa that once served as Hasselqvist's home, which is filled with his rare, personal artifacts, including two original Picasso sketches.
Rates start at $1,925 per week; 868/639-0361 or stonehavenvillas.com.
5. Mango Hill Greathouse, St Croix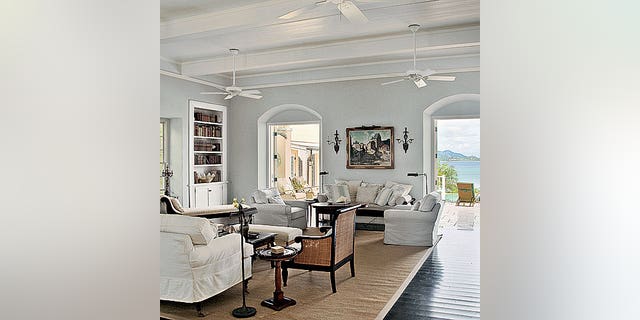 This luxurious hillside villa feels like home—that is, if your primary residence is a 6,800-square-foot estate with antique furnishings, a grand staircase, and a generous pool overlooking the ocean. Relax in the blue-and-white great room with a book from the library, or take in the view from one of the wicker chairs on the spacious sundeck. Upstairs, three suites channel breezy West Indian style with traditional shutters on all windows. Couples may want to claim Kumquat, the one-bedroom guesthouse adjacent to the pool with views of the water.
Rates start at $6,500 per week; 340/227-7899 or mangohillgreathouse.com.
6. Luxury Villas, Mexico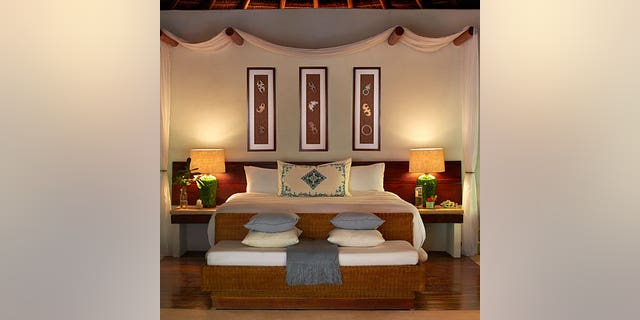 An all-villa resort enclave by the aquamarine waters of the Mayan coastline houses 41 individual Mexican thatched palapa-roof villas. They dot six acres of lush jungle and each have a plunge pool, private terrace, and locally crafted crochet hammock. Verdant foliage surrounds each villa, ensuring privacy for the outdoor shower/garden; wall-to-wall sliding glass doors in the bedroom reveal views of the pool and jungle. Each furnishing and accessory makes a statement: The olive-hued lounger mirrors the pattern of the emerald green mosaic lamps placed on either side of the bed.
Rates start at $6,502 per week; 800/578-0281 or viceroyhotelsandresorts.com/rivieramaya.
7. Milord, Barbados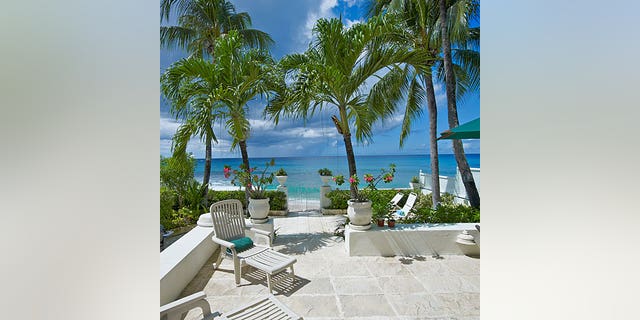 This coral- and sunrise-tinted villa sits on a swath of beach on Barbados's west coast. Though new construction, the style of the duplex pays homage to the colonial roots of "Little England," namely in the dining room, where modern re-creations of 19th-century chandeliers and a custom mahogany table steal the show. Bedrooms feature hardwood flooring and white louvered doors that open to views of the sea. The backyard leads to the villa's terraced patio and an idyllic, palm-fringed beach. A housekeeper and cook keep things running smoothly.
Rates start at $3,850 per week; 800/289-0900 or villasofdistinction.com.
8. Beach House, Anguilla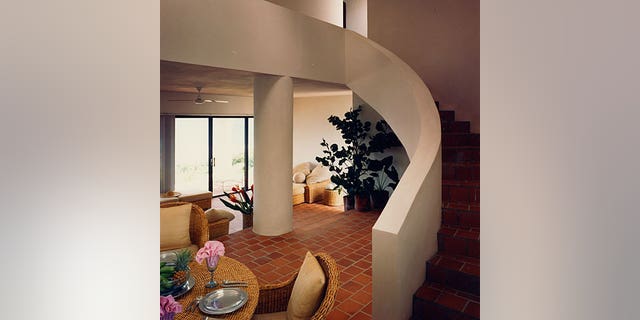 Near the mega-mansions and Greek-style architecture of Anguilla's celeb-studded Shoal Bay West, Covecastles is the brain-child of award-winning architect Myron Goldfinger. The stark white, geometric-shaped villas and beach homes have become a symbol of the island. Inside, a curved staircase connects the ground-floor common areas with the upstairs bedrooms. On both floors, oversize windows frame views of ocean, sand, and sky. Oak plantation shutters, terra-cotta interiors, and rattan furniture play off a theme of classic tropical luxury, while surrounding sea grape trees and well-angled architecture maximize privacy.
Rates start at $5,565 per week; 800/223-1108 or covecastles.com.
9. Superior Luxury Villas, St. Lucia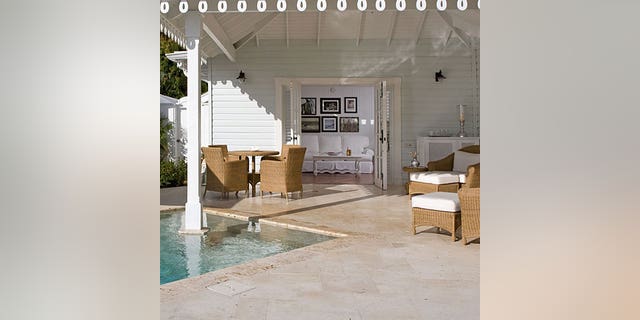 On the hills between St. Lucia's iconic Piton mountains, a villa at Sugar Beach is a front-row seat to the island's natural grandeur. Recently renovated plantation-style gingerbread villas alternate in color, representing all spectrums of a pastel rainbow. Inside, the crisp, white-on-white motif pairs with a four-poster bed and hardwood floors. The alfresco lounge area and plunge pool overlook the ocean. This villa has a refrigerator, private bar, and dining area but does not have a full kitchen—for meals, the resort has myriad dining outlets with fresh fare.
Rates start at $5,880 per week; 800/235-4300 or viceroyhotelsandresorts.com/en/stlucia.
10. Chateaux Mango Beachfront Villa, St. Lucia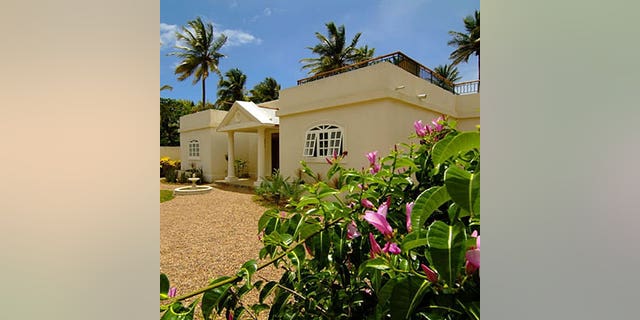 The 3,500-square-foot Chateaux Mango embraces storied colonial design with exterior coral renderings, arched ceilings, and exposed beams. Two principal bedrooms center on mahogany four-poster beds and open directly onto the terrace, which overlooks the garden and a private pool landscaped with soaring palm trees and charming orange groves. The kitchen is sleek and spacious, with stainless steel appliances and abundant cabinet space. The bay feels almost entirely yours, with the villa's personal loungers and umbrellas lining the sands and often not a person in sight.
Rates start at $6,509 per week; 866/460-5755 or cottonbayvillage.com.
See many more fabulous villas at Coastal Living