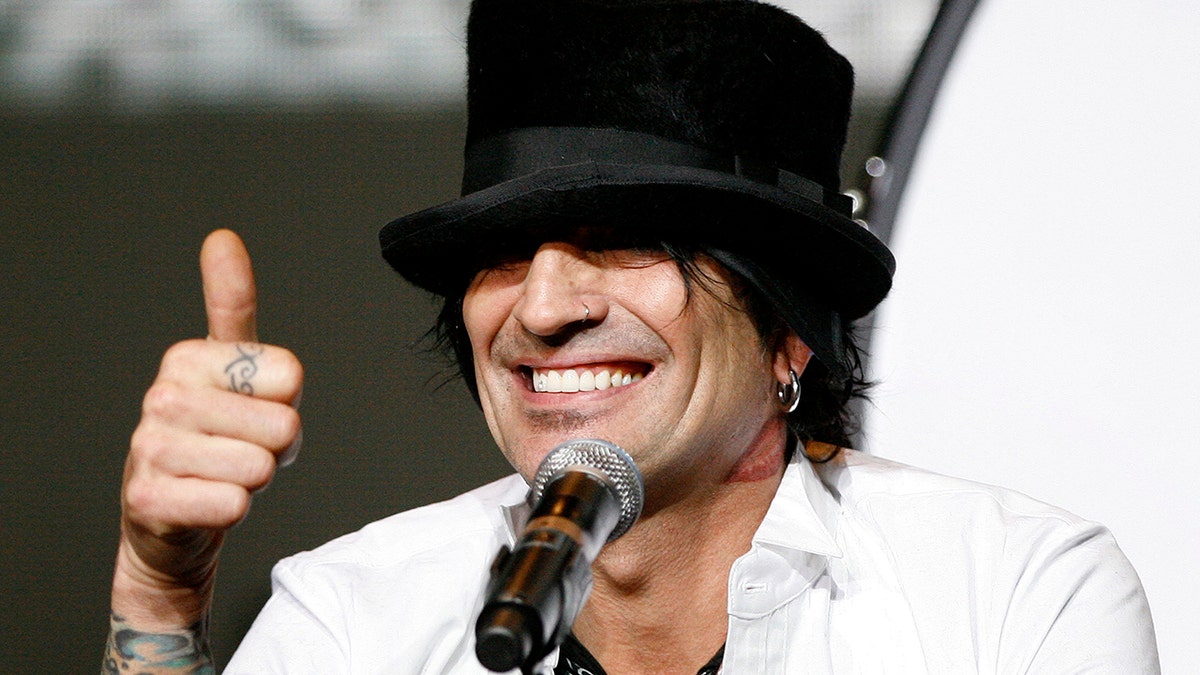 A rock star getting intimate with his girlfriend isn't all that shocking — but when they can't keep their hands off each other during an hour-long flight? That's somewhat more surprising.
According to TMZ, Motley Crue drummer Tommy Lee and girlfriend Britney Furlan may have joined the mile-high club on a recent first-class flight, spending "at least 20 minutes" of their 65-minute trip inside a restroom together before vacating the lavatory about 30 seconds apart. Furthermore, sources for the site claim that neither Lee nor Furlan will face any consequences for their actions, as there were no complaints filed with the airline.
AMERICAN AIRLINES PASSENGER DETAILS 'HORRIFYING' FLIGHT NEXT TO MASTURBATING SEAT-MATE
The pair was reportedly flying from Nassau, in the Bahamas, to Miami, Fla., when the incident occurred. As evidenced by Furlan's Instagram activity, she and Lee had been vacationing in the Bahamas since Aug. 13, where they appeared to soak up sun during beach outings and boating excursions (and often in various states of nudity, in Furlan's case), and visited the famous Pig Beach of Exuma.
TMZ also reported that the pair was flying with American Airlines when they may or may not have engaged in a high-flying sex act, although a representative for American tells Fox News the jet was operated by Republic Airways, an airline that sometimes operates aircrafts from Miami to Nassau under the American Eagle brand, which is a regional branch of American Airlines. American did not confirm whether Lee's Republic Airways flight was being operated by American Eagle.
Brittany Furlan later tweeted that she and Lee had flown from the Bahamas to Miami on American Airlines, writing that the airline lost the pair's luggage upon arrival.
A representative for Republic Airways was not immediately available to comment.
FOLLOW US ON FACEBOOK FOR MORE FOX LIFESTYLE NEWS
In any case, an American Airlines source for TMZ said Lee and Furlan will not face any repercussions if they did join the mile-high club, as it's not against policy for two people to occupy a single restroom at the same time. If, however, the two did the deed aboard their flight, this wouldn't be nearly the first time Tommy Lee's sexual escapades have made headlines. In 1996, a video of the Lee and then-wife Pamela Anderson having sex on their honeymoon was stolen from the couple's safe and subsequently published without their consent. The couple then sued the distribution firm that marketed the tape, and ultimately settled with the company.