Time for slime: Inside Nickelodeon's first Caribbean resort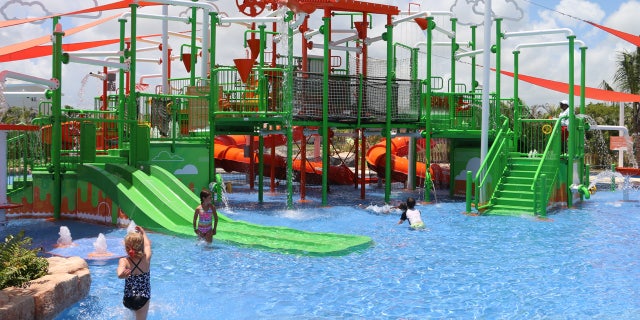 With its greenslime sessions, meet-and-greets with SpongeBob SquarePants and innovative swim-up suites, the newly built Nickelodeon Hotels & Resorts Punta Cana is making waves in the Dominican Republic.
It's the first Nickelodeon-branded property to come out of a partnership between Viacom International Media Networks and the Mexico-based Karisma hotel group. After a soft opening in June, the resort officially rolled out Nickelodeon's signature orange carpet to guests in August.
Here's what you need to know about this cool new family-friendly resort.
1. It's a first.
Built from the ground up, the Punta Cana resort was created with the Nickelodeon brand playing centerstage. In July 2015, the concept got a test drive with a modified Nickelodeon Experience at Azul Sensatori Mexico and the Azul Beach Hotel on Mexico's Riviera Maya. (Previously, Holiday Inn had offered Nickelodeon amenities at an older hotel in Orlando, but the companies parted ways earlier this year and the property was rebranded.) Karisma and Nickelodeon have other developments in the works for Jamaica, Mexico, and more.
2. It's not just for kids.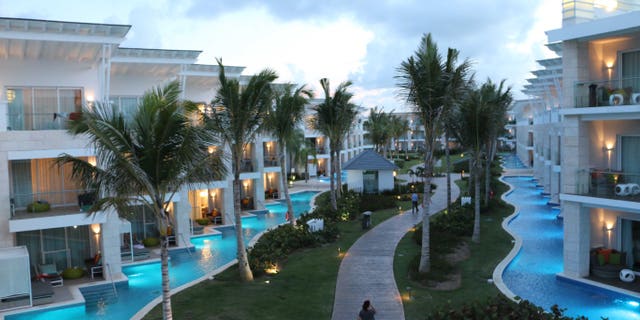 It's hard to believe that a place with the word "Nickelodeon" in the name could cater to anything other than the pint-sized set, but characters are discreet and kitsch is kept to a minimum. How can that be? The resort shares the grounds and many amenities with an adult-focused hotel — Sensatori. There are also adults-only offerings, like Kitchen 23 by Le Chique, helmed by a chef who trained at Spain's El Bulli. For some kids, it might be disappointing not to see the Teenage Mutant Ninja Turtles roaming around all day. But for parents who want a respite from the typical kids-everywhere getaway, the resort strikes a great balance.
3. Even adults love the kids' area.
Nickelodeon Place is a mammoth activities area aimed at children — but it appeals to adults, too. The main feature is Aqua Nick, a waterpark with serious slides and a lazy river. Unlike many kiddie waterparks, it's deep enough — about two feet around the slides and four feet in the lazy river — that parents can splash around with their kids. The Sports Hub offers archery lessons, tennis, and a giant chess game. There's also a space for younger children — Just Kiddin' — with crafts and a thrilling slide that lands in a pit of plastic balls.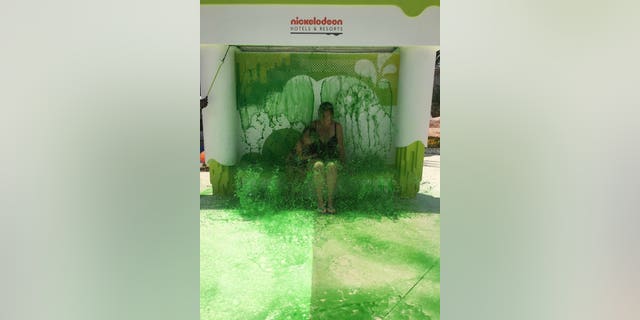 4. There's a lot of green slime. Lots and lots of green slime.
Anyone who has watched Nickelodeon knows about the green slime dumped over actors and pretty much anyone appearing at the Kids' Choice Awards. When you arrive at the resort, kids are greeted with a neon "slime" smoothie. Aqua Nick hosts daily Slime Time sessions, as well as a Mass Sliming, where a crowd gets doused by a huge bucket of green water. For better or worse, slime also appears on menus. At the Latin-themed Fresco restaurant, the yucca fritters are accompanied by a citrusy green-slime dipping sauce.
5. Get ready to walk.
The grounds are sprawling. On the upside, even if the hotel is full, it doesn't feel that way. The downside is that you end up walking a lot, since the golf carts that roam the property never seem to be around when you need one. Nickelodeon Place is located on the far side of the resort and a tunnel takes you under Punta Cana's main road to get there. It's not dangerous and it takes less than 10 minutes if you want to walk from the lobby, but the division makes things feel even more spread out.
6. You'll want to splurge on a swim-up room.
Nickelodeon and Karisma designed the spacious accommodations for families — every room has an enormous freestanding tub and a balcony. But be warned: You'll be taunted by the swim-up suites that line the ground level of each building and open onto a long, shared pool. You can reason that you won't spend much time in your room, but there's nothing better than waking up and jumping into the water.
7. Check the schedule carefully.
You'll quickly realize that it takes some effort to hang out with Dora, Paw Patrol, and the other Nick characters. There are daily opportunities to meet them at Character Central and they also make pop-up appearances around the resort, but you need to be in the right place at the right time. For that reason, the character breakfast is a must-do, but it isn't offered day like at many Disney resorts.
8. Reserve specialty restaurants well in advance.
The restaurants are a notch above the usual all-inclusive buffets. In many of the spaces, the chefs work in open kitchens, preparing food as you watch. Spacewalker makes molecular gastronomy accessible for kids. Wok Wok serves everything from sushi to stir fry. Brgrs.PH has a massive machete burger that serves eight. Here's the hitch: You need to reserve the specialty restaurants, and popular spots like Spacewalker and Wok Wok book up several days out. (Pro-tip: Try just showing up and hope someone cancels.)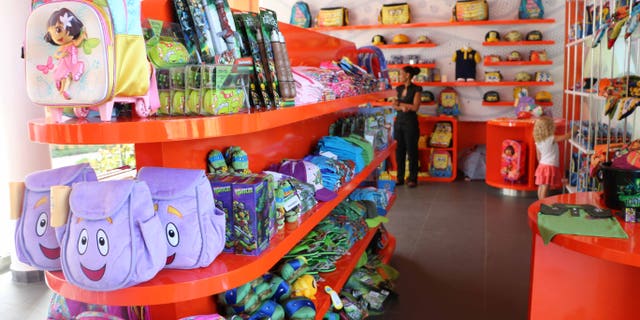 9. Check out this secret spot.
An enormous infinity pool lines the gorgeous soft-sand beach. But there's a great swim-up bar next to Fresco restaurant. It's less crowded than the main pool and you can order lunch and drinks right in the water. Splashing around while you eat is the ultimate paradise.
10. Watch out for pricey souvenirs.
The Nick Knacks shop is loaded with Nickelodeon toys. But be careful: A plastic Paw Patrol figurine that costs just $6.99 at Target goes for $28 here. Maybe customs levies a hefty surcharge for shipping products to the Caribbean? One strategy is to buy some Nickelodeon toys in advance and pull them out when your kids want a souvenir.
Through October 21, Nickelodeon Hotels & Resorts Punta Cana is offering Sliming Savings for travel until December 22, 2017. Rates start at $190 per person per night for adults and include two children (ages 3-12) when sharing with two adults.