This IMAX film captures the dazzling beauty of our national parks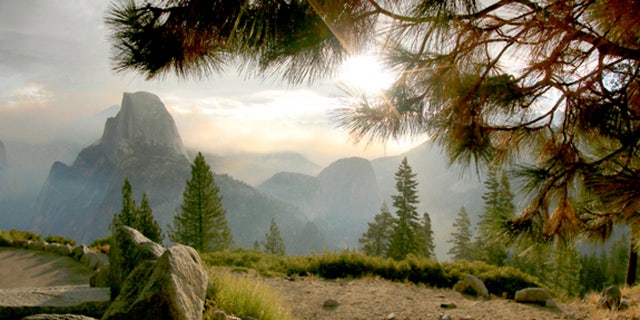 NEWYou can now listen to Fox News articles!
It's been called "the best idea America ever had."
When Congress created the National Park Service in 1916, there were just 35 parks and monuments.
Today there are over 400 sites covering more than 84 million acres --including national parks, monuments, battlefields, military parks, historic sites, seashores--even the White House.
Helping to kick off its 100th birthday celebration is "National Parks Adventure" a 3D IMAX documentary film that opens nationwide Friday. The epic adventure takes viewers on a rip-roaring, heart-pounding, soulful road trip of 30 national parks.
(A brown bear at Katmai National Park and Preserve in Alaska. VisittheUSA.com)
Narrated by Robert Redford and filmed over a nine-month period using a time-lapse camera, the movie follows a team of modern-day explorers -- world-famous mountaineer Conrad Anker, his stepson and noted photographer Max Lowe and artist Rachel Pohl – as they go on a unique tour that offers stunning glimpses of America's national parks.
"For me, the most breathtaking moment was when we discovered the ice caves in Pictured Rocks National Lakeshore in Michigan on Lake Superior," film director Greg MacGillivray told FoxNews.com.
(Pictured Rocks National Lakeshore. VisittheUSA.com)
The crew was there filming an ice climbing sequence on a frozen waterfall. What they didn't expect were the ice caves.
"It was one of the most beautiful places I've ever been, and such a surprise to find something I had never seen before, even in photographs," he said. "The scene was so beautiful, especially in IMAX 3D, that we use it as the ending scene in the movie."
(Pictured Rocks National Lakeshore in Michigan. VisittheUSA.com)
MacGillivray says during filming, he was surprised to learn about how vital a three-day trek through the Yosemite Valley by President Theodore Roosevelt and conservationist John Muir was for park land. In 1903, Muir showed Roosevelt the area's beautiful natural spots, including Sentinel Dome and Glacier Point. So impressed was Roosevelt that after the trip he established Yosemite a national park, and during his presidency he signed into existence four other national parks, 18 national monuments, 55 national bird sanctuaries and wildlife refuges, and 150 national forests.
In the movie, the trio hike into uncharted wilderness and provide off-trail adventures that includes rock climbing through Utah's Arches, Canyonlands and Zion national parks.
(Rock formations at Bryce Canyon National Park, Utah. VisittheUSA.com)
MacGillivrary's biggest challenge was to highlight how and why the National Park System was created and pair it with the raw ferocity of the wilderness.
"I really wanted this film to be much more than a tour," MacGillivray said. "I wanted to make a freewheeling film that captures the way the parks speak to adventurers, artists, athletes, and anyone who wants to challenge themselves physically, artistically and spiritually within."
The film's release caps off a major milestone for the National Park System and hopes to keep the momentum and interest in the parks going.
"Too many Americans do not know the beauty our country possesses and has worked so hard to preserve," Chris Thompson, president and CEO of Brand USA, the destination-marketing organization for the United States, which partnered in the IMAX production.
(The Colorado River through the Grand Canyon. VisittheUSA.com)
"America is most than just its gateway cities and offers so many different experiences for travelers of all kinds," Thompson told FoxNews.com. "From picturesque lakes and lush forests to historical monuments and rugged landscapes, the National Parks provide an unforgettable experience for every type of traveler."
Thompson says not only does he want to rekindle America's love affair with its parks but to also draw in international guests.
"We want travelers from all over the world to expand their view of the United States beyond our bustling urban environments and really become synonymous with natural beauty, rich history and breaking adventure," he said.
(The Great Fountain Geyser in Yellowstone National Park. VisittheUSA.com)
Each year, the U.S. National Parks Service attracts million visitors from around the world. In 2015, the NPS shattered its attendance record with more than 305 million guests visiting America's national parks.
"National Parks Adventure" will be shown in more than 400 giant-screen theaters and 50 cities in the U.S. The movie will also be shown in India, China, England, Germany, Japan and France.
Check out the trailer here.