This glass church is made to look like a giant high-heeled shoe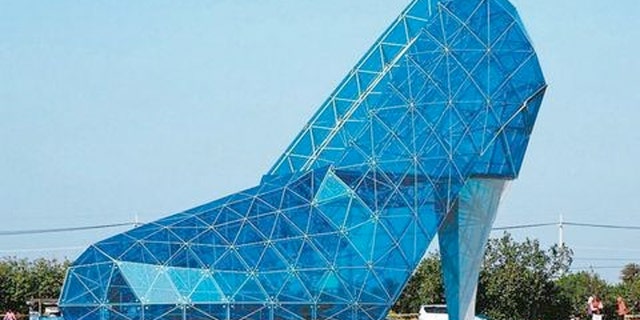 This church in Taiwan is more "Devil Wears Prada" than divine.
But in an effort to lure in more fashionable female churchgoers –and a curious public -- local officials at Ocean View Park in Budai town, on the east coast of Taiwan, have created a high-heeled shaped house of worship made almost entirely out of glass.
The dazzling blue building stands 55 feet tall and 36 feet wide and is made out of 320 pieces of tinted glass reports Huanqiu.com, part of the China's People's Daily Online.
It's not clear what type of church it is. But according to a video released by China Central Television Station, Zheng Rongfeng, spokesman of the Southwest Coast National Scenic Area, said the church is expected to open before the Chinese New Year, which falls on February 8.
Zheng also noted that there will be a total of 100 female-oriented features in the church for romantic photo-ops, which include chairs for "lovers," maple leaves, biscuits and cakes.
Not surprising, many tourists have been flocking to the area to take pictures even before the building was completed.