This can help you score last-minute Super Bowl trip tickets--and maybe zebra pants too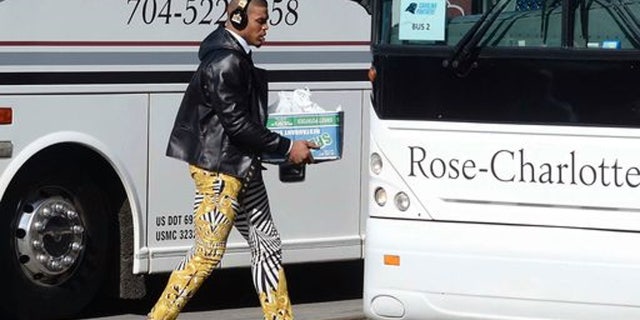 If you decided that you just have to see Carolina quarterback Cam Newton's zebra striped pants up close at Super Bowl 50, the next step is to figure out how to tackle this Herculean last minute travel plan.
There is a solution, though. The most efficient and effective way to cut through the endless clutter of information on the Internet is to work with your local trusted travel agent.
If you want in the stadium for the game, you're potentially looking at $5,000 per ticket, based on recent figures from secondary ticket market sales leading up to the game. A travel agent can point you to the most reputable ticket sellers in the area, as they've planned these kinds of trips many times and know the right place to go for that all-important Golden Ticket.
After spending so much on the game tickets, you'll want to maximize every other facet of the trip. As always happens around the hottest events, Bay Area hoteliers are raising prices this week. Travel agents often have insider relationships with both the chain hotels and the boutiques around big destinations. Whether it's room upgrades, special discounts or preferred status, travel agents often have that inside edge that can turn your trip from good to great. (Looking to the AirBNB route? Travel agents often can give you insight into the best deals and the most reliable locations here as well.)
Maybe you just want to be around the action without actually going to the game.
Best Super Bowl 50 parties and events
The NFL is offering options like never before to satisfy those who can't get in the gates. The heart of the weeklong celebration will happen in downtown San Francisco. With the area's reputation for innovation, Super Bowl officials are promising the most interactive fan experience yet.
The NFL Experience is a football playland with games, clinics, interactive exhibits and live broadcasts throughout the week. It runs through Feb. 7 at Moscone Center North and South. Tickets are $25 for kids 12 and under, $35 for adults. A travel agent will know the hotels and restaurants that get you closer to the event rather than staying on the other side of town.
There is also a culinary feast, the Taste of the NFL at the Cow Palace. Attendees get to sample food from top chefs around the country, all while hobnobbing with current and former NFL players. This is a pricey ticket ($700), but don't fret. Travel agents can recommend restaurants and local watering holes that will put you close to the red carpet if you can't afford this foodie haven.
Travel agents also are your best connection to recommend insider passes such as the Go San Francisco Card, an all-in-one pass that gets you access to some of the best cultural attractions and sightseeing tours in the city. Once again, there are so many offers in and around the city once you get there. Your trusted advisor cuts through that white noise.
Want to live your sports dream and still make your spouse happy? Extend your trip and visit the vineyards of Sonoma and Napa Valley. An agent can make the connections and suggest the perfect location to make complicated multiple legs of a trip as seamless as possible.
And what if the dream trip hits some snags? Forecasts call for some nasty winter weather that could cause airline headaches. While others are standing in a customer service line when those delays or cancellations happen, your travel agent is your best bet to change your flights and get you to the game on time.
The best teams all follow the same playbook to win trophies. NFL superstars like Cam Newton and Peyton Manning reach the center stage of their sport by going above and beyond in their preparation.
Follow that same gameplan in prepping for your trip. Your local travel professional can give you that inside edge that turns a last-second splurge into the trip of a lifetime.
And they may even be able to tell you where to buy those sold-out Versace "Barocco Accent Print Jeans" for $849.