These super-thin airplane seats would make flying even worse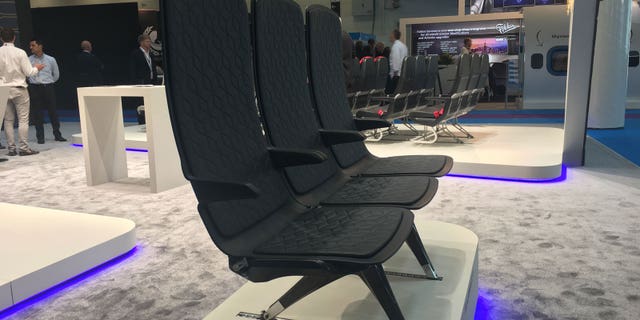 Someone has finally figured out how to make the thinnest aircraft seats the skies have ever seen.
Now the question: Why?
Called Vision 2030, these seats are making us weep, and it's only 2017. There's more than enough making our eyes water, frankly.
They are the product of aviation newcomer Mirus Aircraft Seating, based in the U.K., who have also created lean but comfortable Formula 1-inspired seats. But now they are just messing with us.
More From Travel + Leisure
With the structure made entirely of carbon fiber, the Vision 2030 sliders are less than half the thickness of your typical aircraft meal tray. Of course, there is no meal tray. Who needs a meal? There is barely room for a pair of elbows. Who needs elbows?
The thin padded cushions on the plastic surface might make decent covers for seats on a subway or bus, but a short ride is about as far as you'd want to go in them.
They are a third the weight of ordinary airplane seats, which is only nice if you're the airline. The fuel savings would be huge (if passengers were willing to buy a ticket).
Mirus has explained that the Vision 2030 seat concept was created on a dare. They don't expect the seat to sell — however they wouldn't turn away orders.
Engineers love to show that they can push the edge on what is technically feasible, even if no person in their right mind would want to experience it. They'll develop these prototypes and show them off at aircraft design expositions, where there are non-engineers present who might faint.
And they'll design, test and build these monstrosities even if no airline in the world would install them.
Unfortunately, everyone who has spent a miserable flight in a cramped middle seat has that nagging fear that one airline will bite — and it will start a trend.
After all, the seats might be ideally suited for the fly-free scheme that Ryanair CEO Michael O'Leary has talked about. He has discussed plans to make up the costs of flying by charging passengers for "extras" (like the bathroom … or oxygen), and having airports pay Ryanair to land in their cities. The chances of that becoming a reality, however, are low.
O'Leary probably hasn't seen Mirus' seat yet, and at least for now, Ryanair's seats are much more comfortable than this carbon fiber creation.
So for the sake of passengers around the world, someone reduce the caffeine dose engineers get in their morning coffee, and let's go back to designing for people.