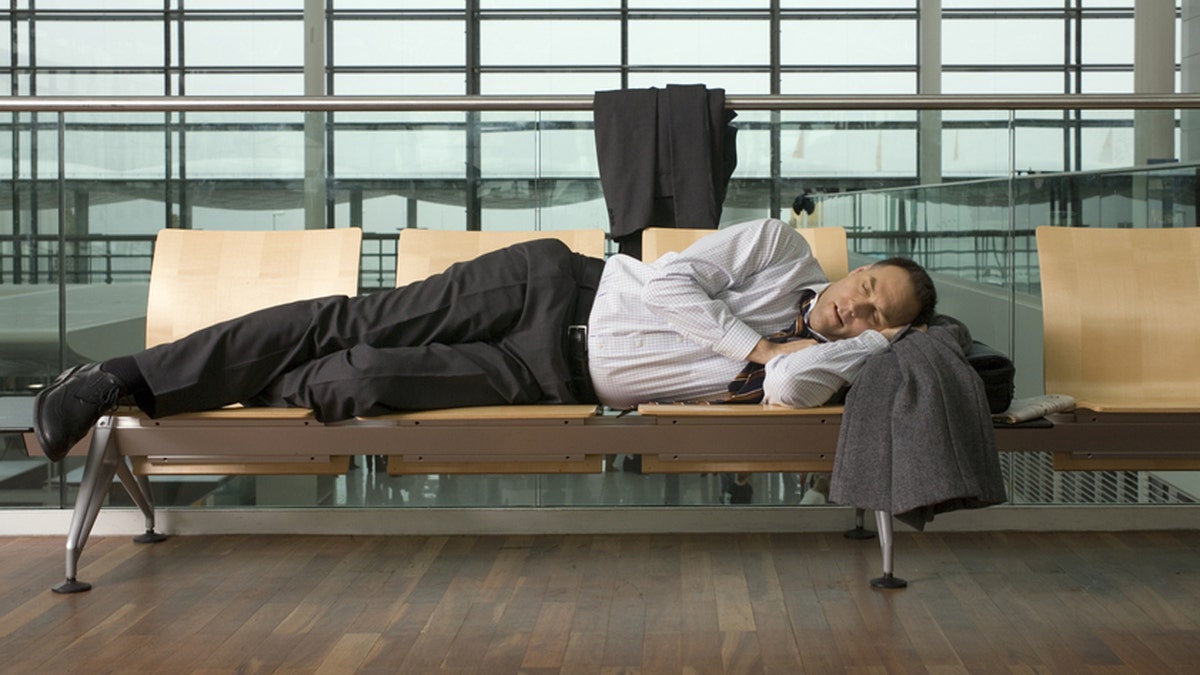 If you're sleeping at the airport, chances are something went very wrong with your travel plans.
Whether you were late for an international flight, missed a connection or maybe your plane got held up in another city with bad weather. Whatever the reason, if you're forced to sleep in public, airports aren't usually the best place to rest up.
But there's uncomfortable and then there's just plain awful. And there are some really, really bad airports out there.
That's according to a new survey conducted Sleeping in Airports (and common sense).
The worst of the worst, according to the survey, is the Jeddah King Abdulaziz International Airport in Saudi Arabia. Passengers complained about the lack of seating and tight, crowded atmosphere. And if desperate times called for desperate measures…well, the floor at the airport is both cold and dirty-- not exactly the most posh place to catch some zzz's.
Over in Europe, you could potentially get wet at the Pisa Galilei Airport in Italy. That's because it's actually closed between midnight and 4 a.m. So if you get in super early, you might be forced out into the open– where, if you fall asleep, you could wind up getting sprayed by the site's sprinkler system.
Unfortunately, it doesn't fare much better at airports in other parts of the country. Don't expect to get any quality rest at the Venice Marco Polo International Airport. The airport, ranked as the fifth worst to sleep in, is known for nosy police officers demanding proof of airline tickets. That hasn't stopped a contingent of homeless people, however, from resting with the ranks of flyers.
Have you slept in one of the worst airports in the world?
Here are the top 15 worst airports to sleep in:
1. Jeddah King Abdulaziz International Airport, Saudi Arabia (JED)
2. London Luton International Airport, United Kingdom (LTN)
3. Reykjavik-Keflavik International Airport, Iceland (KEF)
4. Pisa Galileo Galilei International Airport, Italy (PSA)
5. Venice Marco Polo International Airport, Italy (VCE)
6. New York City La Guardia International, USA (LGA)
7. Kathmandu Tribhuvan International Airport, Nepal (KTM)
8. Honolulu International Airport, USA (HNL)
9. Rome Ciampino-G.B. Pastine International Airport, Italy (CIA)
10. Berlin Schoenefeld International Airport, Germany (SXF)
11. London Stansted Airport, United Kingdom (STN)
12. Brussels South Charleroi Airport, Belgium (CRL)
13. Paris Beauvais–Tillé Airport, France (BVA)
14. Eindhoven Airport, Netherlands (EIN)
15. Manila Ninoy Aquino International Airport, Philippines (MNL)
And these are the top 15 best:
1. Singapore Changi International Airport, Singapore (SIN)
2. Seoul Incheon International Airport, South Korea (ICN)
3. Tallinn Lennart Meri Airport, Estonia (TLL)
4. Tokyo Haneda Airport, Japan (HND)
5. Helsinki-Vantaa Airport, Finland (HEL)
6. Taipei Taoyuan International Airport, Taiwan (TPE)
7. Osaka Kansai International Airport, Japan (KIX)
8. Munich Airport, Germany (MUC)
9. Vancouver International Airport, Canada (YVR)
10. Vienna International Airport, Austria (VIE)
11. Porto Francisco Sá Carneiro Airport, Portugal (OPO)
12. Minneapolis–St. Paul International Airport, USA (MSP)
13. New Delhi Indira Gandhi International Airport, India (DEL)
14. Doha Hamad International Airport, Qatar (DOH)
15. Zürich Airport, Switzerland (ZRH)