The Year of the Horse: Ringing in Chinese New Year in Hong Kong
For more than a billion people worldwide, the true start to the year arrives Jan. 31, Chinese New Year. Welcome to the year 4712! With the coming Year of the Horse (the Wooden Horse, to be precise), the Lunar Festival promises an extreme year of adventure and romance, and also chaos and market fluctuations.
Chinese New Year is the kind of holiday we can all get behind: a 15-day celebration centering around food and family, with traditions designed to attract luck and fortune. Nowhere are the festivities more exciting than in Hong Kong, a vibrant East-meets-West city dripping with glamour and rooted in tradition.
With 7 million people crammed onto a landmass one-third the size of Rhode Island, Hong Kong is often thought of as a pulsating urban jungle. Indeed, you'll find a city awash in skyscrapers, Michelin-starred restaurants, dapper British bankers and flashy stores eager to eager to max out your credit card.
But Hong Kong also has tremendous respect for the things that matter most: family, friends, and especially tradition.
It's easy to see why Hong Kong (which last summer marked 16 years since the British handed back control of its colony to China) is so popular with expatriates.
Daily direct flights from Los Angeles, Chicago, San Francisco and New York-JFK on passenger-friendly Cathay Pacific (with an additional non-stop route from Newark starting in March) make the long trip more palatable to Americans (1.1 million Americans visited Hong Kong in 2013 alone). Street signs are all in English, the clearly signed MTR subway system is famously easy to navigate, and, unlike with mainland China, Americans don't need a visa for visits under three months. Space is at a premium, and it's certainly not the world's cheapest city, but there are bargains to be had everywhere in Hong Kong, and the decision to build up rather than out has ensured massive swaths of parks and greenery remain clustered in and around the city.
On a recent trip Hong Kong was already draped in lucky shades of red and gold, and the flower markets were buzzing with preparations for the Jan. 31 Lunar New Year through the Spring Lantern Festival on Feb. 14. There's no better time to experience the contradictions in this soulful city. Here are a few of the top must-sees and must-dos in Hong Kong during Chinese New Year.
1. Hit the Cathay Pacific International Chinese New Year Night Parade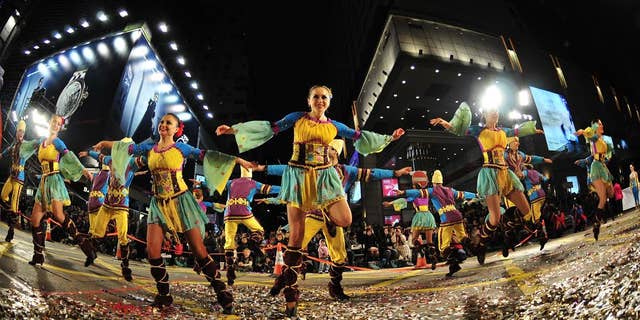 The streets of Tsim Sha Tsui (Kowloon) become a circus on Jan. 31, the first night of Chinese New Year, during one of Hong Kong's most popular and beloved celebrations. All along the harborfront streets, a procession of opulent neon floats and costumed troupes performing spectacles -- including bicycle "fire dragon" dancers, clowns and fire-breathers.
2. Shop the markets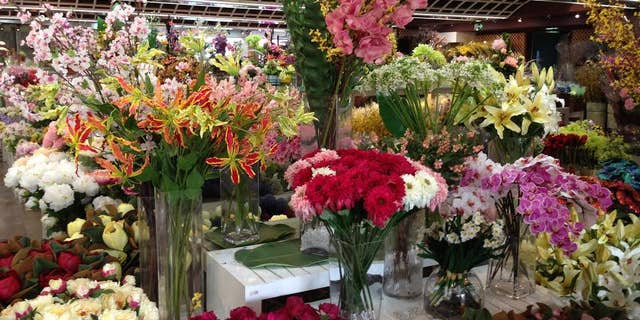 There's a market for everything in Hong Kong, from birds to goldfish to business cards. Two Chinese New Year favorites are the Ladies Market (Tung Choi St in Mongkok) for coats, shoes and handbags, and the Flower Markets (Victoria Park in Causeway Bay, and Fa Hui Park in Mongkok) for peonies, bamboo, pussy willows and mandarin oranges. No matter what you buy, make sure at least one thing is red; the Chinese believe it will bring luck. Particularly beloved are Lai See, ornate red envelopes filled with cash that are presented to children, unmarried friends and staff as auspicious gifts.
3. See fireworks and lights over Victoria Harbor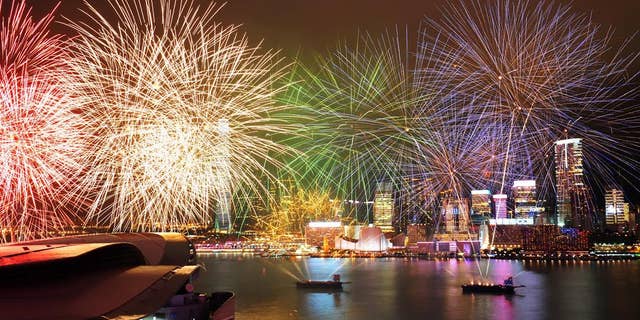 On Feb. 1, the second day of Chinese New Year, fireworks explode over skyscraper-laden Victoria Harbor in one of the world's premier pyrotechnics displays. Meanwhile, the harbor shimmers year-round at 8 p.m. in A Symphony of Lights (the world's largest permanent light and sound show, according to the Guinness Book of Records). The Tsim Sha Tsui Promenade in Kowloon is an ideal viewing spot for both.
4. Go to Wong Tai Sin Temple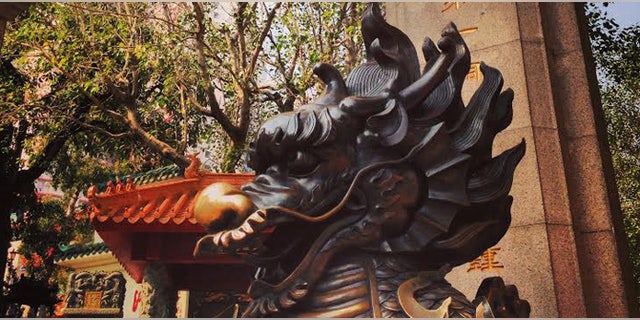 Pray for good luck and make a wish at Sik Sik Yuen Wong Tai Sin Temple (2, Chuk Yuen Village, Wong Tai Sin, Kowloon), a beautiful site with feng shui elements and a Good Wish Garden that Buddhists, Taoists and Confucianists call home. According to legend, every wish made at Wong Tai Sin will come true.
5. Learn your fortune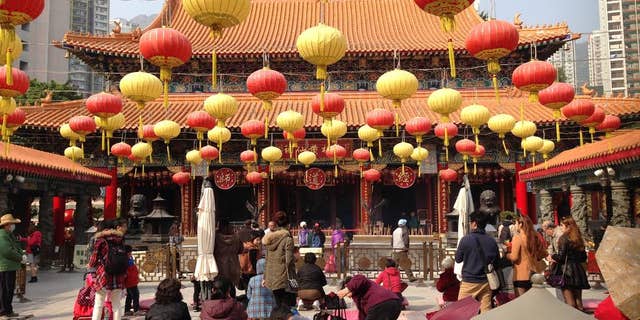 At the end of Temple Street Market (Kansu Street and Jordan Road in Mongkok), rows of fortune-tellers line themselves in booths to read palms, study faces and invoke spirits after shoppers' nighttime purchases. Or visit the stalls adjacent to lucky Wong Tai Sin Temple (2, Chuk Yuen Village, Wong Tai Sin, Kowloon), where numbers, incense and parables will foretell your coming year.
6. Indulge yourself in dumplings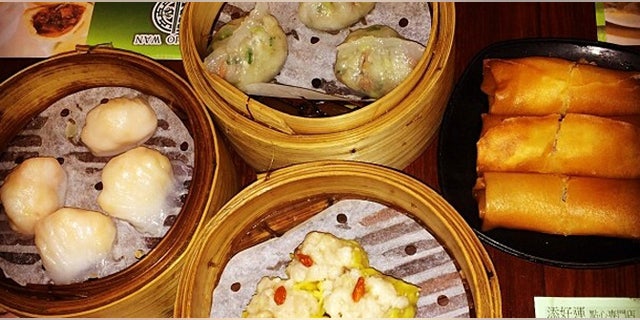 On the fifth day of Chinese New Year, it's traditional to eat dumplings. We recommend a high-low approach: visit Tim Ho Wan (three locations, including at IFC Mall in Central), the world's most inexpensive Michelin-starred restaurant. Getting in the door requires waiting up to two hours, but the celebrated cuisine (including to-die-for pork buns) will set you back only about $10 per person for a stomach-stuffing feast.
7. Visit the Ten Thousand Buddhas Temple and Sha Tin Racecourse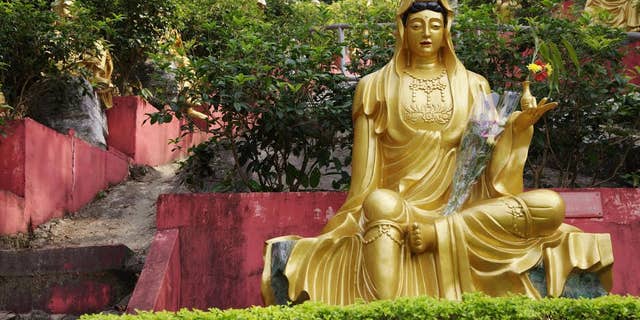 With Buddhas big and small sporting every expression imaginable (from angry and laughing to pensive and confused), Ten Thousand Buddhas Monastery (Tai Po Road in Sha Tin) actually offers nearly 13,000 representations of the icon. While it's slightly off the beaten (tourist) path half an hour away on the train, you can combine it with the nearby horse racing Sha Tin Racecourse (Racecourse Station, MTR, Sha Tin) for an afternoon and see if the gods have granted you luck. Feb. 2 is Chinese New Year Race Day at Sha Tin, one of the most popular racing meetings of the year.
8. Eat turnip cakes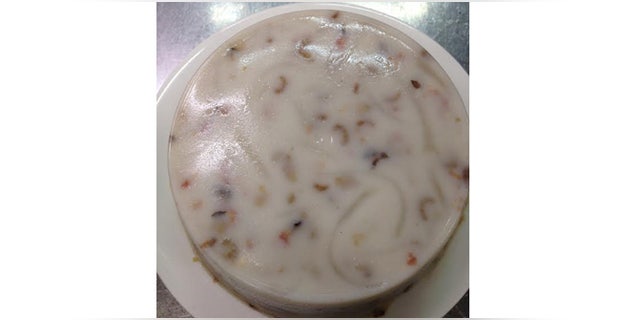 When you think of cakes, it's probably of the sugary variety. Not so for Chinese New Year in Hong Kong, where one of the most consumed treats is savory Turnip Cake, believed to bring good fortune. You'll find them everywhere, but homemade cakes -- often with pork and shrimp -- are best. If you don't have access to a native's kitchen, treat yourself to the fresh turnip cakes at The Langham Place's elegant Ming Court (555 Shanghai Street in Mongkok).
9. Make a wish at the Lam Tsuen Wishing Trees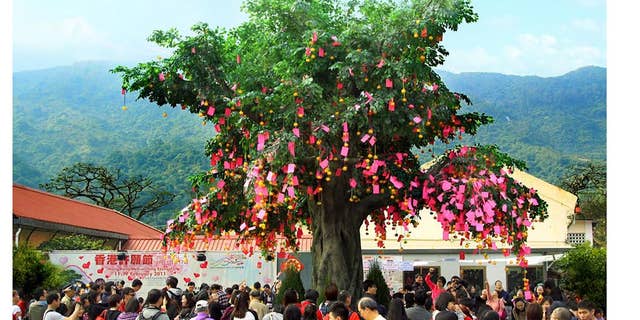 The tradition used to be to burn incense joss sticks, write wishes on red joss paper as an offering to the gods and then throw the wishes into the two trees (the higher the wish landed, the more likely it was to come true). Now people place their wishes on wooden racks near the Lam Tsuen Wishing Trees (Lam Tsuen, Tai Po in New Territories). Despite the safety measures, the spirit prevails.
10. Take a junk boat across Victoria Harbor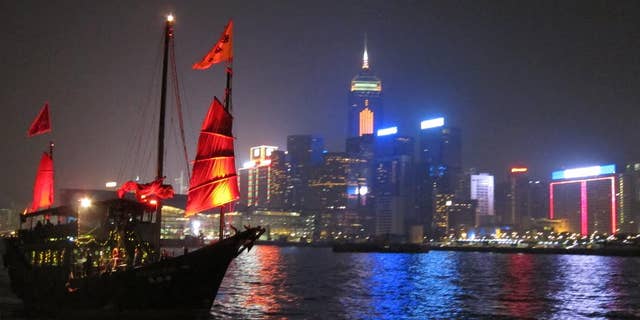 No trip to Hong Kong is complete without taking a ride across Victoria Harbor. After you've done your wishing and feasting, hop on an old junk boat (like the Aqua Luna) and take the 45-minute ride from Central to Kowloon underneath its iconic red sails. The Aqua Luna junk boat feature blankets, bathrooms, cozy deck chairs and drinks, and is the most romantic way to float beneath Hong Kong's iconic lights, reflect, and welcome the New Year.
Gung hei fat choy!