The world's most luxurious airline food
Airplane food has long been the brunt of negative jokes, and any mention of it is almost always accompanied by a grimace. Mystery meat, limp vegetables, and mashed potatoes from a package…. No wonder we usually get off long flights hungering for "real food" and complaining about the "culinary" experience we've just endured.
Luxury flights are changing that stereotype with celebrity food consultants, in-flight chefs, gourmet menus, and award-winning wine lists. A meal in the first class (or even business class) cabin of one of the world's top international airlines can offer a surprisingly fine dining experience.
Of course, attempts to provide airline passengers with good food aren't new — TWA commissioned the then top-of-the-line Maxim's of Paris to produce frozen dinners that could be served on board, and later had a similar arrangement with Manhattan's "21" Club; American Airlines has employed the services of a "Chef's Conclave" since 1988, with current members including Dallas chefs Dean Fearing of Fearing's and Stephan Pyles of Samar — but with competition on profitable long-distance routes in the premium traveler category, nearly everybody has stepped up their efforts.
Here's a hint of what's offered on some of the world's most luxurious airlines — cuisine so we can all at least dream of one day of tasting.
1. Air New Zealand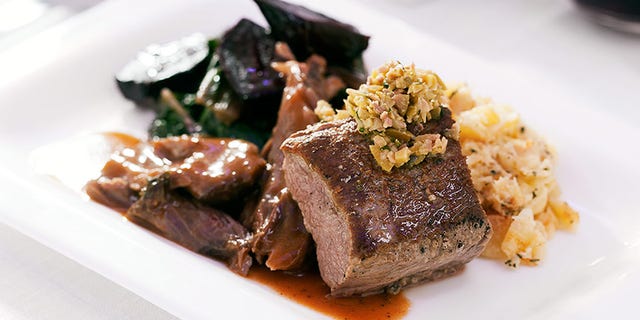 A consulting chef (Peter Gordon of Auckland and London) and two wine consultants give this airline a business class menu that showcases New Zealand's multi-national cuisine. Start with a dish like roasted salmon with sumac, then for the main course, maybe Moorish chicken with spiced saffron tomato broth, white beans, and cinnamon-roasted pumpkin hummus. Dessert choices could include white chocolate and rosewater panna cotta with pistachio cream.
2. All Nippon Airways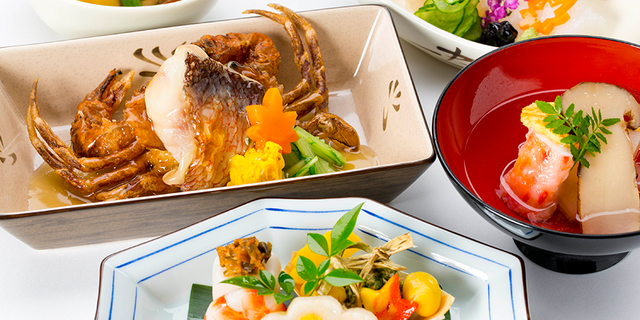 First class customers on this airline enjoy priority lines for security check, an airport lounge to relax in before takeoff, and a private cabin for flying. However, the real star of the show is the in-flight cuisine. If you're traveling out of New York, the airline offers a choice between modern European and traditional Japanese cuisine. The latter offers options like takiawese (simmered taro, octopus, and pumpkin in a soy-based sauce) or sunomono (poached sliced beef accompanied in sesame sauce.)
3. Emirates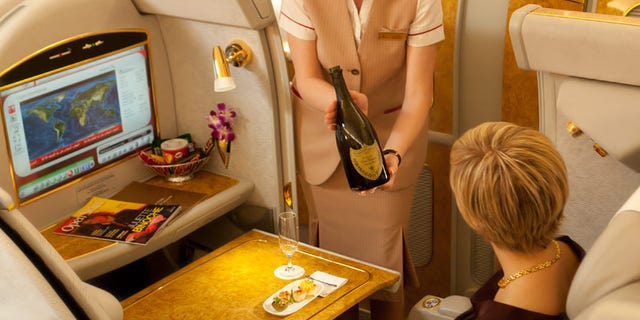 There's a reason Emirates won the Experts' Choice award for first and business class in-flight dining in Saveur's latest culinary travel awards. Try the smoked tangerine chicken or braised beef in coconut milk, and indulge in strawberry cheesecake for dessert. Privacy doors and fully flat beds with mattresses also help First Class passengers feel at home. Added plus: an individual vanity and personal mini-bar.
4. Etihad Airways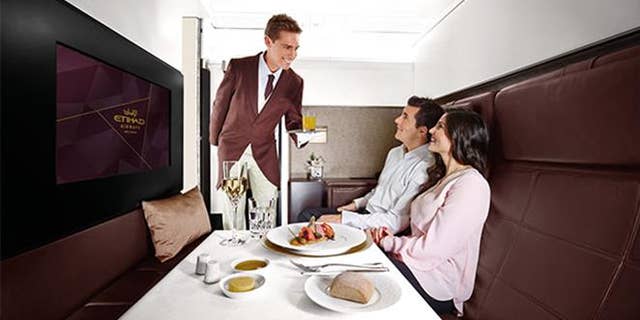 Etihad Airways is the world's leading airline according to the latest World Travel Awards, and their unique three-room suite in the sky is definitely a factor. Guests who opt for the "Residence" program enjoy a bedroom, bathroom, and living room, complete with a flat-screen television and chilled drinks cabinet. An inflight chef prepares a range of gourmet meals and also takes personal requests from Residence guests.
5. Korean Air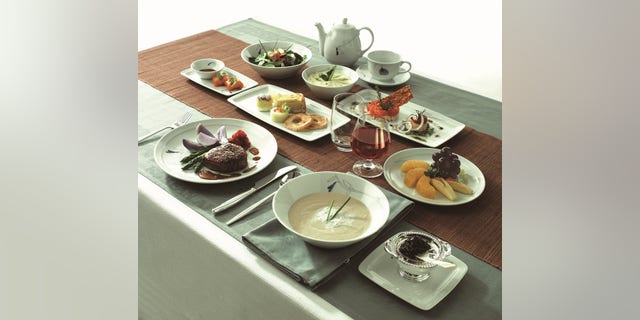 First and prestige class passengers aboard select Korean Air flights enjoy the "Celestial Bar," a place to relax with fellow passengers with a unique cocktail in hand. The airline has won two Mercury Awards and offers Western, Chinese, Japanese, and Korean menus for passengers to choose from. Indulge in Korean-style dongchimi noodles or Korean ginseng chicken soup.
Check out more of the world's best airline food.
More from The Daily Meal
The 10 Best All-You-Can-Eat Buffets in America
These 9 Restaurants Pay Rent to Donald Trump
The 10 Best Pumpkin Patches in America