The world's highest bridge set to open in China this year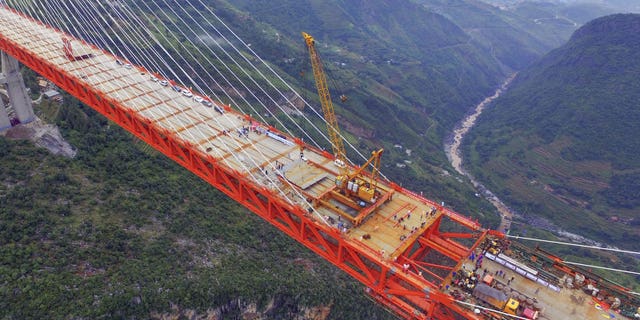 NEWYou can now listen to Fox News articles!
China's never-ending quest for the most impressive bridges just reached new heights.
The Beipanjiang Bridge in China—which hangs over 1,800 feet above a river—completed construction on Saturday, the Guizhou provincial transport department announced in a statement.
The two edges of the impressive bridge were linked on Saturday, allowing the structure to become China's highest bridge. The bridge spans 2,362 feet between mountains, 1,854 feet above the Beipan River.
The previous record holder was the Si Du River bridge. It crossed a valley in the Hubei province and hung 1,627 feet above ground.
More From Travel + Leisure
Beipanjing Bridge is expected to open later this year and will be used mostly by automobiles. It is expected to make travel from the Guizhou to Yunnan provinces nearly twice as fast.
When opened, the bridge will also gain the esoteric honors of second longest steel-trussed cable-stayed bridge and the 10th tallest bridge tower in the world.
Of the 20 main hyper-long bridges in the world, China has 17. Guizhou province alone has seven of them.
Last week, China's longest bridge, Zhangjiajie Grand Canyon bridge, closed for repairs only two weeks after opening. Officials cited too much visitation as a main factor in the closure.
Cailey Rizzo writes about travel, art and culture and is the founding editor of The Local Dive. You can follow her on Instagram and Twitter @misscaileyanne.