The 'Wild' effect? Pacific Coast Trail has become insanely crowded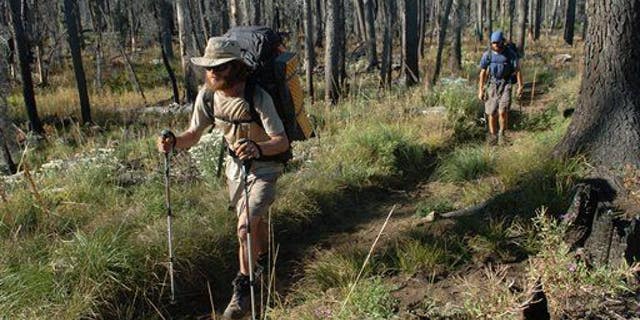 NEWYou can now listen to Fox News articles!
Hikers on the Pacific Crest Trail can expect to encounter harsh-but-beautiful landscapes, extreme fatigue, and—these days, at least—traffic. "You can't talk about the Pacific Crest Trail without mentioning the crowds," Pete Brook writes for Outside.
He should know: Brook currently is trekking the 2,650-mile PCT, which runs from the Mexican border through California, Oregon, and Washington to the border with Canada.
But don't take his word for it: The Pacific Crest Trail Association so far this year has issued more than 4,000 permits to people planning on tackling at least 500 miles of the trail.
To put things in perspective: 300 people attempted to complete the entire PCT in 2006, according to the AP, with about 120 of those making it.
In 2014, 1,000 people set off and about half completed the trail. More traffic means more stress on the land, more improperly disposed of poop, and more inexperienced hikers requiring rescue.
So what's with the increase in traffic over the past few years? You can thank Cheryl Strayed and her enormously popular memoir-turned-major-motion-picture Wild. After the book came out in 2012, there was a small increase in interest in the trail, the PCTA's Jack Haskel told the AP in 2015.
More from Newser
But after the movie, starring Reese Witherspoon, was released in 2014, interest in the PCT exploded. "Millions are hearing about it now and are being inspired," Haskel said.
Strayed, more or less unprepared for the journey, hiked 1,100 miles of the trail as a form of therapy as she grappled with personal demons. "However for others that follow her strategy of deliberate ineptitude, things might not turn out so well," writes DontHikeLikeWild.org.
"Our advice to would-be hikers: Grow a spine first. Then get out there and hike the PCT." (This female hiker is the "biggest badass you've never heard of.")
This article originally appeared on Newser: The Pacific Crest Trail Is Insanely Crowded