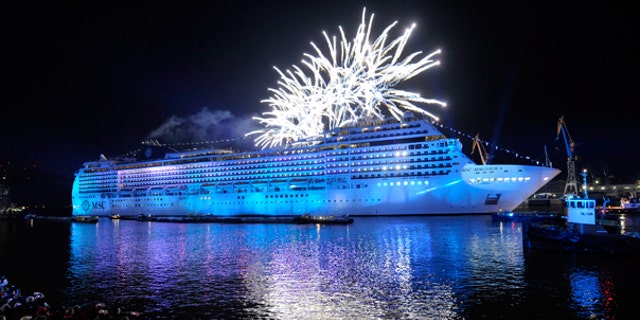 Political enthusiasts looking for a getaway, but still want their fix, should try a politics-themed cruise.
There are theme cruises for music, dance, food and wine and discussing important topics like sports or politics. Every theme cruise has two components; the attraction itself (usually with guest experts or performers) and the hosts who coordinate the ticket sales, documents, table and room assignments and everything else.
You can cruise with Karl Rove Nov. 14, 2010, on the "National Review Post Election Cruise " sailing out of Fort Lauderdale. Rove is not the sole attraction; guest speakers also include Phyllis Schlafly, Andrew Breitbart, Scott Rasmussen, Jonah Goldberg and others.
Or you can cruise with singer Judy Collins on the Sept. 26 "flagship for the left" Nation Magazine Cruise where guest speakers include Calvin Trillen, Katrina Vanden Heuval, Christopher Hayes,Jeremy Scahill and more.
Liberals can also try the "Progressive Voices Cruise" sailing Feb. 5, 2011, with Robert F, Kennedy, Jr., Mike Farrell (from the TV show MASH) and Liz Winstead, one of the original head writers for the Comedy Channel's "The Daily Show."
These cruises can all be found on ThemeCruiseFinder.com, which happens to be owned, but independently operated, by Atlanta-based cruise agency The Cruise Authority.
ThemeCruiseFinder will list any kind of legitimate-theme cruise for free - but most of the political cruises listed, both conservative and liberal, are hosted by this agency behind ThemeCruiseFinder: The Cruise Authority.
Upcoming Political Cruises

The first listed conservative cruise at ThemeCruiseFinder starts Saturday, Aug. 21--a seven- day Weekly Standard cruise headlined by editors William Kristol and Fred Barnes.
The next scheduled cruise is an independently hosted (not by The Cruise Authority) Tea Party cruise sailing Sept.19 for the political Web site WorldNetDaily.com. "But not all conservative cruises are created equally" notes Howard Moses of the Cruise Authority. "People tend to try different cruises before they find the right crowd."
More on The Cruise Authority
The Cruise Authority has been successfully hosting theme cruises for both liberal and conservative groups for more than a decade. Moses agrees that now, politics is more polarized than ever, and that makes their accomplishment even more profound. And Moses says they have a strict policy about office politics. "In fact, our internal rule is that we never discuss politics or religion, and we don't drink alcohol - especially on our cruises."
"Our role is to facilitate the guests and speakers. I have met several self-made men worth millions of dollars who were too shy to say hello to William F. Buckley," Moses says. "Most of the times I heard that I would take them 'by the hand' and introduce them to Bill at the very moment, and he almost always gave them 20 minutes instead of just a few."
"That is the beauty of a cruise," Moses continues. "At a banquet these speakers squeeze out the back door the minute it is over, but on a cruise there is plenty of time and no place to go.
They dine with the guests every night and we change the seating often to "spread them around."
The lack of distractions, the beautiful surroundings, and having everyone well-fed and rested is the perfect formula for social chemistry.
But also worth mentioning is the fact that theme cruises do generally cost more than an average cruise, and sometimes twice as much.
Cruising 101
As always – if you need to know more about cruising we urge you to consult our Cruising101 FAQ or the CruiseMates Cruise Glossary

I started writing about stock market investing for Motley Fool in 1995, but previously I worked aboard cruise ships. I co-founded CruiseMates.com, the first cruise travel guide on the Internet in New York City in 1999. CruiseMates, one the Web's top cruise travel guides was acquired by Internet Brands (NASDAQ: INET) in 2006. Once CEO, I am now the editor of CruiseMates – Paul Motter.