The most terrifying water slides in America
Think water slides are just for kids? Think again.
There are rides out there that are so terrifying, most adults won't want to set foot on them. They have rip-roaring rapids and 17-story plunges that will send you swerving through pitch-black tunnels at speeds up to 65 mph. Some will drop the floor out from under you. Others will shoot you into a mega-sized funnel of zigzagging rafts. There is one that will propel you directly into a Cobra's jaws!
Here are some of the scariest water park thrills across the U.S. that are sure to make your stomach drop.
1. Verrückt, Schlitterbahn - Kansas City Water Park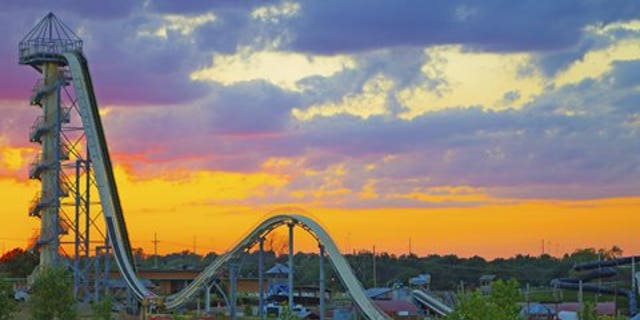 The tallest water slide in the world stands nearly 170-feet high, can be found in Kansas City and officially qualifies as an "extreme thrill ride." The ominous 17 stories of Verrückt ("insane" in German) are higher than Niagara Falls and as long as two football fields. The slide shoots daredevils down massive drops — including a 60-degree free fall right out of the gate — on multi-person rafts that can reach speeds of 65 mph. With new-generation technology, rafters shoot five feet uphill until reaching a point of weightlessness. Runs down the mega-slide are so in-demand, park visitors need to reserve a slot ahead of time.
2. Wildebeest - Holiday World and Splashin' Safari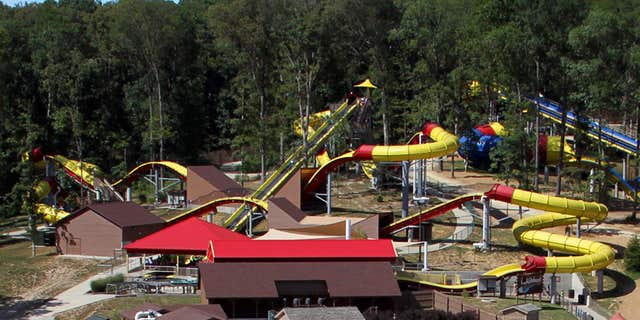 Santa Claus, IN
Voted the best in America in 2014, Wildebeest, the park's first HydroMagnetic Rocket coaster owns the water kingdom with its two-and-a-half minute journey. A conveyor belt takes four-person boats to the start of the thrill, which includes a four-story drop, seven hills, two underground tunnels, and a sensory-boggling helix.
3. Cliffhanger and Screaming Serpents - Schlitterbahn Water Parks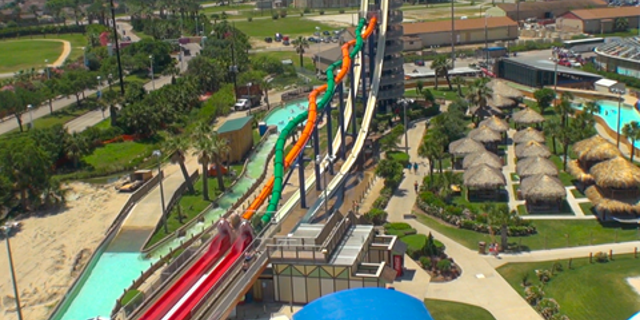 Galveston, TX
Two dueling body slides serve as neighboring highlights at this Texas water park. The Cliffhanger sends sliders down an 81-foot freefall — which produces speeds of up to 40 mph — and the Screaming Serpents (formerly the F5 Twin Twisters) reopened as the park's first fully immersive ride experience. This psychedelic experience provides special effects like fog, sounds, and rainbow light to assault your senses while you fly through the bellies and 8-foot-high mouths of the Serpents.
4. Black Anaconda - Noah's Ark Waterpark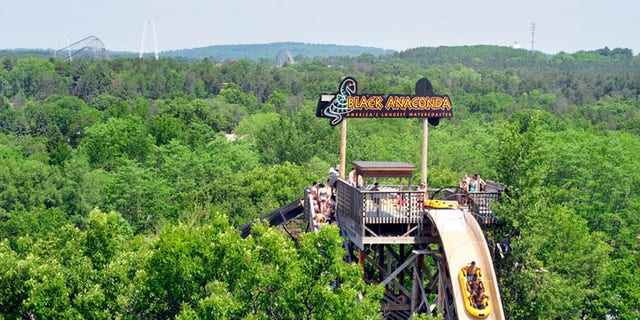 Wisconsin Dells, WI
Water Slide meets roller coaster on this six-humped, uphill ride in Wisconsin. Jet technology sends you slithering up and down a snake-like body, which makes up one of the longest water coasters in the world. The stop-and-go method doesn't slow riders down too much —you drop straight down at 30 mph —and while the mesh ceilings are there to protect you, their existence also tells you how bumpy the ride can get.
5. Bomb Bay - Wet 'n Wild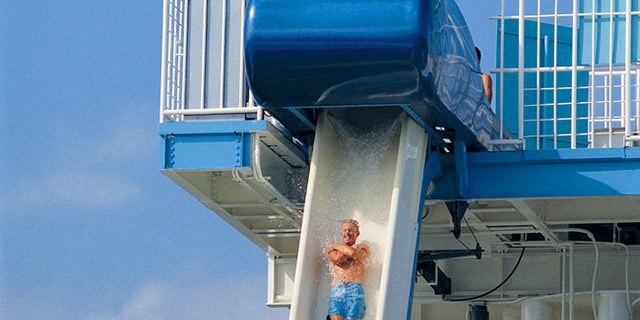 Orlando, FL
The Bomb Bay in Orlando warns sliders with its name. Named after the bomb bays on military airplanes which actually release bombs, this slide doesn't spare its human passengers one bit. Riders step into an airtight chamber before the floor actually drops out from beneath them. Once it does, you drop 76 feet down a near-vertical slide.
6. Scorpion's Tail - Noah's Ark Waterpark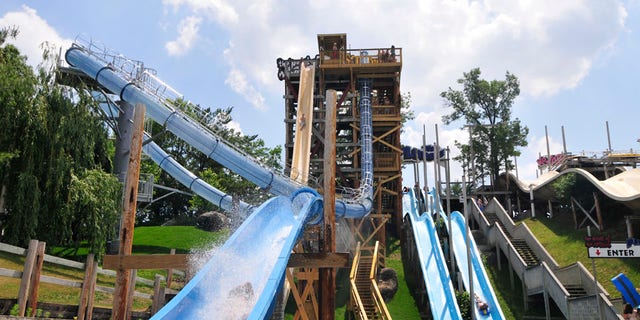 Wisconsin Dells, WI
The floor also gives way on Scorpion's Tail, but this time, riders plunge 10 stories at a whopping 50-feet per second before being catapulted through a menacing, high-speed loop. The ride is entirely enclosed (compared to Bomb Bay's open-air experience) to create the look of a tail, which gives sliders a unique assault on the senses. By the time you have a handle on what's happening, you're making a big splash at the bottom.
7. Big Thunder - Rapids Water Park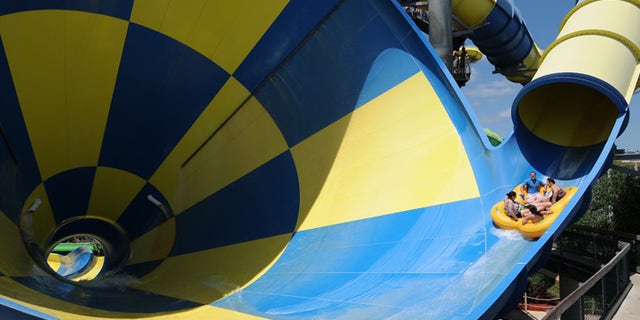 Riviera Beach, FL
During Florida's Big Thunder, rafters sail through darkness before they reach the moment of truth. The multi-person tubes are dropped into a gargantuan-sized funnel where they helplessly seesaw their way to the bottom. The 45-degree drop accelerates the boats so they can reach heights of 20 mph and even achieve moments of zero gravity.
8. Zero-G - Action Park Mountain Creek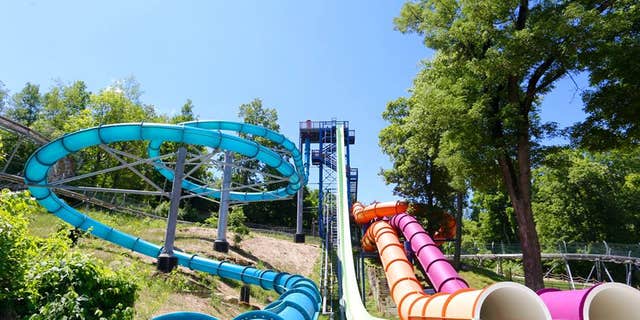 Vernon, NJ
Cue superhero-like weightlessness and enter Zero-G, the world's tallest double-looping water slide. The fully enclosed capsule ride starts from a trapdoor entrance that is perched on a hill and 100-feet high. The chute sends body sliders through translucent tubing so quickly that they aren't entirely sure what has happened by the time they hit the bottom.
Check out more of the most insane water slides across the country.
More from Yahoo! Travel
The Best Free Stuff You Can Score at a Hotel
Confessions of a Food Tour Guide—I Hate Picky Eaters