The most insane shopping malls around the world
A shopping mall may not conjure the allure of a historic marketplace (like Istanbul's Grand Bazaar) or the splendor of an iconic shopping street (Champs-Élysées) — but they have their own appeal, and they're not all a dime a dozen.
Many malls are vastly unique with features so over the top, from indoor ski lifts to water parks, that they're often a main attraction in a destination — like these:
1. Dubai Mall, Dubai, UAE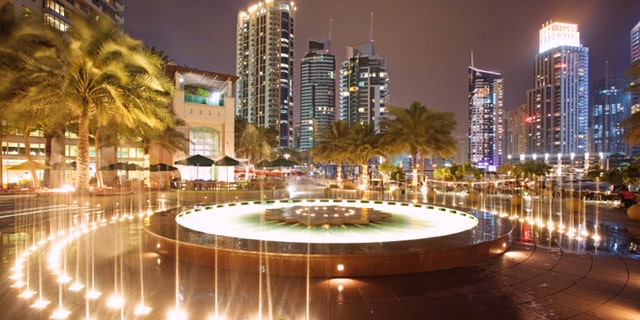 Perhaps the most famous mall on the planet, Dubai Mall is the world's largest at 13 million square feet (the size of more than 50 soccer fields!) with 1,200 shops. But it's not just the size that matters: Dubai Mall is home to the iconic Burj Khalifa building, the tallest manmade structure ever built. Dubai Mall also flaunts the world's largest candy store, an ice rink, and 120 restaurants (including joints from celebrity chefs like Mario Batali and Danny Myers).
And if you think Dubai Mall is impressive, wait until 2020 when the city is building yet another massive mall, Mall of the World, to open before World Expo arrives. Mall of the World will include eight million square feet of shopping complex as well as a theater district inspired by NYC's Broadway, amusement park, hotels, a gazillion restaurants and temperature-controlled outdoor areas.
2. Siam Paragon, Bangkok, Thailand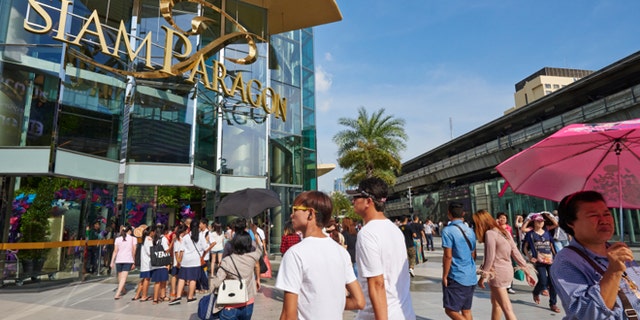 CentralWorld in Bangkok may be the largest shopping mall in Thailand but it's not nearly as exciting as its little sister and more upscale neighbor Siam Paragon, which is literally next door.
Comparatively, Siam Paragon feels more boutique-y, with one of the world's first vertical gardens and an open-concept design that allows visitors to see the other five levels while they shop. Among the many great highlights are an opera hall, bowling alley, art gallery, karaoke, gourmet grocery store, and Siam Ocean World Aquarium. Should you still have some energy after walking the 2.5 million square feet of shopping real estate, visitors can burn calories at the new 40,000-square-foot Fitness First gym.
3. Berjaya Times Square, Kuala Lumpur, Malaysia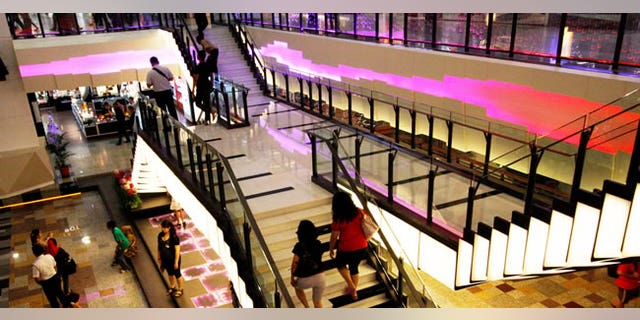 Berjaya Times Square mall in Kuala Lumpur was designed after — wait for it — Times Square in New York City. While it doesn't pull this off spectacularly (though the fake NYC subway stations are pretty fun), nobody's paying attention. The 13-story mall has a central atrium that can give you vertigo looking down from the top floor. It also has one of the largest amusement parks in Asia (it spans two levels with roller coaster and a haunted house), a giant musical staircase, a luxury hotel, and more than 1,000 shops. Recently, the mall broke a Guinness World Record with its largest capsule vending machine on the ground floor.
4. West Edmonton Mall, Alberta, Canada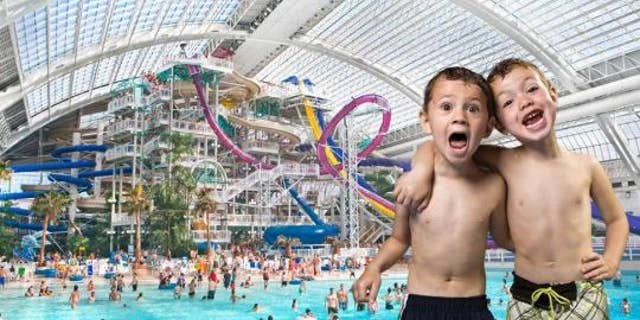 Visitors to West Edmonton Mall may very well never see Edmonton. The largest mall on our continent is basically a self-contained city — petting zoo, dinner theater, chapel, indoor lake with actual sea lions — that needs its own postal code. The mall includes themed areas like Bourbon Street and Chinatown so you can travel without leaving, and you'll shop til' you drop with 800 stores. Visitors can beeline to Galaxyland theme park (roller coaster and all) or get wet and wild at the massive, indoor water park with the largest wave pool in the world. Come 2016, concertgoers will rock out in the new $45-million live music venue.
5. Tokyo Midtown, Tokyo, Japan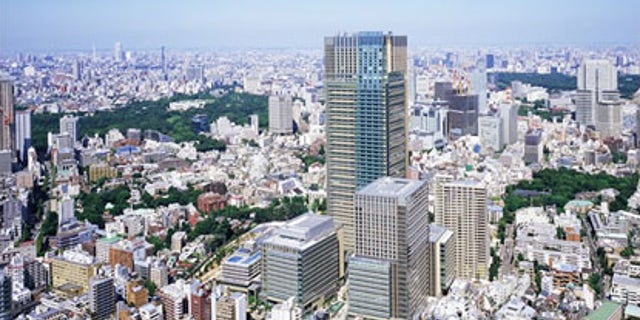 While we love the quirky novelty items sold at the famous Tokyu Hands, Tokyo Midtown is all about flashy bling. The mall features practically every designer brand under the sun, but that's not why we're obsessed with it. The Tokyo Midtown complex is a self-contained attraction in itself, featuring some of the best exhibits coming to town in its five galleries and museums; Coppola's Vinoteca (Francis Ford Coppola's wine bar showcasing his wine collection); the snazzy Ritz Carlton Tokyo; and Design Sight 21_21, a gallery presented by famous fashion designer Issey Miyake. Feeling faint from all the big names?
No problem — a John Hopkins medical center is just floors away should you need a check up.
6. Mall of America, Bloomington, Minn.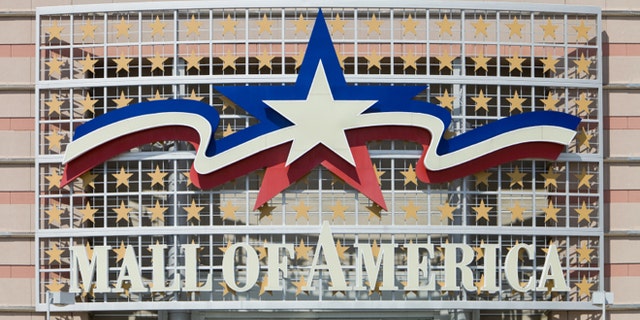 Want to tie the knot in a mall? Join the 5,500 plus couples who have been married in the massive Mall of America (the largest mall in the U.S.) which includes a wedding chapel. There are more annual visitors to the mall (40 million) than the entire population of Minnesota (5 million). Blame it on the Nickelodeon Universe Theme Park, 1.2-million gallon aquarium, adventure golf, and flight simulators. Been there, done that? Make plans to revisit soon as the mall recently announced an expansion plan that will include hotels, a waterpark and even nightlife options.
7. GPO, Melbourne, Australia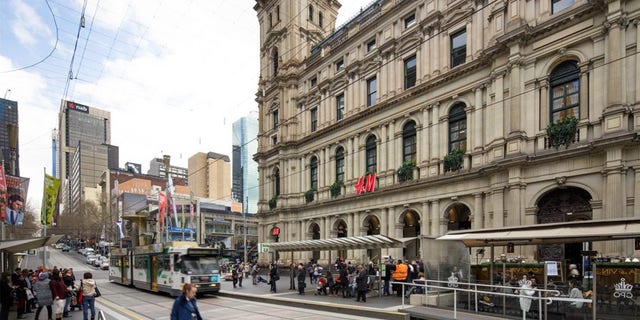 History resonates inside GPO mall, a former general post office (hence, GPO) built in 1859. It was one of the first buildings erected, considering Melbourne was founded in 1835. Original structures like Corinthian columns and beautiful archways in a Classical design are well preserved, making it a great tourist attraction for the city.
But don't expect to grab a souvenir T-shirt. The mall features high-end, carefully selected boutiques mostly from local designers and artisans. The mall was proudly corporation free until H&M opened last year.
8. Mall of Emirates, Dubai, UAE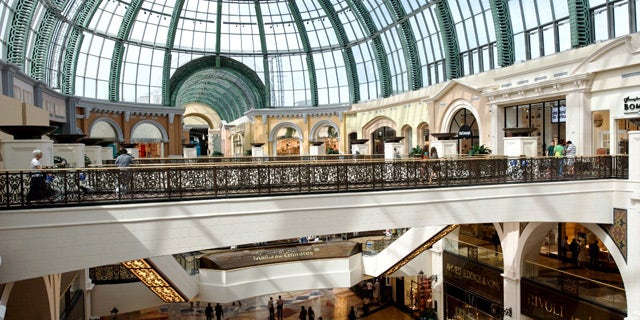 Another larger-than-life mall in Dubai, Mall of Emirates offers next-level amenities, most notably its freaking awesome indoor ski facility that comes with the works: slopes, snow, ice, chair lifts! It's the world's largest indoor snow park, where non-skiers can get their hands on snowboards and toboggans. That's one way to cool off in the desert. There's also a massive indoor theme park, Magic Planet, a community theater, and an art gallery. The mall also turns out some over-the-top events, for example the ground floor was transformed into a life-size, tailor-made Monopoly game just last week.
9. Okhotny Ryad, Moscow, Russia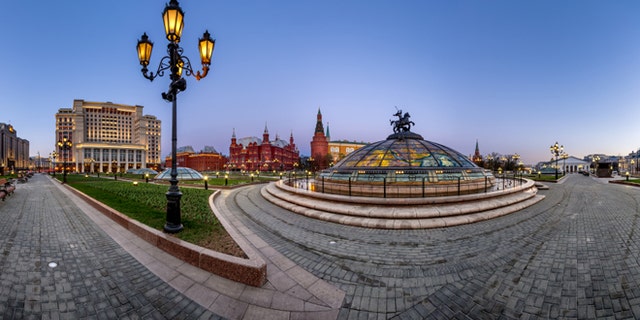 The Kita-Gorud GUM may be Moscow's most popular mall (the breathtaking building dates back to 1893) but The Okhotny Ryad is the city's coolest. Not a lot of tourists even know it exists considering the entire mall is underground, linked to a subway stop. Because it's completely subterranean, the ceiling features stained glass domes and skylights for natural light. With intricate Russian design and a gorgeous, central troika fountain, this shopping center feels quite palatial.
10. Ala Moana Shopping Center, Oahu, Hawaii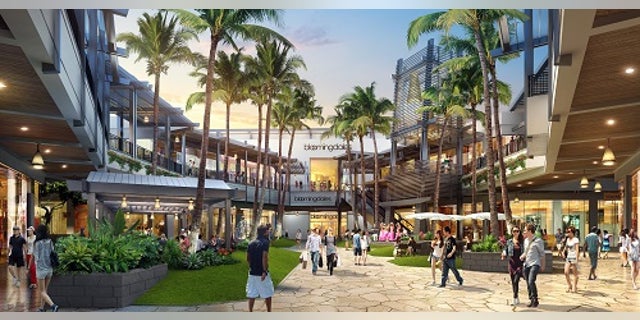 Considering Ala Moana is an outdoor mall, you get that famous Hawaiian sun and swaying palms as you shop. In fact, Ala Moana is the world's largest outdoor mall, boasting hundreds of stores (designer boutiques, beauty, shoes — you name it), more than 100 dining spots, and even a daily hula show to maintain aloha spirit. The mall will be even bigger when it unveils an expansion this November with a Bloomingdale's, more restaurants, 70 new stores, and an entertainment stage.
More from Yahoo! Travel
What Other Countries Really Think of America
How to Travel With Six Kids Without Losing Your Mind
Apparently L.A. is the Best Place to Find a Date on Vacation