The final resting places of 7 American sports legends
They were heralded for their athletic prowess during their lives, and they remain part of American culture even in death. Here are the final resting places of some of America's most celebrated sports heroes, from horse racing greats to football legends and baseball stars:
1. Joe DiMaggio, Colma, Calif.
Baseballs and bats decorate the grave of Yankees great Joe DiMaggio, who was laid to rest in Holy Cross Catholic Cemetery in Colma, Calif., in a valley surrounded by mountains close to San Francisco, where he grew up and lived.
Known for his 56-game hitting streak in 1941, a record that still stands today, the Yankee Clipper helped his team win nine World Championships and was inducted into the Baseball Hall of Fame in 1955. He was known for his humility, his love of the game and his brief marriage to Marilyn Monroe.
2. Vince Lombardi, Middletown, N.J.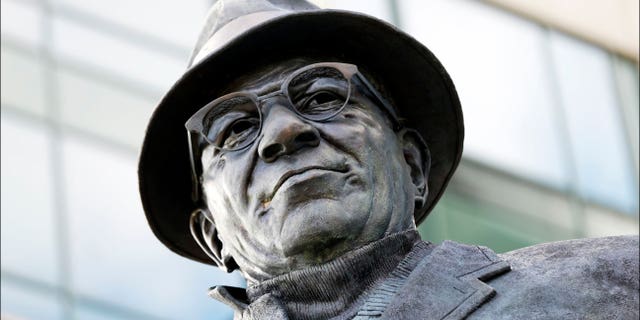 You're likely to find Green Bay Packers pennants waving at the tombstone of legendary football coach Vince Lombardi, who is buried with his wife, Marie, in Mount Olivet Cemetery in Middletown, close to where he coached high school football. The site is visited frequently by fans who leave signs, notes, flowers and pennants.
Lombardi, for whom the NFL Championship trophy is named, led the Packers to five National Football League titles, including the first two Super Bowls against the American Football League winners in the late 1960s. He is known as a motivator and for his signature play "the Green Bay sweep" and is quoted as saying, "Winning is a habit. Unfortunately, so is losing. There is no room for second place. There is only one place in my game, and that's first place."
3. Man O' War, Lexington, Ky.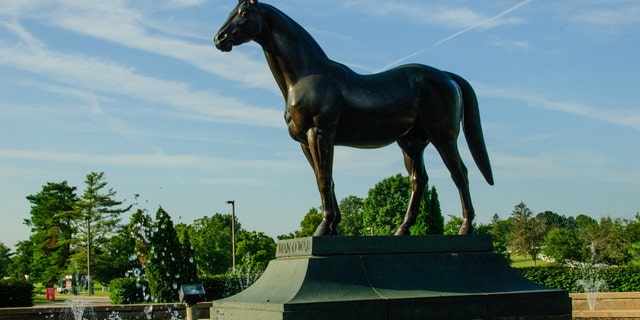 Perhaps the most famous racehorse ever, Man O' War is a legend in the horse capital of the world, Lexington. Buried along with his famous offspring, Man O' War sits beneath a beautiful bronze sculpture at the Kentucky Horse Park.
Born in 1917, the champion thoroughbred set numerous records while winning 20 of 21 races in his career. Sportswriter Grantland Rice wrote: "Man o' War was something different — something extra — as great a competitor as Ty Cobb, Jack Dempsey, Tommy Hitchcock, Ben Hogan, or anyone else … he struck me always as one who had a furious desire to win." Also buried nearby is Isaac Burns Murphy, an African-American who was the first jockey to win three Kentucky Derbys and the first to be elected into the Hall of Fame.
4. "Sugar" Ray Robinson, Inglewood, California
Five-time middleweight boxing champ "Sugar" Ray Robinson is laid to rest at Inglewood Park Cemetery outside of Los Angeles along with many other celebrities like Betty Grable, Ray Charles and Ella Fitzgerald. Though he boxed in more than 200 fights, Robinson, considered one of the greatest boxers of all time, was never knocked out, lost only 19 and won 40 in a row. "I've always believed that you can think positive just as well as you can think negative," he said. Robinson died in 1989 in Culver City, California, after battling Alzheimer's and diabetes.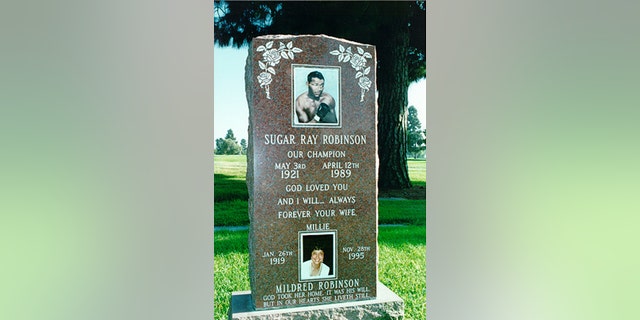 5. Jesse Owens, Chicago
Olympic track and field star Jesse Owens, nicknamed "the Buckeye Bullet" after attending high school and college in Ohio, is buried in Oak Woods Cemetery in Chicago. In the 1936 Olympics in Berlin, Owens became the first American track and field star to win four gold medals in a single Olympiad, setting world and Olympic records along the way — and all with Adolf Hitler in the stands, watching a black man triumph over his white athletes.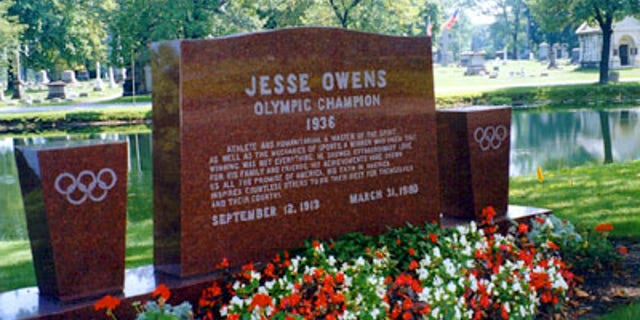 President Gerald Ford awarded Owens the Medal of Freedom in 1976, and President George H.W. Bush posthumously awarded him the Congressional Gold Medal. Owens died in 1980 of complications from lung cancer.
6. Babe Ruth, Hawthorne, N.Y.
There's probably no better known name in American sports than George Herman "Babe" Ruth, who now lies in Gate of Heaven Cemetery in Hawthorne, within 30 miles of Yankee Stadium. The Babe's grave is a popular pilgrimage site for baseball fans and is even a stop on a bus tour that runs once a year right before Opening Day. You're likely to find all manner of gifts graveside, including plenty of baseballs and bats, award ribbons and other novelties.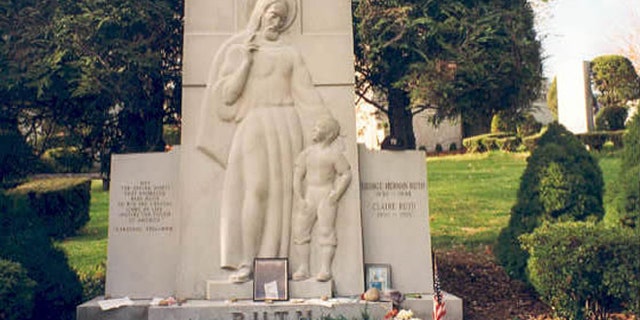 Born in 1895, the Bambino captured Americans' hearts with his larger-than-life personality and the 714 home runs he hit between 1914 and 1935. He was the first baseball player to hit 200, 300, 400, 500, 600 and 700 homers. He began his career as a pitcher with the Boston Red Sox but is best known for his years playing rightfield for the New York Yankees. In 1927, he and Lou Gehrig led the team that is still widely regarded as the greatest ever. When the Babe died in 1948, 75,000 people attended his viewing and funeral.
7. Knute Rockne, South Bend, Ind.
The legendary Notre Dame football coach famous for his "Win One for the Gipper" speech draws a pilgrimage to his gravesite at Highland Cemetery in South Bend, home of the university. When the Irish play at home, fans gather around Rockne's grave to hear past players speak, hear Rockne's famous speeches, play the Notre Dame Victory March and toast him with an Irish whiskey. Local alumni groups like the Notre Dame Club of St. Joseph's Valley host wreath-laying ceremonies every year on the anniversary of his death.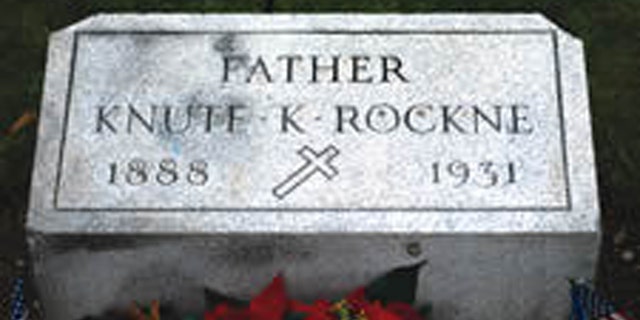 Rockne, who also played for Notre Dame, is best known for lifting the university to national prominence in football as a coach. Under his tutelage, the team had five unbeaten and untied seasons. His lifetime winning percentage is still at the top of the list for both college and professional football. Inducted into the National Football Foundation Hall of Fame in its first year in 1951, Rockne was also a principal designer of Notre Dame Stadium.
8. Barbaro, Louisville, Ky.
Another well-known racehorse is Barbaro, who tragically shattered his leg in the 2006 Preakness, ending his chances of winning the Triple Crown of thoroughbred racing. The colt's ashes are buried under a statue of him at the Churchill Downs racetrack and Kentucky Derby Museum.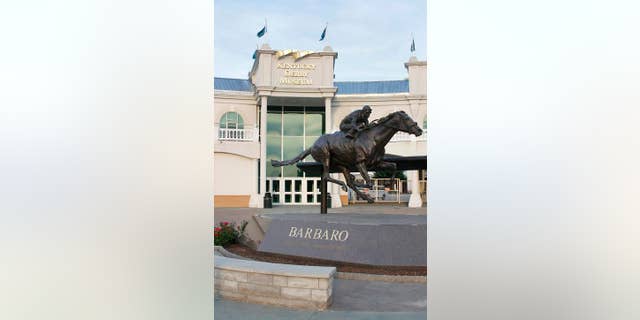 Barbaro was undefeated before the Preakness, having won all six of his races, including the Kentucky Derby. The statue memorializing him showcases the colt and jockey Edgar Prado in midflight between strides at the Derby. With all four feet off the ground, it's the first time a statue of a horse of this size and scope has been created.