The best resorts in Mexico
Pristine beaches, crystal blue waters and endless margaritas-- Mexican resorts have it all and more. Conde Nast readers countdown their favorite places to kick back and relax, just south of the border.
1. Viceroy Riviera Maya, Playa del Carmen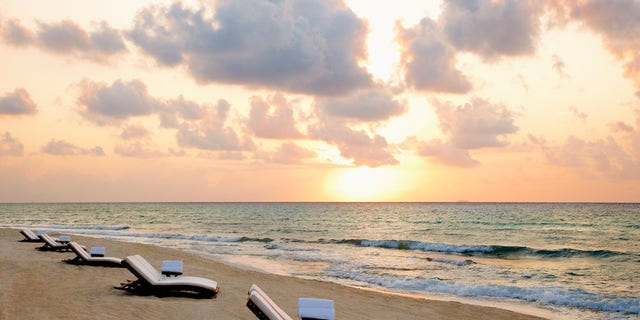 Palapa villas with lots of wood and rattan are connected by meandering pathways at this property formerly called The Tides. "You don't need an oceanview room—the grounds and these villas with private pools and outdoor showers are to die for." "It's beautiful, lush, romantic, and decadent, yet maintains the natural beauty and simplicity of the jungle setting." Given that you are in the jungle, expect to spot the resident family of spider monkeys. La Marea, near the lagoon pool, serves upscale Mexican cuisine. "What one employee learns about you, all others soon know and remember—unbelievable, unmatchable service."
2. St. Regis Punta Mita Resort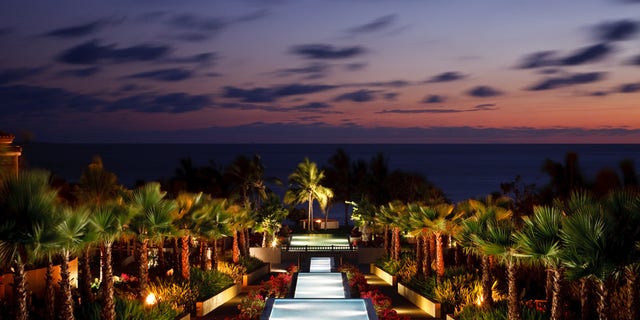 At this six-year-old resort in a gated community along the Pacific, the tile-roofed Mexican casitas have Mediterranean-Mexican style guest rooms with creamy whites accented by lime-green and fuchsia tones and colorful handcrafted Mexican tiles. "Staff were incredible—anything you needed was taken care of, from charging taxi fares to your hotel bill to getting a doctor to make a house call to your room." Las Marietas, beside the family pool, serves regional specialties. "The staff and the property are impeccable—among the world's best."
3. Esperanza, Cabo San Lucas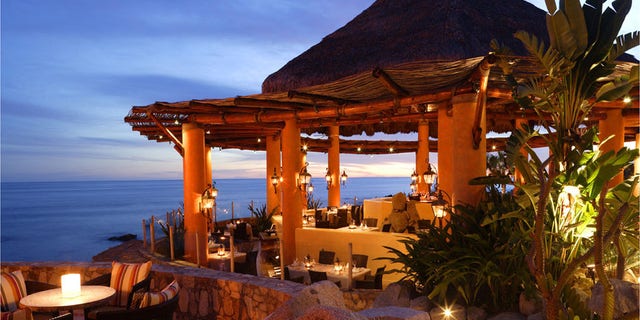 For celebrities in Hollywood (Jennifer Aniston, Chelsea Handler, the Glee gals), Cabo is a really convenient getaway: it's a two-and-a-half-hour flight from L.A., and yet many resorts feel really secluded and private. Esperanza has private villas offering windows with views of the ocean. And at this time of year, you can look out that window early in the morning and see hundreds of dolphins jumping through the water. George Clooney is a huge fan of the area, and he has brought Stacy Keibler to his beachfront house here.
4. Excellence Playa Mujeres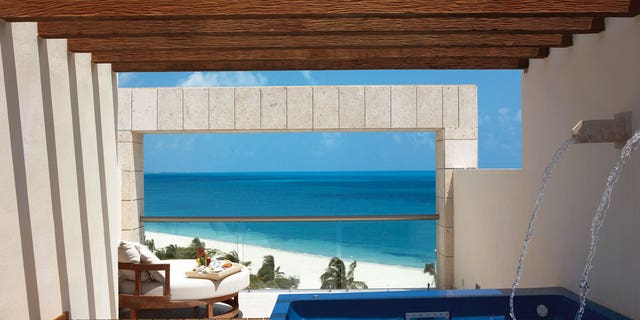 Opened in 2007, this adults-only all-inclusive is "a bit of heaven on earth." Situated north of Cancún, near an inland marina and Greg Norman-designed golf course, this "beautiful property" has seven pools on a white sand beach. "Gorgeous rooms and suites"—many with a rooftop terrace and a private whirlpool—are furnished in contemporary style. "The food was better than expected" at the nine international restaurants, including Basmati, the Indian place. The spa offers private relaxation rooms with heated waterbeds, Swedish saunas, and steam rooms. "We're returning for the fourth time later this year—need I say more?"
5. Le Blanc Spa Resort, Cancun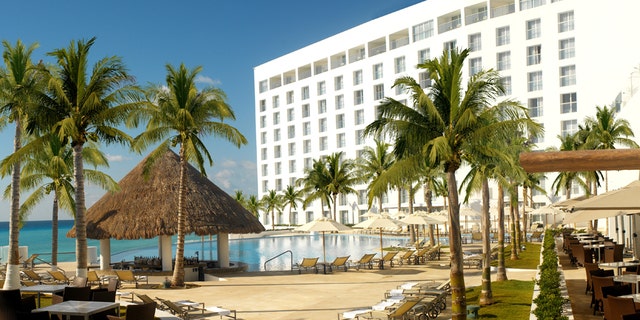 This beachfront "upscale all-inclusive" in the core of the hotel zone is "a piece of heaven in otherwise crazy Cancún." Interiors are minimalist in decor, with all-white furnishings and "a pleasant spa-like scent." "Staff treat you like family." At turndown, browse an extensive pillow menu while a butler prepares a whirlpool bath. "Food is over-the-top outstanding"—at Lumière, sample the contemporary French tasting menu; for à la carte Italian, head to Blanc Italia. The spa caters to couples and is surrounded by bamboo gardens—"for pampering, there is no comparison!"
6. Banyan Tree Mayakoba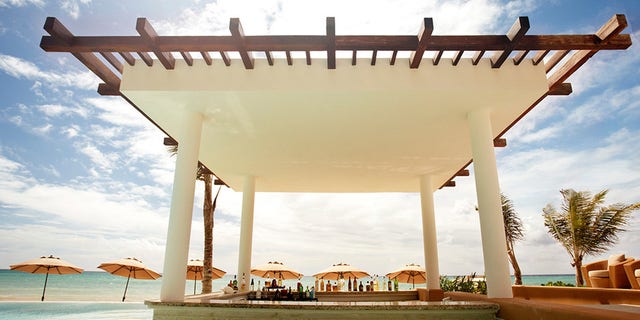 This first foray into the Americas by the Asian hotel chain is set amid dunes, mangroves, and freshwater lagoons. Freestanding villas are decorated with handcrafted Mayan furnishings and modern amenities. All with private pools, they curve around their own garden areas, creating "nirvana on earth." Dishes at the adults-only Tamarind, next to the "wonderful spa," are Mediterranean influenced, while Saffron serves Thai food. Private dining can be arranged for parties of up to 14 at La Cava, in the hotel's wine cellar. "Staff are attentive without hovering."
7. Capella Ixtapa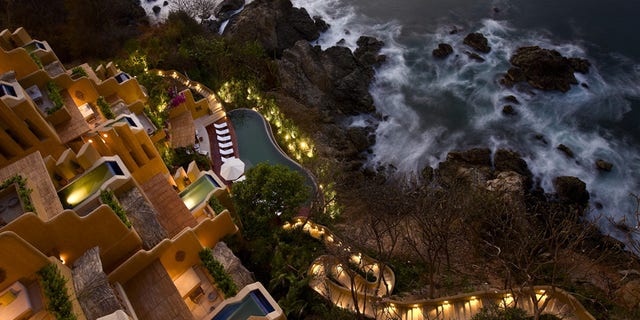 At this "very private and romantic resort where the buildings cascade down a hill above the Pacific," all suites have private plunge pools and terraces—"it's like a fairy tale." The Mexican design mixes clay, stone, marble, and polished hardwoods with pastels and furnishings from artisans in the state of Guerrero. Cold beer and guacamole are complimentary, and El Capricho Spa has therapies using the local Xochitil flower. "These are the best-trained staff I've come across in a long time." Among the dining options is upscale Mexican at A Mares, where the decor includes cast-iron artwork and Talavera plates handmade in Puebla.
8. One&Only Palmilla, San Jose del Cabo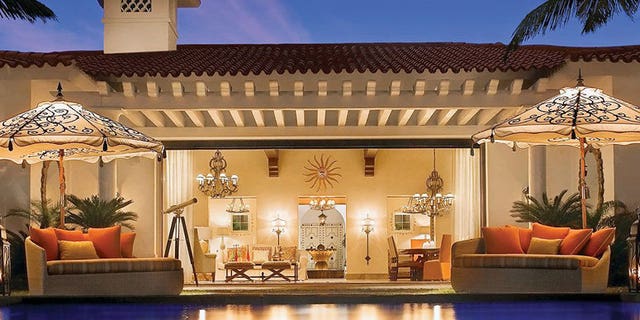 "Nothing compares" to this beachfront re- sort where "the amazing rooms" have iron-studded doors, travertine floors, and painted sinks. Staff—especially the private butlers—"treat you like a celebrity." Expect poolside foot massages and margarita ice pops. After a day on the seaside links, unwind in a hammock. The open-air palapa-style Agua serves Mexican-inflected Mediterranean fare. On Friday nights, an astronomer takes guests stargazing in the Baja Desert. Closed until March 15, 2015, post-Odile.
9. Hacienda Encantada, Cabo San Lucas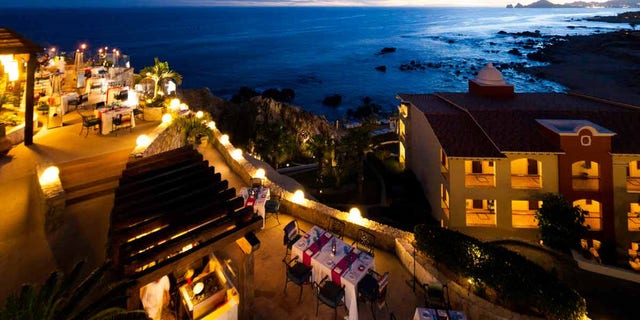 Secluded location in the tourist corridor, just minutes from downtown Cabo San Lucas and the Marina Golden Zone, this stunning hotel has something for families, couples or friends on an adventure.
10. The Resort at Pedregal (formerly Capella), Cabo San Lucas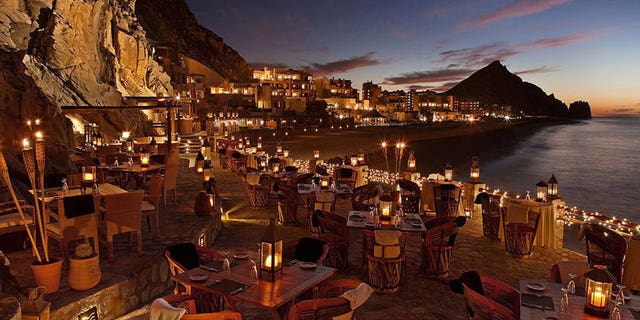 From the moment they make a dramatic entrance through a 1,000-foot torch-lit tunnel, guests say that this property designed to emulate a Mediterranean mountainside village is "a real nirvana." Interiors celebrate traditional Mexican design, with handcarved wood, local artisan-made ceramic tiles, desert-inspired hues, and indigenous plants and stones. "Magnificent rooms" have plunge pools and private terraces with Pacific views. At the casual, cliffside El Farallón, fish from the surrounding waters is served alfresco. The Auriga spa is "not to be missed"—sound therapy is one of the offerings. As for staff, "every wish, need, and dream is met." NB: Capella Hotels and Resorts dropped from sight after Hurricane Odile in 2014. The resort is set to reopen on January 31, 2015.
Take a trip to one of Mexico's best resorts.
More from Conde Nast Traveler
How Not to Look Like a Tourist in Paris
Private Islands That Cost Less Than an NYC Apartment
15 Places You Won't Believe Exist
The World's Most Dangerous Trips