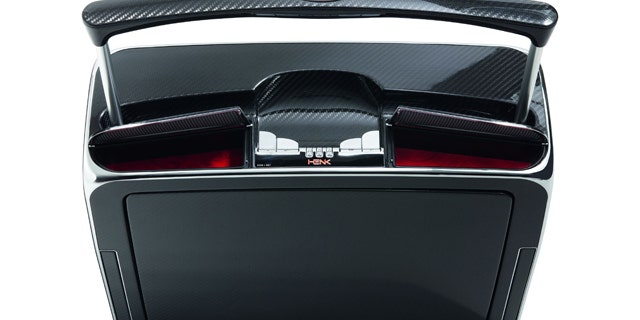 You've got to hand it to the Dutch. They invented the yacht. They discovered Australia a good four centuries before Oprah. And a mere seven years ago, Dutch entrepreneur Henk van de Meene, fed up with the inferiority of your average luggage, brought the world the $30,000 suitcase.
Not thirty grand in a suitcase. That would be Deal or No Deal. The suitcase in question, the HENK TravelFriend, is an unholy alliance of Formula One materials like aluminum and carbon and such luxe stuff as gold and palladium coating and ebony wood. The basic carbon model comes in around $30G, but for another two grand you can incorporate calf leather. Want more customization? HENK recently constructed a TravelFriend in pink ostrich leather with a black-and-white zebra interior, according to company spokesperson Claudia Duijn.
As for the construction, it takes a team of experts at HENK's Dutch west coast atelier (the very French word for workshop) about three weeks to hand make each TravelFriend. And even though the carbon model weighs in at 13 lbs empty – add another pound for a nice helping of leather -- the TravelFriend boasts a weightless, central gravity design, so it's evidently not burdensome to roll it around on its retractable six-inch titanium wheels when fully-packed. Four more side wheels make it a cinch to wheel the bag on board. And practically speaking, at 21.65L x 15.75H x 7.87D, the TravelFriend is meant to be a carry on, as one can't be expected to check a bag that can buy and sell every other bag on the aircraft.
So who buys a bag costing more than the average transaction price for a car in the United States? "Our clients are either in sports or in business, very discreet and expecting the best there is," says Duijn, adding that TravelFriend aficionados are mostly brand savvy men who "just love to have what the majority does not."
Like most wheelie bags, the TravelFriend has a telescoping handle, though this one, once extended, approximates the size of a chair back so that you can hang a sport coat on it. Another key feature, according to HENK, is that the TravelFriend doubles as a "stable seat," supporting up to 220 pounds of weary, wealthy traveler.