Terrorism hurting European cruise industry, company CEOs claim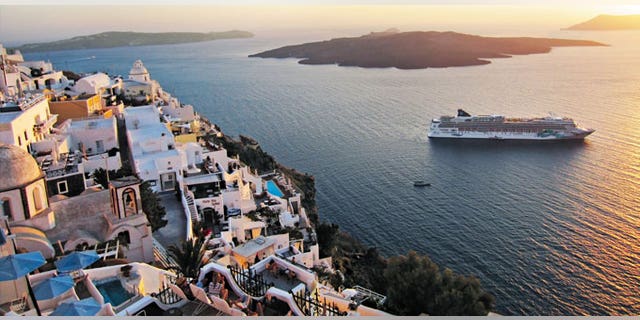 NEWYou can now listen to Fox News articles!
The terrorist attacks in Paris, Brussels and Turkey over the last year haven't dissuaded Americans from visiting Europe, but they appear to be having an effect on the cruise line industry.
Fewer Americans are signing up for Mediterranean cruises this year, according to executives at Norwegian Cruise Line Holdings and Royal Caribbean Cruises, indicating that the attacks by Islamic State jihadists are affecting the industry.
"Typically when these kind of events happen … what tends to happen is new bookings are harder to come by," Norwegian's president and CEO, Frank Del Rio, said during the company's first-quarter earnings call Tuesday, according to the travel industry website Skift.
"That's what happened after Paris, it's what happened after the Istanbul situation in early January, and it's what happened after Brussels," Del Rio said.
He spoke one week after Michael Bayley, president and CEO of Royal Caribbean, reported that his company was seeing the same effect.
But there is a silver lining, both executives said. Americans aren't cruising less … They're just cruising closer to home.
"Certainly some of the softness we see in Europe — the Caribbean is the beneficiary of that," Bayley said last week. "A lot of people who were planning to go to Europe are going to the Caribbean and Alaska."
Del Rio echoed that on Tuesday, saying new bookings to the Mediterranean "are harder to come by," but Americans are booking cruises to Alaska, Hawaii, Bermuda, New England and the Caribbean instead.
Beyond Mediterranean cruises, though, Americans seem as eager as ever to visit Europe.
After 130 people died and hundreds of others were wounded in the Paris attacks last November, 64 percent of the American Society of Travel Agents' members said their clients did not plan to delay or cancel their European travel, according to The New York Times.
"Americans especially seem to be fairly resilient and do not panic and cancel trips, unless perhaps they are traveling in the next few days," Jennifer Michels Jones, ASTA vice president of communications, told the Times.
And Leslie Cafferty, head of global communications at Booking.com, said much the same:
"Despite certain markets in Europe at times being negatively impacted because of terrorism, it's still a strong market for us, particularly in the summer," Cafferty said.
"It's hard to beat the reservations to Europe last year," Matthew D. Upchurch, chairman and CEO of the global luxury travel network Virtuoso, told The Times, "because the strength of the dollar made it the best season there in a while, but even with fears about terrorism, it continues to be a favorite when it comes to leisure travel."
On March 22, the U.S. State Dept. issued a travel alert for U.S. citizens visiting Europe, warning that "[t]errorist groups continue to plan near-term attacks throughout Europe, targeting sporting events, tourist sites, restaurants, and transportation" and offering tips for Americans traveling in the continent.
The alert will remain in effect until June 20.