Teen on Alaska Airlines flight helps blind and deaf passenger traveling alone, goes viral
A 15-year-old girl is being praised for her hands-on approach to helping a blind and deaf passenger traveling alone on an Alaska Airlines flight last week.
Clara Daly and her mom, Jane, were traveling home from Boston, Mass., to Los Angeles when their flight was canceled. They were rebooked on another flight, where the pair encountered Tim Cook, a blind and deaf man traveling home to Portland, Ore.
Cook had been visiting his sister in Boston.
"I observed a woman signing into a man's hand, so he could feel her words," said Lynette Scribner, another Alaska Airlines passenger. "After watching them for a few minutes, I realized the man was both deaf and blind."
CELEB RESTRAINED AMERICAN AIRLINES PASSENGER WHO TRIED TO OPEN EMERGENCY DOOR
Scribner said once Cook boarded the flight, other passengers tried their best to make his journey more comfortable -- including a man who let Cook have his aisle seat.
"The man, who had given up his seat, did his best to assist with things like opening coffee creamer and pouring it in his coffee," Scribner said.
However, the flight attendants needed someone who could communicate with Cook during the flight.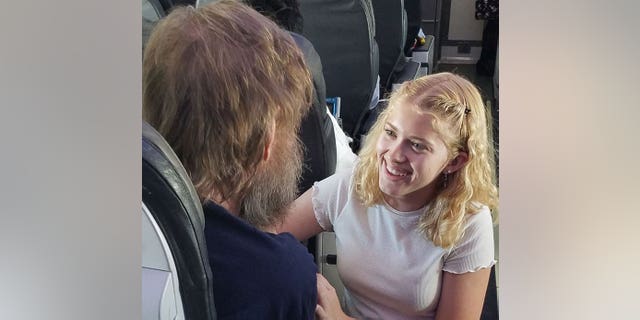 A flight attendant asked over the PA system in the plane if any passengers knew American Sign Language (ASL) to ring their call button.
Daly, who had been studying ASL for a year, rang her button.
"I sat with Tim a few times on the flight and toward the end for about 30 minutes," Daly said, Alaska Airlines reported. "He just wanted to talk."
"I went to [Cook] a total of three times, once to get him water, another to tell him the time, and the last hour of the flight to just talk to him," Daly told FOX59.
"We talked about our family in Massachusetts and he asked me about my plans for my future," she said.
Daly sign-spelled the words into his hand so he could understand.
The crew was delighted by Daly's actions.
"Clara was amazing," an Alaska flight attendant said. "You could tell Tim was very excited to have someone he could speak to and she was such an angel."
Though they aren't the only ones amazed by the sweet teen. Scribner posted a snap of the girl signing with Cook on Facebook, which has already been shared nearly 600,000 times as of Sunday afternoon.
FOLLOW US ON FACEBOOK FOR MORE FOX LIFESTYLE NEWS
Jane told Alaska Airlines her daughter felt their flight's cancelation was meant to be.
"After the flight, Clara told me she thought it was meant to be that our original flight was canceled and we were placed on this flight, so she could be there to help Tim," Jane said.
After the flight landed safely, Cook was picked up at the gate by a service provider from his senior living facility.
He reportedly told the airline it was the best flight he's ever taken.