Style guide: What to pack for a romantic city getaway
Summer is the perfect time to take advantage of the long days, and cool nights –and to show a little skin.
If you're headed to the big city to take a break with your other half you'll need the right outfits for days filled with touring the sites, and flirty nights out on the town. But you need to pack light avoid those annoying baggage fees.
Whatever your city of choice, here are 10 things you shouldn't leave without.
1. The essential LBD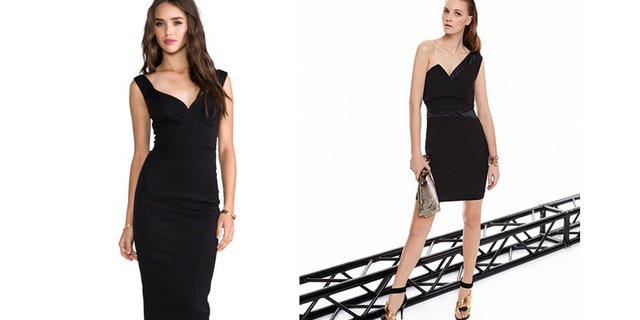 A LBD (or little black dress) is adaptable to whatever mood you happen to be in. It is much easier to pack a variety of accessories, say some fabulous enamel earrings, or a statement necklace, than your whole wardrobe of cocktail dresses. As a over packer myself, choosing a basic but still banging dress, allows me more options and freedom to choose what look I want. Another perk, the LBD leaves room for a hot pair of pumps, your beau will definitely appreciate. Two styles you can't go wrong with are Pinko's One Sleeve Mini Dress ($175), and The Ally Sheath Dress by Black Halo ($272).
2. A sturdy but chic flat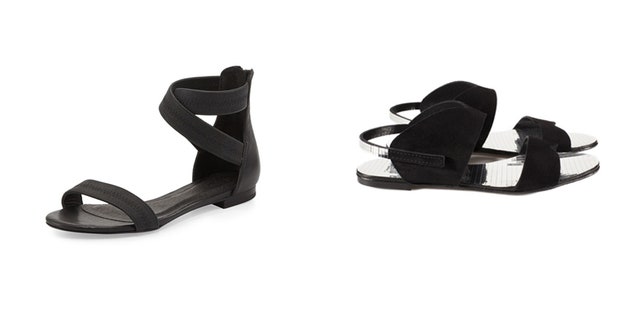 Any city dweller knows the importance of a practical flat. No matter how fabulous your feet might look, you will not get beyond two blocks in those sky-high sling backs. Enter the sensible and smart flat. Try Pedro Garcia's Elise Sandal ($475), to pair with your flowy summer dress, or Joie's Norah Elastic Flats ($272) that your date will appreciate when you can keep up the pace. Trust me you can still look chic with happy feet.
3. The versatile silk scarf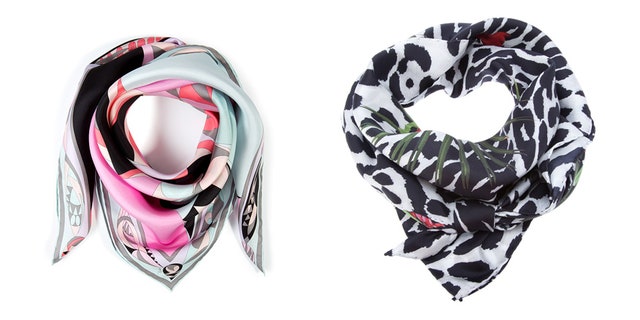 Silk scarfs have recently made a comeback. What used to be an accessory for the over 60 crowd, has now become a spot on trend. These silky stunners can dress up any ensemble and add a pop of color, or instant elegance. I like my silk scarves tied loosely around the neck, paired with a pleated skirt, or even cropped track pants. My favorites of the summer are, the Givenchy black and white floral print scarf ($193) and the bold Emilio Pucci's Printed Scarf ($385) for a little more pizzazz.
4. A practical tote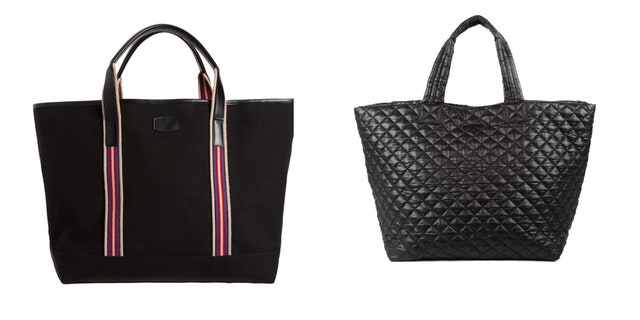 Even though the teeny tiny bag is now in, we all need a larger tote when hopping on the plane. To pack your Kindle, eyemask, and moisturizer, a stylish tote is a great way to fit all your necessities. This season I'm in love with MZWallace's quilted tote ($195), it's large enough to fit pretty much everything, but light enough to carry around town. Plus its black quilted exterior is transitional so you can use this staple year round. I also love T Anthony's classic Boating Tote for the coastal prep look ($295).
5. Naughty-but-nice lingerie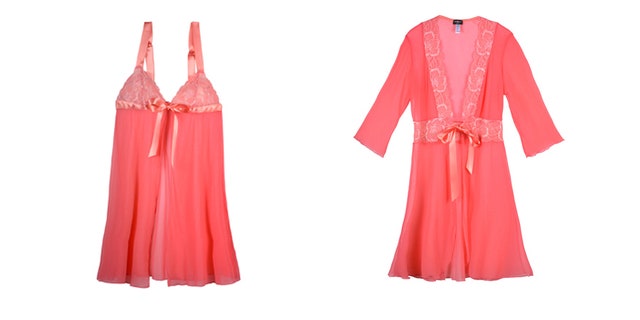 Now for the good stuff. Packing a flirty little number is key to capitalizing on your weekend away. This season, pastel hues were the most predominant trend on the runway. For this summer, think cotton candy pink, sea foam, and tangy yellow as your guide. I'm loving Cosabella's gorgeous Fetherston Babydoll ($159) in indulgent shell pink, with of course the accompanying lace Tie Robe ($149). If this duo doesn't heat up the night, I'm not sure what will.
6. The killer kicks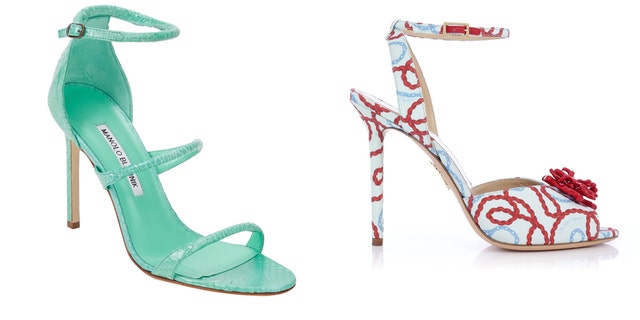 A city break gives you every excuse to pull out all the stops. To really impress, pack some strappy little sandals to make your summer dress a real hit. The higher the heel, doesn't necessarily mean the sexier the shoe. This season delicate straps emphasize the curve of the foot, giving a more seductive shape. Charlotte Olympia's Sophia ankle straps ($484) exude a coquettish vibe, whereas, these Manolo Blahnik Bombita rolled-strap sandals ($379) are strictly down to business.
7. A demure scented candle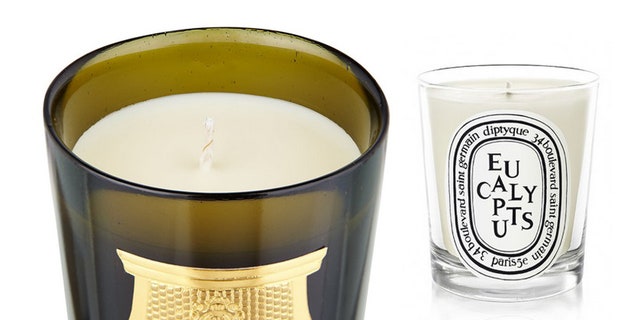 After a long day out, come back to relax with a glass of bubbly and a yummy scented candle. Scent is the sense most tied to memory, so make the most of your time together. Plus a candle doesn't take up too much space. Try Cire Trudon La Marquise Candle, with hints of white flowers and roses ($55) or for a fresher option Diptyque Eucalyptus Candle ($60).
8. Something bubbly for the bath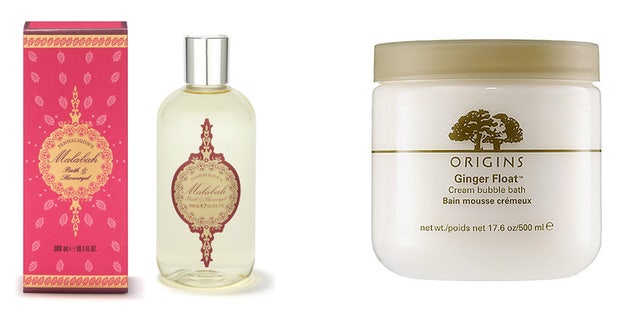 Take advantage of the soaking tub and throw some bubble bath your bag. Weekends away mean breakfast in bed, sleeping till noon, and relaxing time in the tub. You and your partner will love the exotic aromas of Penhaligon's Malabah bath and shower gel ($50) or the spicy scent of Origins Ginger Float Cream™ Bubble Bath ($28). Make some waves with a luxe bath for two.
9. A sultry red lip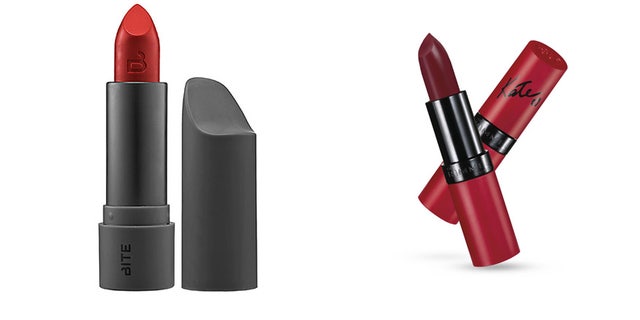 Nothing says romance more than a sultry red lipstick. Perfect to spice up any outfit, the red lip is a forever classic that any girl can pull off. To make your pout pop, opt for a more modest eye but don't skimp on the lash. This season a matte red pairs perfectly with big bold lashes. Swipe on Bite Beauty Luminous Crème Liptsick in Tanin ($24) or Kate Moss Rimmel London Lasting Finish Matte Lipstick (4.99) for instant va, va, voom.
10. The handbag-worthy water bottle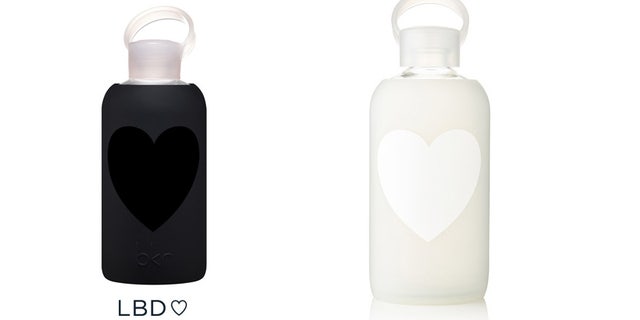 You've been living under a rock if you haven't heard of these hot bottles. Celebrities like Zoe Saldana and Jessica Alba have been seen all over Hollywood sporting these trendy hydra-bottles. For water purists who hate the taste of plastic, BKR are Made completely of glass with a protective soft silicon sleeve. For a romantic trip, the LBD and Milk designs ($35 each) are very fitting. You'll come to "heart" these clever little bottles from the first sip.