Storm forces airlines to cancel thousands of flights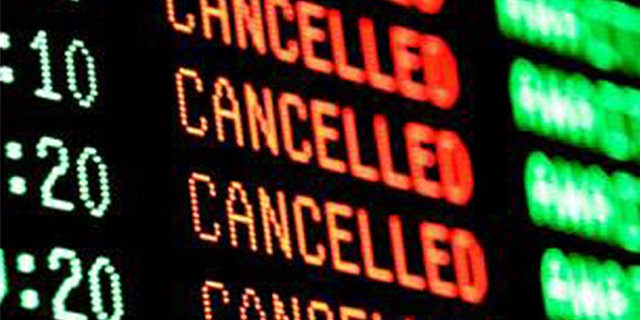 NEWYou can now listen to Fox News articles!
Before the first snowflake had fallen, Boston, Providence, R.I., Hartford, Conn., and other New England cities canceled school Friday, and airlines scratched more than 3,700 flights through Saturday, with the disruptions from the blizzard certain to ripple across the U.S.
New York City's main three airports, most domestic carriers planned to cease operations between 2 p.m. and 6 p.m. Friday, resuming after noon on Saturday afternoon.
At Boston's Logan and other New England airports, most airlines were to cease operations between noon and 4 p.m. and would restart Saturday.
Airlines issued so-called "weather waivers," allowing passengers flying in the storm-affected areas to change their flight date without paying a change fee.
Airlines try to get ahead of big storms by canceling flights in advance rather than crossing their fingers that they can operate in bad weather.
Boston could see up to 3 feet of snow, while New York City was expecting 10 to 12 inches. Mayor Michael Bloomberg said plows and 250,000 tons of salt were being put on standby. To the south, Philadelphia was looking at a possible 2 to 5 inches.
"We hope forecasts are exaggerating the amount of snow, but you never can tell," Bloomberg said, adding that at least the bad weather is arriving on a weekend, when the traffic is lighter and snowplows can clean up the streets more easily.
Amtrak said its Northeast trains will stop running Friday afternoon. The organizers of New York's Fashion Week -- a closely watched series of fashion shows held under a big tent -- said they will have extra crews to help with snow removal and will turn up the heat and add an extra layer to the venue.
Blizzard warnings were posted for parts of New Jersey and New York's Long Island, as well as portions of Massachusetts, Rhode Island and Connecticut, including Hartford, New Haven, Conn., and Providence. The warnings extended into New Hampshire and Maine.
In New England, it could prove to be among the top 10 snowstorms in history, and perhaps even break Boston's record of 27.6 inches, set in 2003, forecasters said. The last major snowfall in southern New England was well over a year ago -- the Halloween storm of 2011.
The Associated Press contributed to this report.