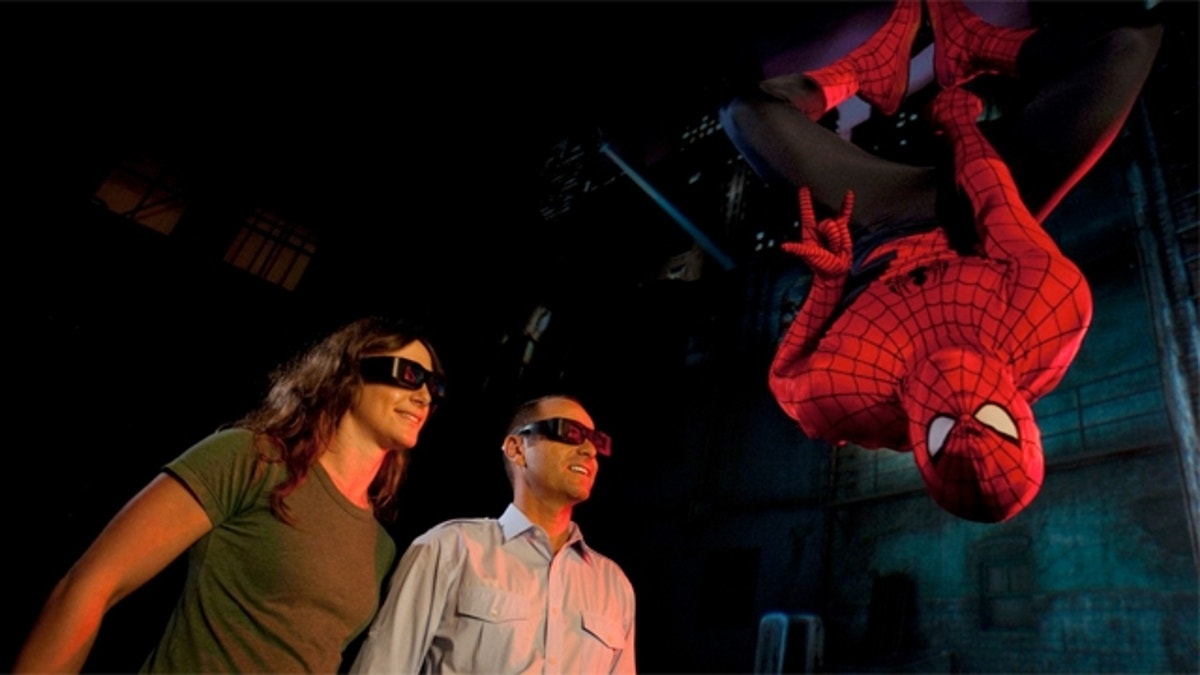 As Universal Orlando theme park prepares to open a new and technologically eye-popping version of its iconic 3-D Spider-Man ride this week, creator Stan Lee says it's sort of a fluke that the costumed web-slinger ever came into existence at all.
Lee was a writer and editor at Marvel Comics in the early 1960s when he went to his publisher with a new idea: A superhero with the abilities of a fly or some other insect to crawl on walls and flit from place to place. Oh, and the character's alter-ego, Peter Parker, would be a shy, orphaned teenager with all sorts of adolescent problems and anxieties.
"My publisher said to me, 'Stan, that is the worst idea I have ever heard,'" the 89-year-old Lee recalled in a telephone interview from his Los Angeles home this week. "First of all, people hate spiders so you can't call a hero Spider-Man. Secondly, a hero can't be a teenager. Teenagers are only sidekicks. And three, superheroes don't have problems — they're superheroes!"
Lee, who had already dreamed up the Fantastic Four, the Hulk and other popular Marvel beings, worked up a Spider-Man story with artist Steve Ditko — "just to get it out of my system," he says — and put the new character on the cover of the last ever issue of a 12-cent magazine called "Amazing Fantasy."
"It sold like crazy," Lee says of the August 1962 comic. Spider-Man was well on his way to becoming the flagship of the Marvel Comics universe, star of TV shows, major motion pictures and more lately, a famously elaborate Broadway musical. Spidey's general appearance has changed little through the years, although Peter Parker has been allowed to grow up into a young man.
That brings us to the updated version of the Universal 3-D dark ride, "The Amazing Adventures of Spider-Man," which reopens Thursday. It quickly gained popularity among theme park fans after debuting in 1999 but has only had minor tweaks since. Lately it had slipped into the also-ran category of Universal rides with the 2010 opening of the immensely popular Harry Potter attraction in another corner of Islands of Adventure.
The ride, which combines motion vehicles, a towering screen and special effects, was reanimated in digital high-definition 3-D and got updated sets, sound system, lighting and music. Universal says the clearer, brighter animation allowed the addition of loads of new details and high-tech gimmicks to the ride, in which the wise-cracking web-slinger battles villains Doctor Octopus, Scream, Electro, Hydro-Man and the Hobgoblin.
"We saw an opportunity to make it ready for a whole new generation of fans, and this was a perfect time to do so," said Mark Woodbury, president for Universal Creative, the park's design and development group. "The technology was available to us, (and) we saw the opportunity to create something really unique — more immersive, more detailed, more visual."
As Lee has done in some of the movies based on his characters, he steps into the ride for a cameo. He said he's not surprised at the enduring draw of his most famous creation, but he's quick to distribute the credit for Spidey's longevity.
"The people who are doing the stories after I stopped, and the people who are doing the cartoons and the rides and the motion pictures are doing such a fantastically wonderful job that the public seems to have a renewed interest in Spider-Man every time (something new) comes out," he said.
Interestingly enough, Universal rival Disney bought the Marvel empire in 2009 for more than $4 billion, but a licensing agreement keeps the Spider-Man ride firmly in Universal's clutches at the Florida theme park.
Universal opens another 3-D ride, based on the animated "Despicable Me" movie, this summer featuring similar 3-D technology. It will be on the other property at the Orlando park, called Universal Studios, which requires a separate admission.