Southwest passenger sues airline over engine explosion
In the wake of the April 17 engine explosion aboard Southwest Airlines flight 1380 that left one passenger dead and seven others injured, one female passengers who survived the ordeal is now suing the carrier, alleging the experience has left her suffering from post-traumatic stress disorder
On April 26, Lilia Chavez filed lawsuit in Philadelphia federal court against the Dallas-based carrier, Fox 29 reports. Chavez claims she was sitting three seats behind the window that ultimately shattered after the engine exploded on the tragic flight from LaGuardia Airport in New York City to Dallas' Love Field.
EMIRATES STAFFERS REPORTEDLY TOLD SIBLINGS WITH NUT ALLERGIES TO 'SIT IN THE LOO' WHILE CASHEWS WERE SERVED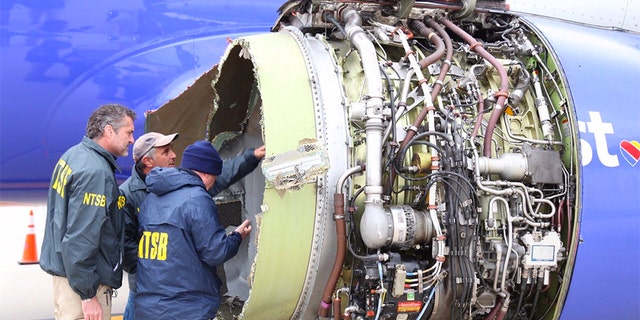 Witnessing "the horror" as the force of depressurization pulled fellow passenger Jennifer Riordan partially through the broken window, she "prayed and feared for her life," NPR reports.
Chavez' attorney Bradley J. Stoll told the outlet that his client is a "very brilliant, successful woman who in her life has overcome very significant obstacles and is the matriarch of her immediate and extended family."
"This accident has crippled her will and she is in shock over this horrible, near-death experience," Stoll said.
According to an alumni video published to YouTube by Peralta Colleges, Chavez' mother was killed when she was 14, leaving her to raise siblings who passed in and out of the prison system. She eventually received a Ph.D. and is now employed by Merritt College in Oakland, Calif. as a dean.
AIRLINES HAVE A 'HUGE PROBLEM' WITH PASSENGERS STEALING PILLOWS AND BLANKETS
Now, her lawsuit alleges that Southwest was "negligent and breached its obligations – failing to warn passengers that the aircraft and engine had defects," NPR reports.
The carrier has since issued letters of apology, in addition to $5,000 checks and $1,000 travel vouchers to passengers aboard flight 1380.
Southwest further declined Fox News' request for comment.
"Our focus remains on working with the NTSB to support their investigation. We can't comment on any pending litigation," a representative said. "The safety and security of our Employees and Customers is our highest priority at all times."