Southwest Airlines to stop serving peanuts on all flights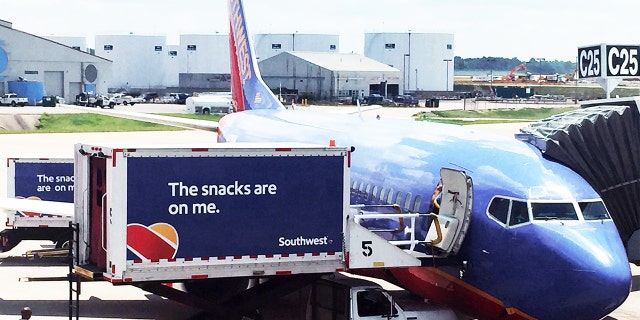 Those with peanut allergies can rest a little easier on their next Southwest flight, as the company announced Monday it will no longer be serving the traditional airplane snack.
Beginning August 1, Southwest will stop offering the complimentary packaged food on board as a cautionary measure for those who might suffer from potentially life-threatening nut allergies.
"Peanuts forever will be part of Southwest's history and DNA," a spokesperson for the airline said in a statement to Fox News. "However, to ensure the best on-board experience for everyone, especially for customers with peanut-related allergies, we've made the difficult decision to discontinue serving peanuts on all flights."
COUPLE WHO DOCUMENTED 'PLANE BAE' STORY NOW BEING SLAMMED ON SOCIAL MEDIA
Other free snacks will still be available for passengers. "We hope that our free pretzels (and the wonderful portfolio of free snacks on longer flights), served along with our legendary Southwest Hospitality, will please customers who might be nostalgic or sad to see peanuts go," the spokesperson said.
While peanuts have become a common onboard offering with many airlines, Southwest is the one most closely associated with the salty snack. In 2017 alone, the airline served more than 106 million peanuts, according to its website.
When the budget airline emerged in 1971, in order to offer low airfare, Southwest didn't serve in-flight meals. Instead, it promoted itself as the peanut airline with "peanut fares," according to Huffington Post.
"It was all about marketing," said Bob Van der Linden, chair of the aeronautics division at the Smithsonian National Air and Space Museum, told Skift. While other carriers also served peanuts, even before Southwest, Van der Linden said "Southwest was the first to serve only peanuts, and did so proudly, to show how cost efficient it was."
But with an increased awareness around peanut allergies and a number of complaints and lawsuits from those claiming to have suffered reactions due to the snack being served on board, many airlines have dropped peanuts altogether.
Earlier this year, a Texas family said the presence of peanuts onboard a Southwest flight caused a severe reaction in their 9-year-old son, forcing them to administer his EpiPen.
In 2010, the Department of Transportation even tried to enact an industrywide ban, though it was unsuccessful at the time, Skift reports. However, airlines like Southwest are taking note and have made the decision to put customer safety first.
FOLLOW US ON FACEBOOK FOR MORE FOX LIFESTYLE NEWS
"Our ultimate goal is to create an environment where all customers—including those with peanut-related allergies—feel safe and welcome on every Southwest flight," the Southwest spokesperson told Fox News. "We'll miss the peanuts, but, at the end of the day, it's our Southwest Employees and the Hospitality they deliver that set us apart, far more than peanuts ever could."
The National Peanut Board issued the following statement on the matter: "We were disappointed to learn about Southwest's decision to stop serving peanuts, which even the airline considers an iconic part of its history and DNA. It is an unnecessary step that will disappoint many of Southwest's customers. It is also out of sync with the latest science, which shows education and preparation – such as allowing passengers to pre-board flights to wipe down their seats – do the most to benefit the one percent of Americans with a peanut allergy."