Southwest Airlines cancels hundreds of flights after running low on de-icing fluid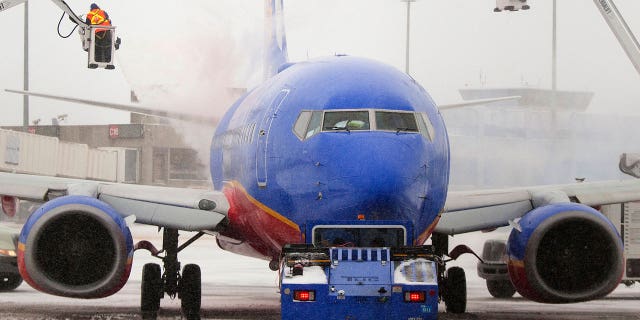 Hundreds of Southwest Airlines flights out of Chicago's Midway International Airport were canceled on Sunday due to a shortage of de-icing fluid, the airline has confirmed.
"Throughout the storms, we've actively worked to manage our glycol levels (used to de-ice aircraft) but due to the severity of the winter weather Southwest has proactively canceled about 220 flights as of midday Sunday," the airline confirmed in a statement to The Chicago Tribune.
'MOB' BREAKS OUT AT DE MOINES AIRPORT AFTER 14-HOUR DELAY
Additionally, Southwest Airlines responded to a tweet from a passenger who inquired about the scores of canceled departures.
"Due to having to de-ice many of our aircraft because of the weather, we are running low on deicing fluid. Safety will remain our top priority in this circumstance. Please reach out to our Team or Reservations Agents to get rebooked just as soon as possible," the company wrote.
Southwest wasn't the only airline affected by the icy conditions: Harsh winter weather also grounded dozens of other flights out of Midway on Sunday, the airport confirmed via Twitter.
"Airlines have canceled 250+ flights today due to winter operational issues," tweeted Midway. "Confirm flight status w/ your airline."
PASSENGER'S CIGARETTE BREAK CAUSES MASSIVE DELAYS
By Monday morning, Southwest Airlines had said it expected to operate on a "close to normal schedule."
"The glycol has been replenished and the airport deicing equipment is fully functional," said Southwest in a statement to Fox News. "Those developments, coupled with a more positive weather forecast for Chicago position us to safely operate our more than 250 departures out of Chicago Midway.
"We will continue to work with our Customers on their travel plans and apologize for any inconvenience the disruption in service has caused," the airline added.
This is the second time in recent months that Southwest's de-icing issues caused headaches at Midway International Airport. Shortly after Christmas, Southwest was forced to cancel roughly 90 flights when harsh conditions kept its de-icing crews from servicing its planes.
FOLLOW US ON FACEBOOK FOR MORE FOX TRAVEL NEWS
The city of Chicago saw three more inches of snowfall on Saturday night and into Sunday, which accumulated atop the 10 inches that fell in the area late last week, per the Associated Press.