Sneak peek of animatronic zombie on new 'Walking Dead' ride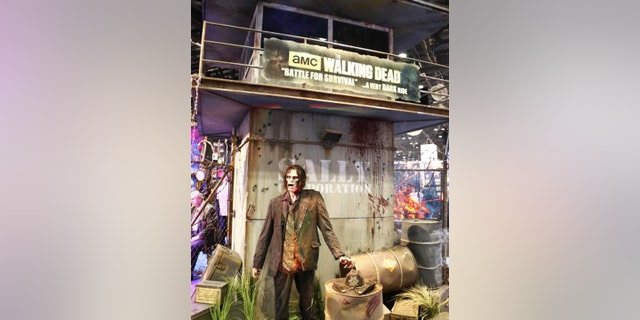 NEWYou can now listen to Fox News articles!
Getting trapped in a room full of zombies may sound like the average person's nightmare. But to a "Walking Dead" fan, it just sounds like a lot of fun.
Fans of AMC's hit series will soon be able to get an up close and personal zombie encounter of their own.
Sally Corp., a leading creator and manufacturer of dark rides, unveiled the first zombie, or "walker" as they're known in the series, from its upcoming attraction "The Walking Dead: Battle for Survival" at the latest International Association of Amusement Parks and Attractions (IAAPA) Expo in November.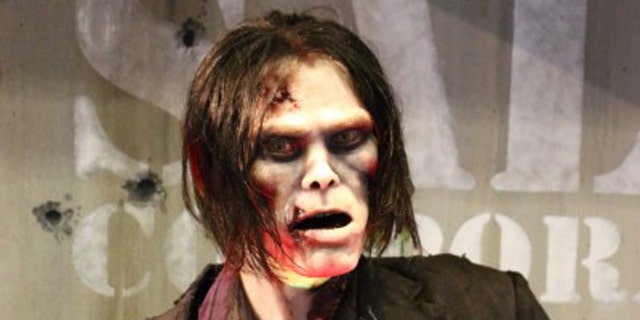 According to InsidetheMagic.net, the new ride will be comprised of mixed media elements including live animatronics, and projections intensified with 3D aspects—all designed to get riders interacting with the flesh eating killers.
Sally Corp.'s Creative Director Rich Hill told told InsidetheMagic that while the ride will be scarier than most dark rides on the market, the blood and gore will be toned down from the show. Still, it's not meant for young kids.
"The whole point of it is to collect supplies and defend yourself against walkers and so if you don't collect enough supplies, there's an alternate ending where you lose and you get eaten," Hill explained, citing that the full experience will feature multiple endings depending on rider performance. "It's all based on your skill."
In addition to realistic projected images, riders can also expect real elements like fire, spitting water and wind to heighten the realism. .
"It has all the same feelings from the show. You feel like you're those characters going through these environments," said Hill noting that many locations from the series will pop up during the attraction.
The ride, which was conceived in collaboration with AMC, is being pitched to several amusement parks around the country but has yet to find a home. But given the popularity of "Walking Dead" attractions and cruises, Hill says "it's going to be an anchor attraction for some park."
Check out the lifelike-- or deadlike-- zombie action below.