Six raciest hotel pool parties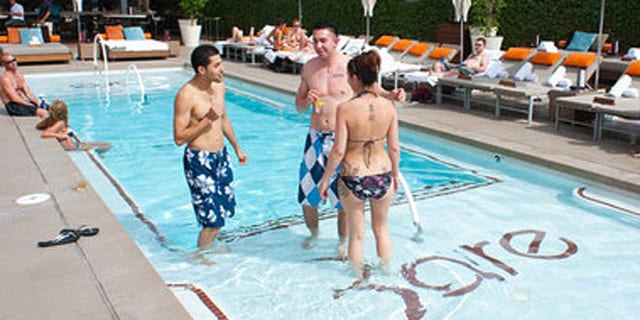 Our friends at Oyster.com have pinpointed six pool parties that are ripe for participation. Putting on your bikini, grab a frozen drink, and let loose at one of these raunchy fests.
Moorea Beach Club Pool at THEHotel at Mandalay Bay, Las Vegas

Although we just heard from our friends at HotelChatter that THEHotel at Mandalay Bay will be converted into a Delano property, for now it remains the sleek, urban sophisticate sister to its giant Vegas sibling, the Mandalay Bay. And even though you'll have access to the Mandalay Bay's pools at THEHotel, we recommend staying on-site for a raging good time at the Moorea Beach Pool. Rent a sexy daybed, lay topless, and even have poolside spa services upon request. While entry prices are steeper — $10 for women; $50 for men — you can't really put a price on nudity, can you?
Sound Pool at the Standard Miami

An incredibly chic spot, the Standard is known to attract twentysomethings that are looking to get a little wild — and live every single moment of each weekend up. (Example: Sunday night Bingo usually wraps at about 12:01 a.m.) Considering the weekly party nights held at the Sound Pool with promotions like ladies and bottoms drink free (not to mention body paint that we've seen flying by) and the coed sauna (no need to explain anything more), it's probably for the best that kids under 14 are not allowed on the property. But that doesn't mean you can't have a blast, right?
Ditch Fridays at the Palms Resort Casino, Las Vegas

No hotel does "party" better than the Palms Casino Resort — after all, who doesn't remember the raunchiest season of MTV's "Real World" being taped in one of the sexy suites? And the Playboy suite? Don't get us started. But the shows have come and gone, yet the Palms' Ditch Fridays pool party has been a Vegas staple. As the name of the bash suggests, the Palms wants you to start the weekend early — and right — while swimming and dancing to banging house, hip-hop and pop beats spun by resident DJs including "Jersey Shore" star Pauly D. And if you really want live it up, go for the fully-featured cabanas that surround the pool area. These come complete with misters, flat-screen TVs and lounge-style seating. A second level of cabanas, shaped more like tents, offer views of the entire pool party if you want a birds-eye peek at the scene.
The Indoor Pool at the Room Mate Grace, New York City

Having New York City's only swim-up bar is no small feat, considering there are hundreds of awesome boutique properties within the five boroughs. And the Room Mate Grace brings its unique touch to no other than tourist-centric Times Square, where just about everything is glittering in lights. But at the Room Mate Grace, it's the Wednesday night LGBT pool party that has the crowds rocking; there's a DJ spinning tunes at the pool five nights a week, too. Should you be a New Yorker yourself, you're in luck — the hotel opens its pool only to the public for its legendary, late-night action. Oh, and of course it's heated — no one would like going outdoors wet in a New York winter.
Bare Pool at the Mirage, Las Vegas

The Mirage is perhaps one of the Strip's oldest hotels, but that doesn't mean it attracts an old scene; rather, it's known for a raunchy (but still somewhat family-friendly) one. Although the main pool can get really crowded (and full of families), those looking for a more adult-experience need to check out Bare, a grownups-only poolside lounge featuring bikini-clad service and "European-style" (i.e. topless) sunbathing. With the kids out of sight — and mind — hip-hop DJs play explicit beats, and entrance alone will cost you between ten and twenty bucks. Wanna rent a daybed? $150 minimum. Or a tricked-out cabana? There's a hard minimum of $500 to $1500 that must be spent on food and drinks to be able to post up on one of these sweet spots.
Rooftop Pool at the Dream Downtown, New York City

Despite this picturesque photo, the rooftop pool at the Dream Downtown may host one of the craziest parties we've ever seen in New York — and trust us, we've danced on enough tables and hit up enough afterhours to make that conclusion. And if this hotel's sexy vibe wasn't apparent yet, it's obvious from the pool — the bottom is see-through, of course. And when you show up to the Dream Downtown on Saturdays, expect a full-blown tiki bar, cabanas available for rent and an additional penthouse party (in case of rain). The party kicks off at 5:30 p.m., so we recommend purchasing a brand-new, super-tight bathingsuit before heading over to avoid flashing the lobby your nether regions.