See the world in miniature: 12 of the most incredible model railways
From the choo-choo that goes around the Christmas tree to fanciful displays and seasonal train rides like The Polar Express, trains have long been associated with the holidays. For the ultimate locomotive experience, visit these massive model railways, which wind along miles of track through miniature recreations of scenery from around the world.
1. Miniatur Wunderland, Hamburg, Germany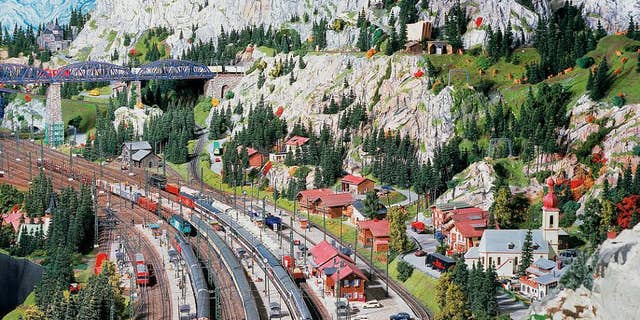 Billed as the world's largest model railway, Miniatur Wunderland took 580,000 hours to construct and requires 300 staff members to maintain. Millions have visited the nearly 14,000-square-foot display, which contains hundreds of thousands of miniature cars, figures, ships and even aircraft taking off and landing in scenes from Hamburg, America and Switzerland. "Our idea was to create a world which likewise inspires men, women and kids to dream and marvel," said Gerrit Braun, one of the founders.
2. LOXX Miniature Worlds Berlin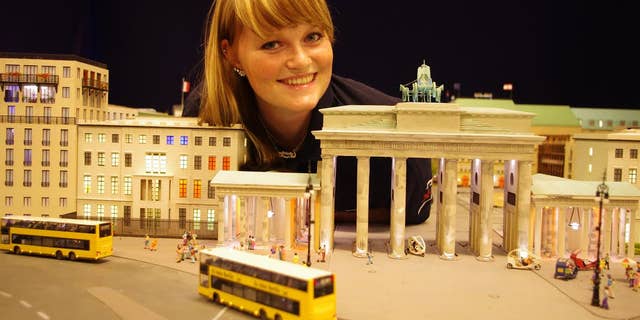 Skip the walking and see all of Berlin in one location at LOXX Miniature Worlds Berlin, a 30,000-square-foot recreation of the city. Visitors will see replicas of Berlin landmarks, including the Zoological Gardens, Bellevue Palace, the red and yellow S-Bahn trains, double-decker buses, Märchenpark and the airport, complete with Boeing 747s. Keep an eye open for silly vignettes, storms and the change from day to night.
3. Northlandz, Flemington, N.J.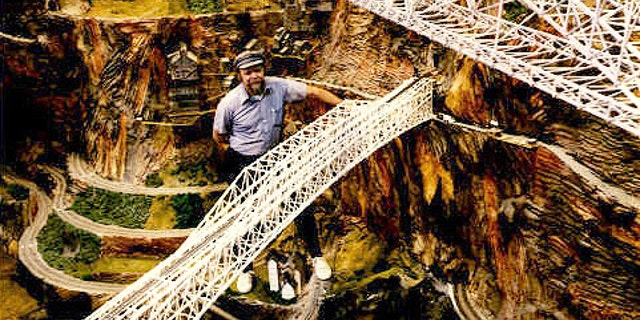 With eight miles of track and 100 trains, the 52,000-square-foot display over 16 acres at Northlandz is the Guinness Book of World Records' largest model railroad. Even the walkway that takes visitors through the Great American Railway is a mile long. Highlights include a 30-foot mountain, bridges that span huge canyons and a replica 1890s narrow steam gauge train. Tip: Bring binoculars so you don't miss any of the amazing details.
4. Bekonscot Model Village and Railway, Beaconsfield, Great Britain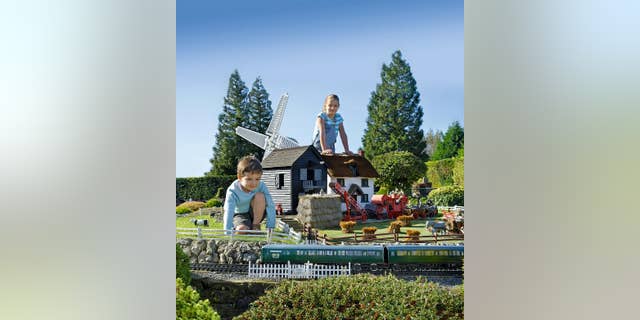 Picture yourself as Gulliver among the Lilliputians at Bekonscot Model Village and Railway, which has been open since 1929. The world's oldest model village, Bekonscot is a recreation of six towns in 1930s England. The 10 scale miles of model railway contain miniature houses, gardens, coal mines, a zoo, castles, windmills, wedding fox hunts and even escaped convicts. There are also more than 3000 shrubs and trees across the village's gardens.
5. Adventure World Toggenburg, Lichtensteig, Switzerland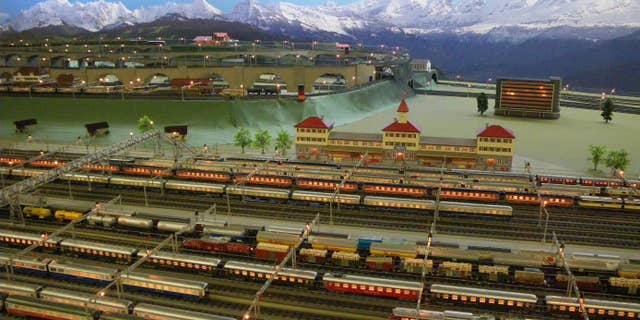 Take some time off from skiing to visit Adventure World Toggenburg, home of the biggest hobby model railway of Europe in track zero. The railway features several different train stations on 4,200 feet of track with a backdrop of snowy mountains. The attraction also houses vintage motorcycles, model steam engines and a variety of toys. There's even a little bistro for drinks and snacks after your trip around pint-sized Europe.
6. Pasadena Model Railroad, Los Angeles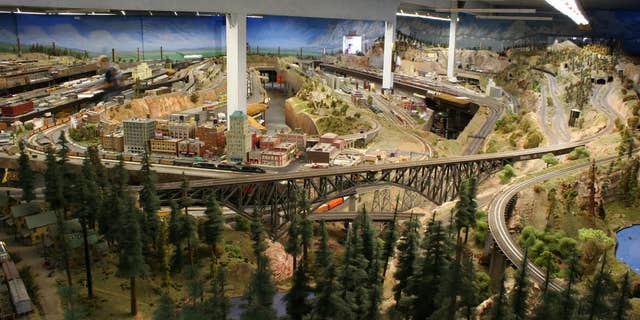 Take a journey through California's railroad history at the Pasadena Model Railroad Club, which maintains this 5,000-square-foot HO scale model railroad. Open to the public twice a year, it features Sierra Pacific Line trains traversing bridges, tunnels and trestles, literally running from A (Alhambra) to Z (Zion). The train even passes by the notorious Los Angeles landmark, the Bates Motel.
7. San Diego Model Railway Museum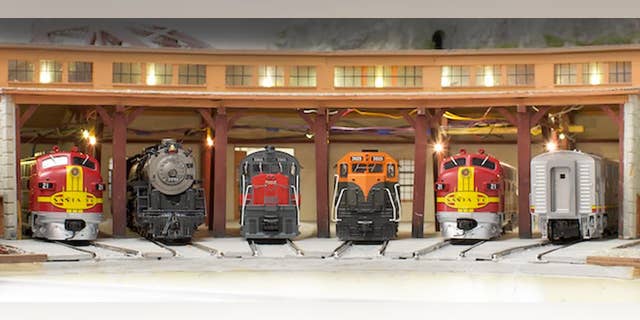 Located in Balboa Park in the heart of the city, the San Diego Model Railway Museum is dedicated to preserving the heritage of railroading. It offers scale replicas of many California railroads and contains one of the largest indoor HO model railroad displays. The museum has a special holiday display through Jan. 10 with Department 56 holiday collectables alongside vintage trains. It's free for children 14 and younger, so be sure to stop in the interactive Toy Train Gallery, where kids can help operate trains at their eye level.
8. Jingle Rails, Eiteljorg Museum, Indianapolis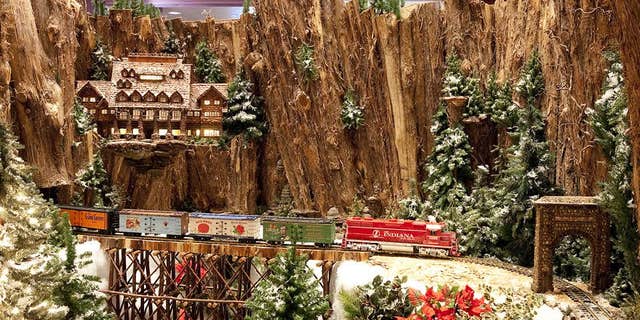 Visitors to the Eiteljorg Museum of American Indians and Western Art can watch seven model trains navigate through the great American West every holiday season at the Great Western Adventure Art's Jingle Rails display. It features trestles, bridges and tunnels that cross through detailed replicas of national icons, including Mount Rushmore, Hoover Dam, the Grand Canyon and Old Faithful. All of the displays are made from natural materials, including twigs, moss and nuts.
9. Gainsborough Model Railway, Gainsborough Lincolnshire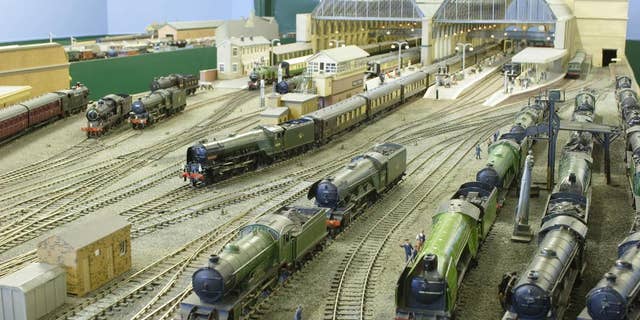 Venture from London's iconic King's Cross Station through the English countryside to Leeds Central via the East Coast Main Line at the Gainsborough Model Railway Society. Volunteers designed this O gauge model railway with exceptional detail to resemble England during the 1940s. The railway, which covers 2,500 square feet and requires 10 operators, features replicas of famous locomotives, including Papyrus, Flying Scotsman and Mallard. It's open to the public on select dates, which are published online.
10. Misty Mountain Railroad, Blairsville, Ga.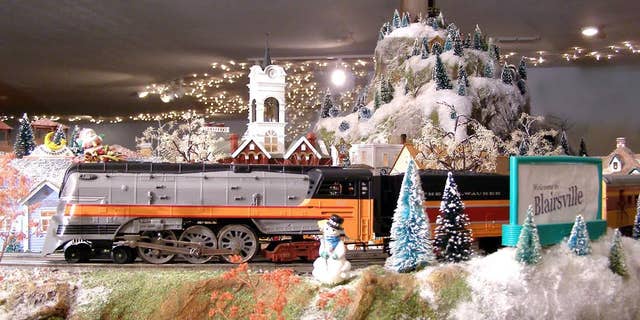 This train travels through the American South and the Appalachian Mountains, passing by Biltmore Estate, Georgia's Capitol dome, the former Atlanta Railroad Station and even Tara from Gone With the Wind. The private owner who designed the O gauge line for his family found visitors flocking to see his imaginative creation. Now named the Misty Mountain Railroad and open to the public several days a week, the railway has become the largest privately owned display of its type. The 4,000-square-foot model railroad has 14 trains chugging along a mile-long track.
11. Wilmington Railway Museum, Wilmington, N.C.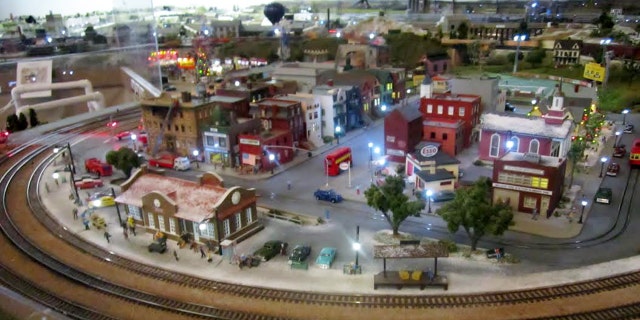 Featuring displays that detail the history of railroading in North Carolina, the Wilmington Railway Museum houses 20 trains operating in four scales. Visitors can step inside a life-size, 100-year-old steam locomotive, a caboose and a boxcar. The museum illuminates the display at night with thousands of holiday lights every Christmas, and Santa makes an appearance on weekends leading up to Christmas Day.
12. Taltree Railway Garden, Valparaiso, Ind.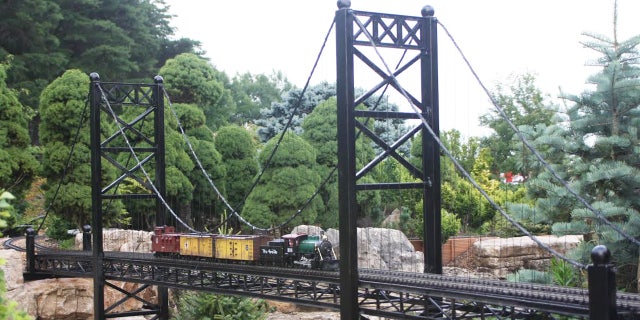 About an hour south of Chicago, the acre-sized Taltree Railway Garden features 3,500 tiny trees, bushes, waterfalls and bridges, as well as a 14-foot change in elevation. Seven different trains travel at any given time past mountains, prairies and canyons and tell the history of America's steam engine and its impact on the United States.