SeaWorld euthanizes sick orca, making her the third whale to die at park in 2017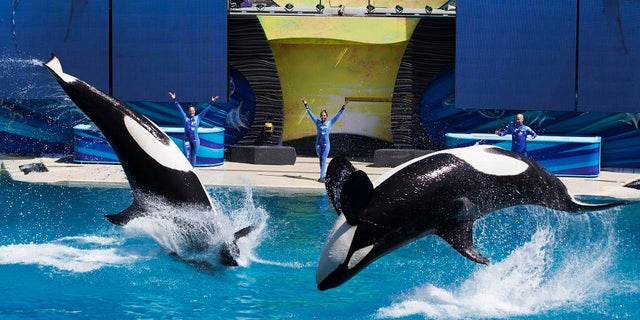 SeaWorld announced on Tuesday that they euthanized a female orca whale at their park in San Diego after her health was steadily declining. She is the third whale to die in the theme park this year.
Kasatka, around 42-years-old, was a mother of four, grandmother of six and great grandmother of two. SeaWorld said they decided to euthanize the whale after her "health and appetite significantly declined over the past several days, despite continually tailored treatments," according to a statement from SeaWorld.
THE LAST KILLER WHALE HAS BEEN BORN AT SEAWORLD
The statement said the whale was suffering from a bacterial respiratory infection or lung disease, and has been sick since 2008.
Currently, there are 10 orca whales in the San Diego SeaWorld: five males and five females. SeaWorld said all the orcas seem to be healthy.
"But we're monitoring and watching for any changes in their behavior," the statement said. "While the loss of Kasatka is heartbreaking for the animal care, veterinary and training teams, as well as the entire SeaWorld family, our focus is to continue the care of the rest of the orca family at the Orca Encounter facility."
Kasatka's death follows Kyara, who died three weeks ago at the age of three months at the SeaWorld in San Antonio, according to The Independent. Tilikum, who was featured in the 2013 documentary "Blackfish," also died in January at the age of 35. Tilikum was involved in three incidents that lead to the deaths of three people.
DEAD WHALE FOUND STUCK TO BOW OF PRINCESS CRUISE SHIP ENTERING ALASKA PORT
SeaWorld said they now "care for" 21 orcas at their parks in San Diego, Orlando and San Antonio.
Kasatka was first captured near Iceland and brought to SeaWorld in 1978. The 4,850-pound performance whale appeared in about eight shows a day, but reportedly became more hostile after giving birth. In 1999, Kasatka attacked her trainer Ken Peters, dragging him underwater during a show. He endured minor injuries.
In March 2016, SeaWorld announced it would end breeding orcas and phase out the whale's performances in San Diego, according to The New York Times.