Scantily clad skiers attempt to break world record in Sochi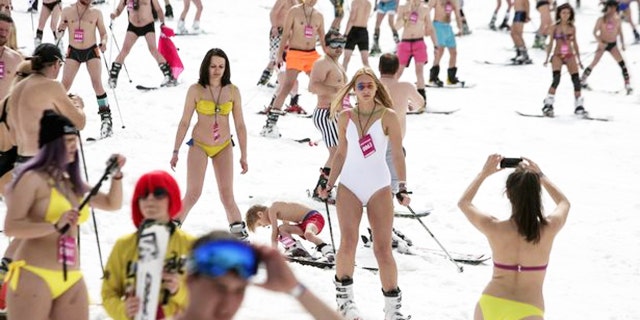 Spring is in the air, but it's not quite swimsuit season.
Unless, of course, you're attempting to break a world record for bikini skiing.
It may not be not an Olympic sport, but believe it or not there is a world record for "largest swimwear parade on skis," on the Guinness books.
On Saturday, 1,000 scantily clad skiers attempted to break the current record in Russia's Black Sea resort town Sochi, the site of the 2014 Olympic Games.
Men and women stripped down to their skivvies and swimsuits, strapped on helmets, and took their poles to the slopes for the colorfully cold party.
"(We came) to the festival, in order to slide in costume, in order to have fun and rest at the same time," Maria Popova told the Mirror. The skiers were there to officially close out Sochi's ski season.
Despite the snow on the ground, many revelers claimed the weather was perfect for a stripped-down ski.
"The weather is beautiful," said another even participant Viktoria Garanzha. "I hope we will go another round down the slopes.
"I like the resort, everything is cool. There are a lot of young people, there are a lot of parties."
After the event, hundreds of skiers flocked to apres ski parties in the Russian resort town—but they may have started celebrating too soon.
A spokeswoman for Guinness told FoxNews.com that the current record—completed by 500 skiers in Sheregesh, Russia on April 20, 2013—is still the official "largest swimwear parade on skis."
At least the Sochi skiers had fun in the sun.