Ryanair passenger chokes out disruptive flyer, whole plane cheers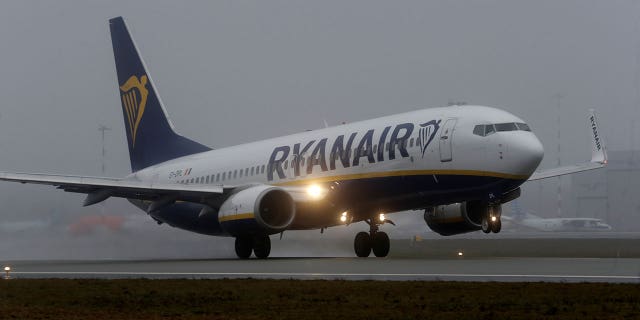 NEWYou can now listen to Fox News articles!
An older Ryanair passenger has become something of a hero after choking out an annoying 22-year-old man in an adjacent seat — and the whole incident was caught on film.
According to a witness who spoke with The Sun, the disruptive, drunk passenger had been "making a nuisance of himself" during the entire two-hour flight from Spain to England, and continued to do so after the plane landed at the Luton airport just outside of London.
WOMAN FILMED GIVING IN-FLIGHT LAP DANCE 'ABSOLUTELY MORTIFIED'
"Over the course of the flight, he was singing loudly with his headphones on," said fellow passenger Dean Whiteside, who added that the man had been warned repeatedly to quiet down. "It was a late flight, everyone was tired and he was rubbing people up the wrong way."
Upon landing, the flight crew called police to come remove the unruly young man, but he wasn't about to give in. The man reportedly stood from his seat and told the crew to "get out of my face."
"I could see [an altercation] brewing up," said Whiteside. "That's the reason I got my phone out, ready to film it."
However, to the surprise of Whiteside, the disruptive passenger didn't even get a chance to throw the first punch. Instead, an older gentleman with white hair leaped out of his seat and placed the young man in a chokehold.
FOLLOW US ON FACEBOOK FOR MORE FOX LIFESTYLE NEWS
As seen in the footage, the aircraft almost immediately bursts out into spontaneous applause. Another passenger can also be heard yelling "Citizen's arrest!" over the commotion.
After a few seconds, the young man fell unconscious, and the crew was able to remove him from the aircraft.
"The guy was lifeless in his arms like a rag doll," Whiteside added.
As reported by The Sun, the crew reportedly restrained the young man while the rest of the passengers deplaned, and he was later arrested on "suspicion of common assault."
"A 22-year-old man from Dagenham was arrested on suspicion of common assault and being drunk on an aircraft. He was taken into police custody and dealt with by way of simple caution," Bedfordshire Police confirmed.
RYANAIR CALLS FOR TWO-DRINK LIMIT AT U.K. AIRPORTS
In a statement obtained by Fox News, Ryanair has said they have handed the matter over to police.
"We will not tolerate unruly or disruptive behavior at any time and the safety and comfort of our customers, crew and aircraft is our number one priority," said Ryanair of the altercation, which occured on a June 30 flight.
"This is exactly why we are calling for significant changes to prohibit the sale of alcohol at airports, such as a two-drink limit per passenger and no alcohol sales before 10 a.m.," added the Irish airline, who first called on U.K. airports to institute a drink limit in August.
"It's incumbent on the airports to introduce these preventative measures to curb excessive drinking and the problems it creates, rather than allowing passengers to drink to excess before their flights."
It's not yet clear if the older Ryanair passenger was detained by police at Luton airport as well. A representative for Ryanair declined to comment on the matter for Fox News.