Royal Caribbean worker dies in lifeboat drill in France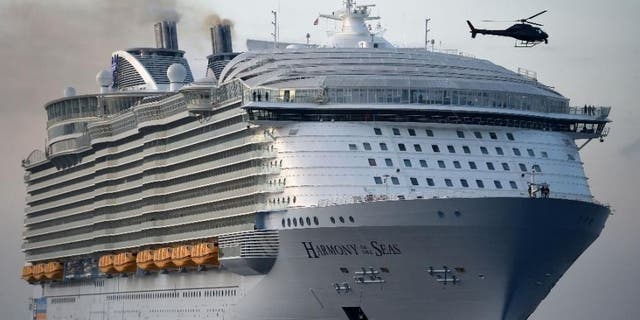 A crewmember on the world's largest cruise ship died and four others were injured Tuesday when a lifeboat fell from the deck into the water during a rescue drill in Marseille, the operator and officials in the southern French port city said.
Julien Ruas, a deputy mayor of Marseille, told The Associated Press that the lifeboat fell about 10 meters (33 feet) from the fifth deck of the Harmony of the Seas into the sea with the five crewmembers aboard. He identified the dead crewmember as a 42-year-old Filipino. Circumstances of the accident are still unclear.
Local naval firefighters told the AP one person died, two were seriously injured and two were more slightly injured in the "violent" fall. All were members of the crew.
"It seems the people didn't get the time to secure themselves so the fall was quite a violent one, like if you or me fell around 10 meters from a building," Ruas, who is in charge of firemen, told The Associated Press. He said the reason the lifeboat broke away was not immediately clear.
The Miami-based Royal Caribbean cruise line "deplored" the death and said in a statement that the incident happened during a safety exercise while the ship was docked in the port of the Mediterranean city.
Royal Caribbean Harmony of the Seas debuted May 17, 2016 becoming the line's 25th ship in the fleet and taking over the title of world's largest cruise ship. It will sail the Mediterranean this summer and reposition to Port Everglades in the fall.
The Harmony of the Seas holds the record for the largest cruise ship ever built, with a capacity of 8,690 people, including 6,300 passengers and 2,390 crew members. The $1 billion ship was built in France and set sail for its inaugural cruise in May.
At 362 meters (1,187 feet) long, the 16-deck ship is longer than the height of the Eiffel Tower. It's been compared to a floating city with more than 2,500 staterooms, 20 dining venues, 23 swimming pools, water slides, a park with more than 10,000 plants and 50 trees, two climbing walls, discos and bar clubs, a theater, a skating rink, a basketball court and a casino.