Rome's Christmas tree cost over $50,000 but people can't stop making fun of it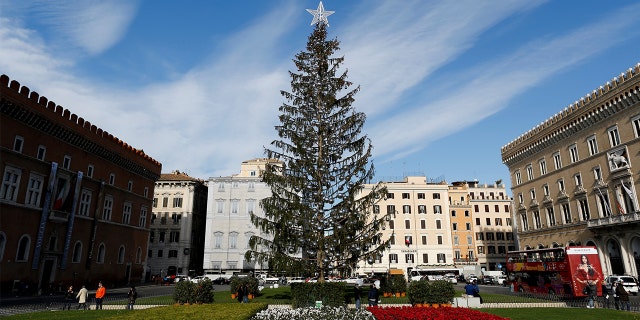 Rome's official Christmas tree has been getting some recent attention, but not for bringing festive cheer.
The 70-foot-tall tree — which sits in the middle of the Rome's main piazza, the Piazza Venezia — has been nicknamed "Spelacchio," which roughly translates to mangy or balding in Italian.
The Christmas tree has garnered attention for its wiry arms and lack of lush trimmings, with people on social media pointing out that the tree looks as though it is already dead.
Some users even created a Twitter account for the tree, which currently has over 4,000 followers.
It turns out that the tree was dead, city authorities confirmed to Corriere Della Sera.
Officials told the publication the tree was completely rootless due to the disproportionate costs it would require to transport it with the roots, though they mentioned this is common practice and would not necessarily point to the tree's withering appearance.
The suppliers responsible for sending the tree also said it was in good condition when they sent it out.
"We do not point the finger at anyone, but something happened to that tree," Stegano Cattoi of the Foresty Technical Office of the Magnifica Comunità di Fiemme told the publication. "It's obvious; he suffered too much stress," Cattoi added, saying that trees generally can last for a month to a month and a half in rootless conditions.
More from Travel + Leisure
Because there are so many questions around what happened to the more than $50,000 tree, city officials are expected to begin an investigation.
This is not the first time an Italian Christmas tree has caused controversy. Last year, Rome was also home to the "Austerity Tree," which was dubbed the "ugliest in the world" due to its shabby appearance. Rome's mayor ultimately decided to give the tree a makeover with sparkling lights.