Robert DeNiro's Nobu Hotel Manila named worst luxury hotel of 2015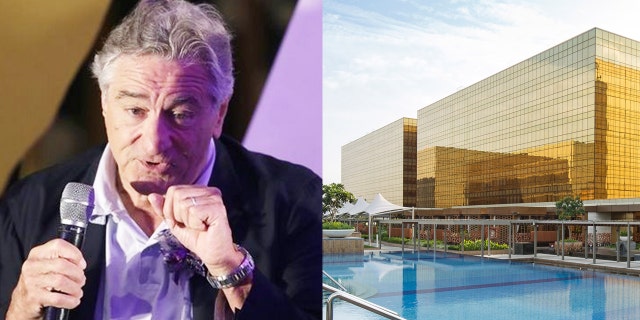 Robert DeNiro may be one of the best actors of his generation but when it comes to the hospitality industry, the star apparently has a lot to learn.
Nobu Hotel Manila, which is co-owned by the actor, chef Nobu Matshuhisa and movie producer Meir Teper, was named as the worst new luxury hotel of 2015 by Luxury Travel Intelligence (LTI), a members-only group that touts membership comprised of jetsetters and high net worth individuals, on their annual best and worst new hotels list.
DeNiro, who has worked with the lauded Japanese chef in his growing restaurant empire, was not able to translate the high-end eatery experience to the hotel at the City of Dreams complex in Manila, the Philippines, which officially opened in May.
According to Blouin Art Info, which received an early release of the LTI report, members were "underwhelmed and disenchanted" by the property which had "disappointments at every turn."
Rooms at the 5-star property start at $164 for a regular deluxe room and $400 for a Nobu Suite with city views.
Joining Nobu Hotel Manila at the top of the worst list was the newly opened Shangri-La Le Touessrok, Mauritius, in east Africa described as "being opened well before it was ready." After extensive renovations, the hotel still found the hotel to have "poor service and inadequate staff training plus a distinct impression that management is not present."
And while St. Regis hotels are usually heralded for superior service and luxurious accommodations, the newly opened St. Regis Mumbai, India came in as the third worst new luxury hotel. Members of LTI called it a "rare slip up by this well regarded brand," due to "a rushed and badly executed takeover of an existing (and troubled) property – The Palladium."
Ranked the best, the Mandarin Oriental in Marrakech in Morocco was voted was at the top new luxury hotel of 2015. LTI members described the property as "stunning and faultless" with major props due to management who made sure that "everything was perfect before opening their doors." The secluded hotel has 34 villas spread over 50 acres.
The Sant Francesc in Palma Mallorca, Spain came second on the best list, with high praise as the "the perfect luxury boutique hotel, in the perfect 'boutique' European city," and the Aman Tokyo came in third.
Did your favorite new luxury hotel wind up on top? Check out the full best and worst lists below.
The best new luxury hotels 2015
1. Mandarin Oriental – Marrakech
2. Sant Francesc, Palma Mallorca
3. Aman, Tokyo
4. Villa Rene Lalique, Alsace
5. Reverie Saigon, Ho Chi Minh City
6. Temple House, Chengdu
7. Sujan Rajmahal Palace, Jaipur
8. La Fiermontina, Puglia
9. Six Senses, Douro Valley
10. Gansevoort, Dominican Republic
The worst new luxury hotels 2015
1. Nobu, Manilla
2. Shangri-La's Le Touessrok, Mauritius
3. St Regis, Mumbai
4. Zaya Nurai, Abu Dhabi
5. Edition, Miami Beach
6. Lanesborough, London