Race to the top: World's tallest Ferris wheels
Since it was invented, the Ferris wheel has been a symbol of engineering innovation.
George Ferris unveiled his giant wheel in 1893 at the Chicago World's Fair as a rival to the Eiffel Tower. At that time, it was the largest single piece of forged steel ever made --and a mind-boggling 264 feet high.
Since then, versions of the wheel have become fixtures at theme parks and carnivals the world over.
But in 2000 a whole new era of giant Ferris wheels began with the London Eye–which offered visitors the chance to climb higher than ever before -- in fixed, climate controlled capsules.
When Singapore opened its Singapore Flyer in 2008, it helped set in motion a global race to nab the title of world's tallest wheel, with city officials trying to outdo each other with higher and more sophisticated structures.
There are other giant Ferris wheel projects in the planning stages, including one in Japan and another in Changzhou, China with a unique spokeless design. Yet, none of them threaten the plans of Dubai, which hopes to score the world's tallest title in 2015.
Here's a look at the current list of the world's tallest Ferris wheels in motion –that is, until another city is upstaged.
1. Dubai Eye, Dubai, UAE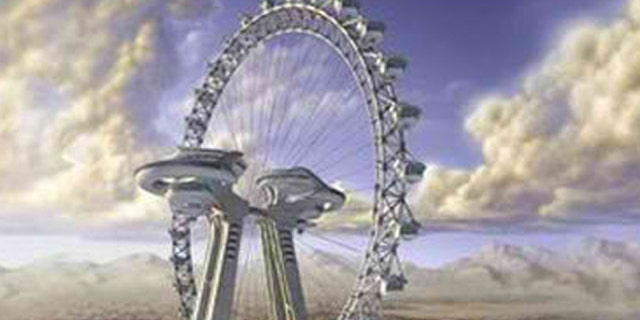 Proposed height: 689 feet
The United Arab Emirates already has the world's tallest building, tallest hotel and the biggest manmade island. So, in February when Sheik Mohammed bin Rashin Al Maktoum announced approved plans to build a new Ferris wheel in Dubai, there was little surprise that it would reach higher than any other wheel –even those in the planning stages. When completed in 2015, The Dubai Eye is expected to beat out the designs of The High Roller in Las Vegas and the New York Wheel in Staten Island –both of which would have been the highest wheels when built. It is expected to attract more than three million visitors a year and give visitors a bird's-eye view of the city's sights, such as Burj Al Arab and Palm Jumeirah.
2. New York Wheel, Staten Island, N.Y.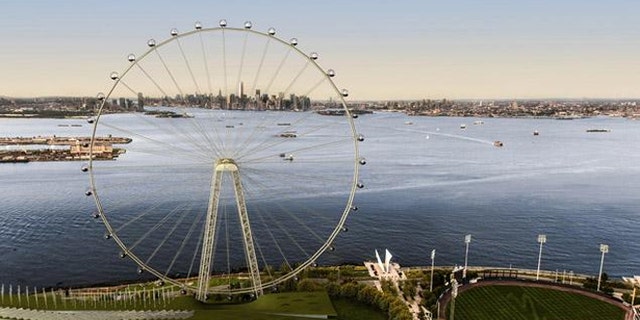 Proposed height: 625 feet
For two years, New York City officials had been at work on a plan for what they thought would be the world's largest wheel in the city's borough of Staten Island, overlooking the Statue of Liberty and the downtown Manhattan skyline—but that was before the announcement of the Dubai Eye. The 60-story New York Wheel, expected to open by the end of 2015, will be 75 feet higher than Las Vegas' High Roller ride, which was planned to the world's tallest at the time. It will still likely be a major tourist attraction, carrying 1,440 passengers at a time and drawing in 4.5 million people a year. The site will also have a massive shopping complex with designer outlet shops and a 200-room hotel.
3. The High Roller, Las Vegas, Nev.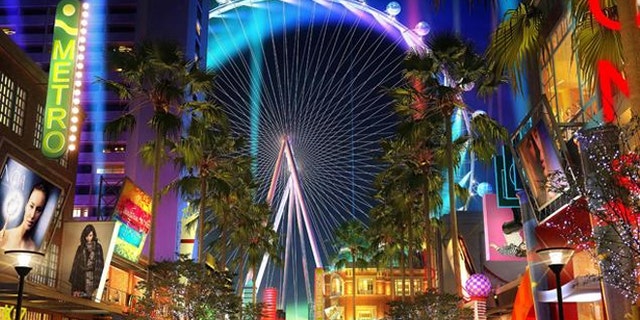 Proposed height: 550 feet
If all goes to plan, Las Vegas will have less than two years to see the windfall of its gamble to build the world's tallest wheel. When completed early next year, the High Roller will be 100 feet taller than the London Eye, and nine feet taller than the Singapore Flyer. Caesars Entertainment Corp. is building the ride as part of a $550 million development project that includes a new outdoor plaza across the street from Caesars Palace. The attraction will be befitting of Vegas' over-the-top feel, with 1,500 LED sparkling lights and futuristic pods with flat screen TV screens. Visitors will also be allowed to sip a cocktail on board for the trip.
4. Singapore Flyer, Singapore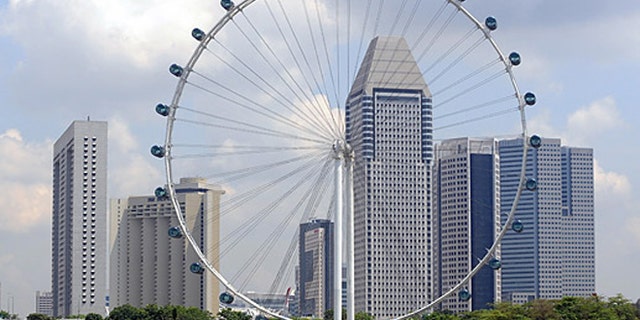 Height: 541 feet
In 2008, when the Singapore Flyer opened, it was a mere 16 feet taller than the world record holder of the time --the Star of Nanchang -- which only began operating two years prior. The wheel has 28 air-conditioned capsules, which are attached to the outer edge of the structure, giving visitors unobstructed views of neighboring Indonesia and Malaysia. Today, it attracts an estimated 10 million annual visitors and Singapore hopes to earn 23 billion dollars in tourism revenues by 2015.
5. The Star of Nanchang, Nanchang, China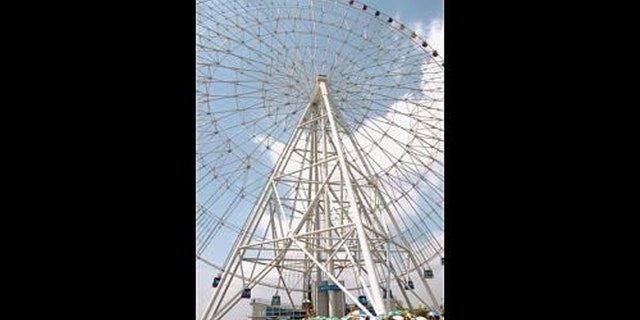 Height: 525 feet
China's Star of Nanchang opened in 2006 at a price tag of $7.1 million, grabbing the world's tallest mantel from London's Eye by 83 feet. Decorated with 21,300 feet of fluorescent lights, it has 60 enclosed air-conditioned pods that give visitors unobstructed views of the city below. It is still China's tallest Ferris wheel by a long-shot. Not even Changzhou's futuristic spokeless design –at 292 feet --will come close when it opens sometime this year.
6. London Eye, London, England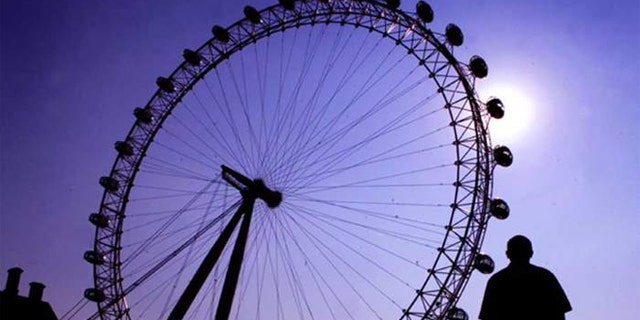 Height: 442 feet
The London Eye wowed the world with its giant cantilevered design when it opened to help mark London's millennium celebrations. It held the world's title as tallest Ferris wheel for a whopping six years, until the Star of Nanchang opened. Situated on the Thames River, it can carry 800 people each rotation, or about the amount of people as 11 London red double decker buses and just surpassed 50 million visitors since it opened in March 2000.