Power restored at Atlanta airport after outage snarled air traffic
Power has been fully restored at the Hartsfield-Jackson Atlanta International Airport after a complete power outage grounded flights Sunday afternoon, causing a holiday travel nightmare for fliers across the country just over a week before Christmas.
Kasim Reed, the city's mayor, announced the power update on Twitter after the power outage forced the Federal Aviation Administration to suspend outgoing flights and implement a "ground stop" for incoming flights, which "means that flights headed to Atlanta are held on the ground at their departure airport."
International flights were be diverted to other airports, U.S. Customs and Border Protection tweeted.
According to FlightAware.com, 1,174 flights have been canceled at Hartsfield-Jackson as of 9:30 p.m. ET.
A spokesperson told The Associated Press that no areas outside the airport were affected by the outage. However, flights at Chicago airports O'Hare International and Midway both have canceled flights — but it's not yet clear if they were canceled due to Atlanta's outage.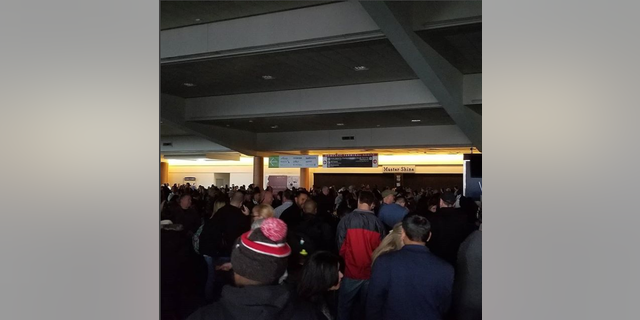 Delta Airlines, which has its headquarters at the airport, said more than 900 mainline and regional flights were canceled, and 48 flights have been diverted to other airports. Delta tweeted that the airline issued a travel waiver for those "flying to, from or through Atlanta" and is "allowing customers to make one-time changes to their travel plans."
Delta later announced Sunday that "approximately 300 flights will be cancelled" on Monday due to the power outage.
Southwest Airlines said they have canceled "all remaining operations" for the day, while an American Airlines spokesperson said three of the carrier's flights have been diverted and there have been "a couple of cancellations."
United Airlines tweeted that the outage "may affect flights tomorrow" and noted the airline is "offering additional flexibility that may allow you to change your travel plans."
Los Angeles International Airport tweeted after 7 p.m. ET that three flights from LAX to Atlanta were canceled, and that two flights tomorrow morning appear to be canceled as well, and advised travelers to "check with their airline for additional info."
Reed told news outlets at a press conference Sunday evening airlines are working to rebook flights, and said that a fire caused the power outage and produced potentially toxic fumes, which took two hours for fire crews to put out. Reed said it remains unclear how the fire started but it will be investigated.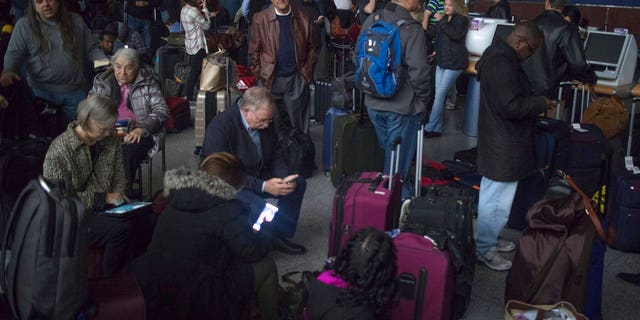 Georgia Power previously stated the company believes the power outage "may have involved a fire which caused extensive damage in a Georgia Power underground electrical facility. The fire was safely extinguished by fire crews before Georgia power could enter the area to assess the damage and begin repairs."
"Georgia Power has many redundant systems in place to ensure reliability for the Airport and its millions of travelers - power outages affecting the Airport are very rare," the statement read. Mayor Reed noted the redundant power system at the airport was also impacted by the fire.
No emergencies or medical events were reported during the outage as of the time of the press conference, Reed said. He said that authorities "immediately started distributing water" to travelers as the power went down.
Reed noted that if the power outage were to take place on a Monday or Tuesday, it would've been a bigger inconvenience due to the volume of people flying.
The mayor said that the Georgia International Convention Center in College Park which he says can hold between 8,000 and 10,000 people will be open to stranded travelers, and shuttles will be provided. He added the Georgia World Congress Center in Atlanta will also be available for people to stay.
One person in the airport's Concourse D told The Atlanta Journal-Constitution that she's seen smoke in the area, which airport workers apparently tried to move people away from, while another woman said she smelled electrical fire-type smoke.
"This has been very bizarre," Olivia Dorfman said, calling the situation "unbelievable," before adding: "No one seems to know what they're doing."
Dorfman noted that stores have been unable to sell water or other items because of the outage.
One woman tweeted out that the "electric exit doors [are] unable to open," and that "passengers can go no where!"
"Literal pandemonium at the @ATLairport … Baggage claim stuck, passengers can go no where! Which means traffic can't either. GBI and other law enforcement on site now. Talk about delays!" Ciara Leilani tweeted.
Almost 2,500 planes arrive and depart Hartsfield-Jackson Atlanta International daily, and the airport averages 275,000 passengers per day, according to the airport's website.
The Associated Press contributed to this report.