Portuguese airline Hi Fly has world's first 'plastic-free' flight: 'It's the right thing for the airline to be doing'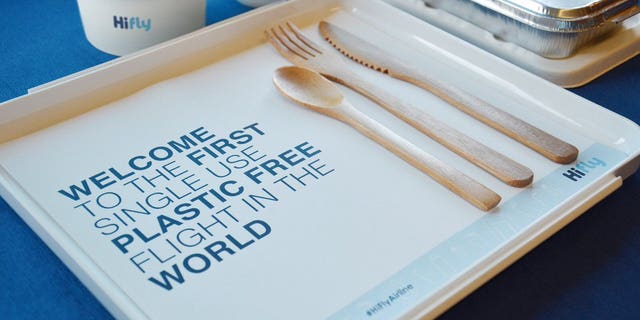 Hotels like Sandals Resorts and destinations like Jamaica are eliminating single-use plastics like straws and Styrofoam in an effort to protect the oceans and planet.
While some airlines like Alaska Airlines has cut plastic straws, and Air New Zealand and Delta are cutting their plastic usage, there hadn't yet been an airline or flight that functioned entirely without single-use plastic items.
Portuguese airline Hi Fly changed that this week when they became the first airline to have a single-use plastic-free flight on Wednesday from Lisbon to Natale, Brazil.
This means that the flight was free of plastic items like cups, silverware, cocktail stirrers, and food containers.
This flight was a test run for the company whose goals is to completely ban the use of single-use plastic from all of their flights in 2019.
They plan on conducting three more test runs in which they will be replacing plastic containers with natural bamboo cutlery and compostable containers by Vegware, and use items made of plant-based, renewable, low-carbon, and recycled materials.
"We can no longer ignore the impact plastic contamination has on ecosystems, as well as on human health," Hi Fly president Paulo Mirpuri told Canadian television network CTV.
"We know, too, from the feedback we have received from client airlines and passengers, that it's the right thing for the airline to be doing."
This article originally appeared on TravelPulse.