Photo of bodacious blimp becomes the butt of jokes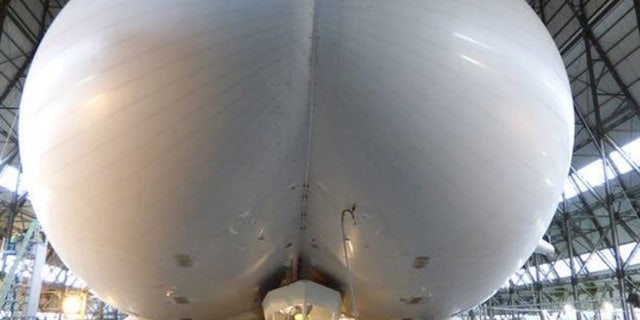 Let the sophomoric giggles begin.
A giant air balloon set to make an history voyage has become the butt of jokes for its unusual shape.
The 302ft-long Airlander 10, currently the world's largest aircraft, is set to make its maiden flight in March from its home at Cardington, England—40 miles from London.
But a British tabloid has coyly suggested that --from a certain angle--the aircraft's co-joined hull resembles a derriere of a certain Hollywood star.
The U.K.'s Metro published a story spelling out what many in the Twittersphere have been thinking.
Designed by Hybrid Air Vehicles, the Airlander 10 can take off vertically, hit cruising altitudes of 20,000ft and can carry 10 tons of cargo--hence its name.
It's filled with helium, so it won't explode like the Hindenburg.-- the German passenger airship buoyed by hydrogen that exploded in 1937.
Its huge size comes from its frameless hull, which is 50 feet longer current world's largest passenger jet, the Airbus A380. Capable of staying in the air up to five days at a time without landing, it has the potential to be used for commercial flights or military purposes.
The Airlander's skin is made from a composite of Kevlar, Mylar, and Vectran-- which Hybrid Air Vehicles claims can withstand some small arms fire.
Originally dubbed the Long Endurance Multi-intelligence Vehicle (LEMV), was designed by Hybrid Air Vehicles in partnership with Northrop Grumman for the U.S. Army. They built one, but the Army canceled the project.
In September 2013, Hybrid Air Vehicles bought back the LEMV from the Army for $301,000. In March it will to embark on a series of test flights. It needs to clock up 200 hours before being declared airworthy by the Civil Aviation Authority and the European Aviation Safety Agency.
Despite its suggestive design, the aircraft is a a feat of aeronautical engineering. Check it out here.