Peacock kept off United flight gets special wedding invitation
Dexter the peacock is more than proud.
The fine-plumed, elegant bird that was denied entry on a United Airlines flight in January was invited to a stylish soiree last month.
The peacock, which is owned by the Brooklyn artist Ventiko, made an appearance at the Newark wedding reception of Rebecca Pauline Jampol and Randy Hayes Harris Jr. in the city's historic and ornate Symphony Hall.
After a viral story about a woman having her emotional support peacock denied entry, United tightened its policy for traveling with emotional support animals.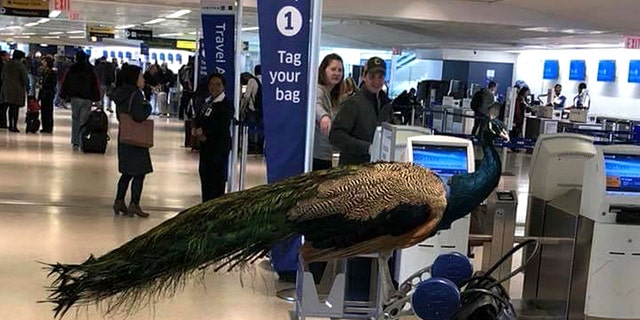 Jampol arranged for Dexter to strut around a reception in the concert hall's lavish ballroom while the bird's owner took photographs of guests "against a Dionysian backdrop of velvet, pearls and animal skulls," according to the New York Times.
Jampol wanted to evoke a sense of what Newark, at its creative best, can look like.
"I wanted this to be kind of a big thing for the community," she told the Times.
Jampol, 34, and Harris, 33, met in Newark in 2012. Jampol is a design professor at Rutgers University Newark and a modern art curator, while Harris is a musician who leads a rock band called the Randy Haze Trio, the Times reports.