Passenger at Virginia airport caught trying to carry on patriotic-looking handgun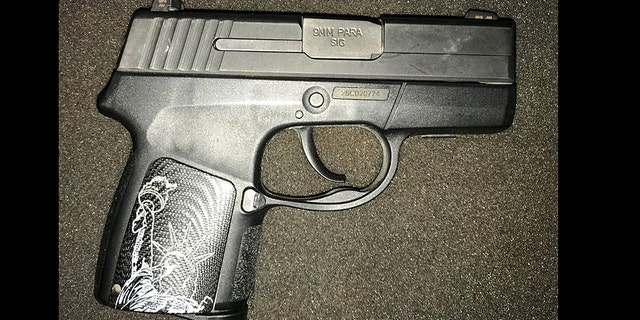 A patriotic-looking handgun was confiscated at an airport in Virginia.
The firearm, a 9mm with the Statue of Liberty engraved on the handle, was confiscated at Norfolk Airport when it was discovered in a woman's carry-on bag Friday.
RYANAIR FIRES 6 CREW MEMBERS FOR 'STAGING' VIRAL PHOTO OF STAFF SLEEPING ON AIRPORT FLOOR IN SPAIN
"Just because you've got the Statue of Liberty engraved onto the handle of your handgun, still doesn't allow you to bring it past a TSA checkpoint," TSA spokesperson Lisa Farbstein tweeted.
The weapon was loaded with six bullets at the time.
Airport police were called to the area, where the woman was detained and the gun was seized. She was held for questioning but not cited, though she faces penalties up to $13,000, 13 News Now reports.
FOLLOW US ON FACEBOOK FOR MORE FOX LIFESTYLE NEWS
This is the 18th firearm TSA officers have discovered at this airport in 2018.
Late last month, an airline pilot was arrested at Southwest Florida International Airport after a loaded gun was found in his carry-on suitcase.
The 54-year-old Sun Country Airlines pilot has a permit to carry the gun in Minnesota, but that it wasn't valid in Florida.
He was as released on $5,000 bond.
The Associated Press contributed to this report.